Investing in properties is almost every Singaporean investor's dream because it has forged many generations of wealth alongside Singapore's economic growth.
That said, investors should take note of several difficulties when it comes to property investments such as:
Exorbitant capital outlay; even the downpayment can stretch into 6-figures

Small market size in Singapore limits the availability of stable and profitable real estate products

Selling the property takes time and money
With that in mind, Shareable Asset has established a Real Estate tokenization platform to offer fractional and affordable ownership in institutional-grade real estate which were previously only available to accredited high net worth investors.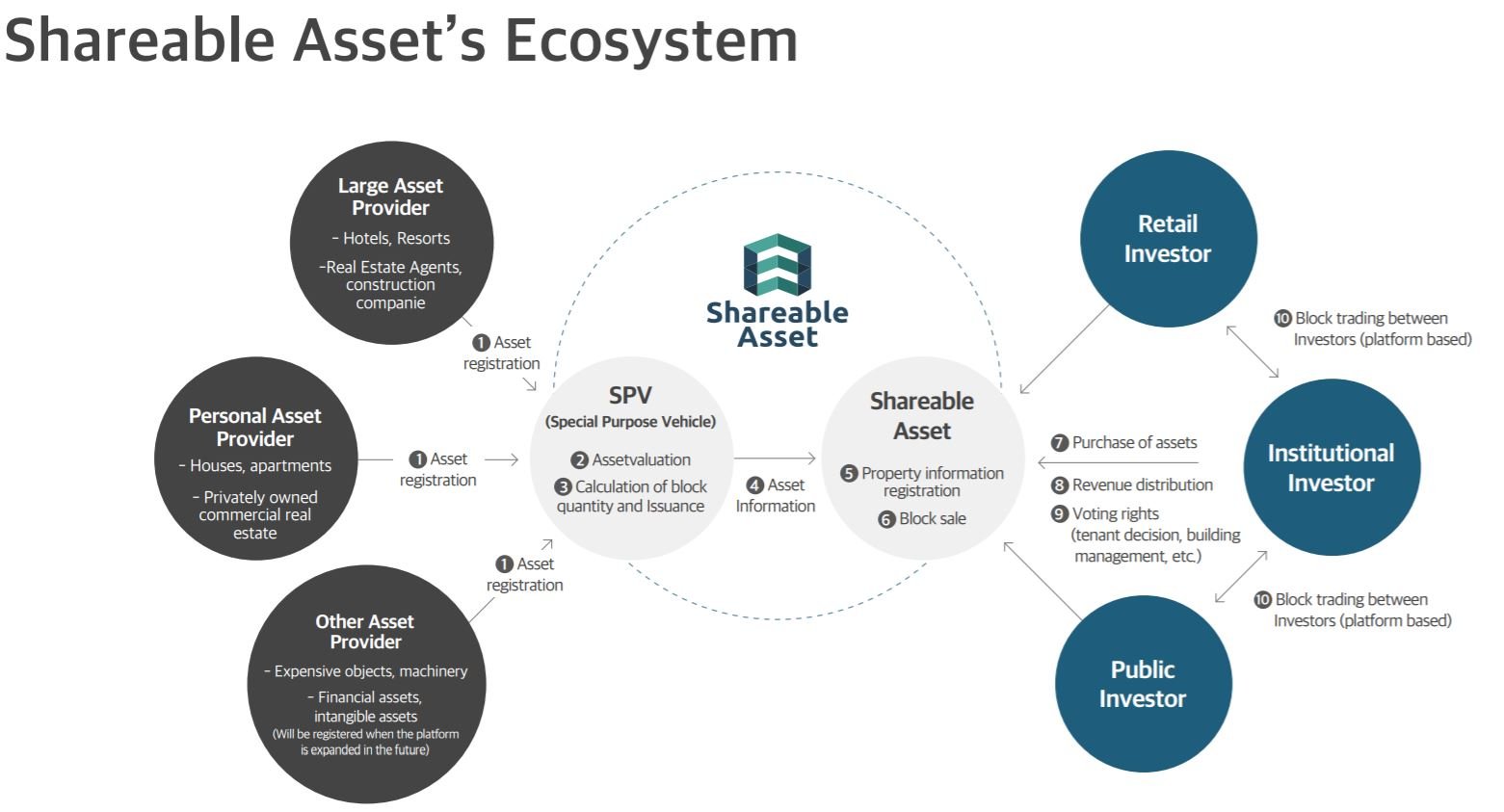 The above shows the whole ecosystem of how its blockchain technology will facilitate block trading between asset providers and retail/institutional investors, with Shareable Asset in the centre.
To put it into layman terms, Shareable Asset is aiming to become the 'online stock exchange' of real estate properties/products. And it is disrupting the traditional model by dividing real estate assets into smaller units so that anyone can easily purchase and manage ownership of the real estate.
5 Key Strengths of Shareable Asset
Upon digging into the various resource, I find that Shareable Asset offers a compelling value proposition which I have highlighted below:
1. Invest in high-quality assets with as little as $100
This allows prospective investors to start dipping their toes with just a small amount and still be allocated direct, fractional ownership i.e. 0.1% of the property value.
2. Global Real Estate Investment Opportunities 
Forget about buying a physical property in Singapore or buying a REIT with narrow regional focus. Now, Shareable Asset's investors can build diversified portfolios and capitalize on opportunities across the globe.
Moreover, the market size of global real estate stands at $8.5 trillion, more than 4x that of the global listed REITs.
3. Quick and simple investment process
Unlike the long-drawn process of investing in a physical property, you can invest from the ease of your mobile in just within 5 minutes.
4. Lower Fees
Most REITs allocate profits to pay annual management fees of between 0.25% to 0.5% in addition to acquisition and divestment fees on the portfolio.
On that note, Shareable Asset's platform fees are significantly lower than average REITs' fees and other costs. 
5. Licensed with MAS
Most importantly, Shareable Asset is regulated by the Monetary Authority of Singapore under the Capital Markets Services (CMS) licence. The CMS licence allows for digitalisation and tokenization of real estate in the form of security tokens using blockchain technology. 
Globally, only five companies have been approved as a fintech-based securities investment company that utilizes blockchain technology. Shareable Asset aims to be the first to specialize in real estate.
Step by Step Guide on How to Sign Up
The good part about fintech is that the whole signing up process becomes a breeze. Here are the steps to follow when you want to get started with Shareable Asset:
Download the "Shareable Asset" app on your mobile and register to sign up.

Confirm your email registration address and insert a safe-pin to protect it.

Before you invest, you would also need to verify your identity. You can do it via MyInfo – a Singaporean initiative. Take a selfie and provide your passport and proof of address, all securely online. The verification of your account takes 1 to 3 business days, and you will receive notification updates about your account status.

Following which, you will be asked to do a KYC form with 9 straightforward MCQ.
Upon receipt of the KYC clearance, you will be asked to select the properties that you are interested to invest in. The snapshot will provide detailed information that you need to know as an investor such as the location, tenure, leasehold and net yield rent.
You will then choose how much money you want to invest (can be as little as $100) in each of the properties you select.
1st Deal on ShareAble Asset App
When it comes to real estate, the UK has always been one of the favorite European markets for investors and purpose-built student accommodation ("PBSA") has been a sought after asset class in the last few years.
In fact, rising demand for higher education in the UK is set to see full time student numbers grow a further half a million by 2030.
On top of that, this current pandemic has further accelerated the awareness and interest of investment into the purpose-built Student Housing space. 
You can view details about this real estate deal such as annual yield and property income related information now on the SA app. Don't miss the chance to invest in a global asset on the SA app with a high annual yield and get the special launch reward up to 500 GBP!
Conclusion – Earn 500GBP
To sum up, Shareable Asset looks set to level the playing field for real estate investors by its token-based online platform. 
As previously mentioned, there are several advantages of using Shareable Asset including a low investment quantum of $100, global investment opportunities, cheap platform fees and more.
Last but not least, Shareable Asset is running a campaign right now and offering 5% in investment credits to all participants with a maximum of 500 GBP. 
Simply deposit funds into the app, and the rewards of max. 500 GBP (5% in investment credits) is given immediately.
Register Now before the limited time offer expires on 29 June, 2020! 
For any questions, you can turn towards the common faqs page from Shareable Asset here.