On 28 February 2022, Farm Fresh Bhd (Farm Fresh) has launched its IPO at RM 1.35 per share. Upon listing, Farm Fresh's market capitalisation would be lifted up to RM 2.51 billion.
You can download its IPO Prospectus: Part 1, Part 2, and Part 3 here.
At the same time, we have summarized 8 things to take note of Farm Fresh below:
#1 Business Model Part 1 – Farming Operations
Farm Fresh is an integrated dairy group in Malaysia and Australia. The upstream operations comprises six farms with a total gross land area of 5,416 acres. Farm Fresh has 8,633 dairy herds presently.
Of which, 3,748 are milking cows and the other 4,885 are non-milking female cattles. It is an expansion from operating its first farm namely, Muadzam Shah starting in December 2014.

Source: Page 111 of Farm Fresh's IPO Prospectus
Farm Fresh has increased its total milk output from 18.5 million litres in 2019 to 22.7 million litres in 2021. This is contributed by higher output from its farms in Malaysia and Australia during the period. 

Source: Page 112 of Farm Fresh's IPO Prospectus
#2 Business Model Part 2 – Manufacturing Facilities
Farm Fresh has three processing facilities, consisting of two facilities that house a total of 18 filling and packaging lines in Malaysia and one facility with one raw milk processing line in Australia.
Presently, the total annual production capacity is 137 million litres of finished products and 84.0 million litres of processed milk respectively. This is an increase from when it began its midstream operations in its first facility in Muadzam Shah in June 2018. 
Presently, Farm Fresh offers chilled ready-to-drink (RTD) milk, ultra-heat treated (UHT) milk, yoghurt, soy milk, oat milk and sauces under its main brand namely, Farm Fresh and other related brands, such as Yarra Farm, Master Barista, Henry Jones, Nubian Goats Milk, and Taylors. 
#3 Business Model Part 3 – Distribution Network 
Farm Fresh derived above 90% of its revenues, through distributing its products in large format retailers, stockists and dealers, and hotels, restaurants and cafes (HORECA) markets. Today, it distributes its products to 15 large format retailers, where they are currently available in 630+ locations throughout Malaysia.

Farm Fresh has 45 stockists that manage 906 home dealers, who in turn, deal with as much as 1,772 agents to promote Farm Fresh's milk products. In addition, Farm Fresh sells its products to three hotel chains, seven cafe chains, and well-known convenience stores.
These include 7-Eleven Malaysia, Family Mart, myNews, and more. As of 31 January 2022, its products are carried in 7,290+ locations, where all these retailers have a presence. 
#4 Financial Results – Profitability 
Over the last 3 years, Farm Fresh has achieved an increase in revenues from RM 178.23 million in 2019 to RM 490.50 million in 2021. This is attributed to higher sales of mainly chilled RTD milk and UHT milk products, which is in line with the growth in milk production capacity during the period. 
As such, Farm Fresh had achieved an increase in profits after tax (PAT), from RM 27.44 million in 2019 to RM 36.23 million in 2021.
The increase in PAT 2021 had been dwarfed by a recognition of RM 25.71 million in additional tax liabilities in that year. Thus, its adjusted PAT in 2019-2021 would be as follows:

Source: Page 279 of Farm Fresh's IPO Prospectus

#5 Utilization of IPO Proceeds
Farm Fresh intends to raise RM 300.99 million from its IPO listing. Of which, the company allocates: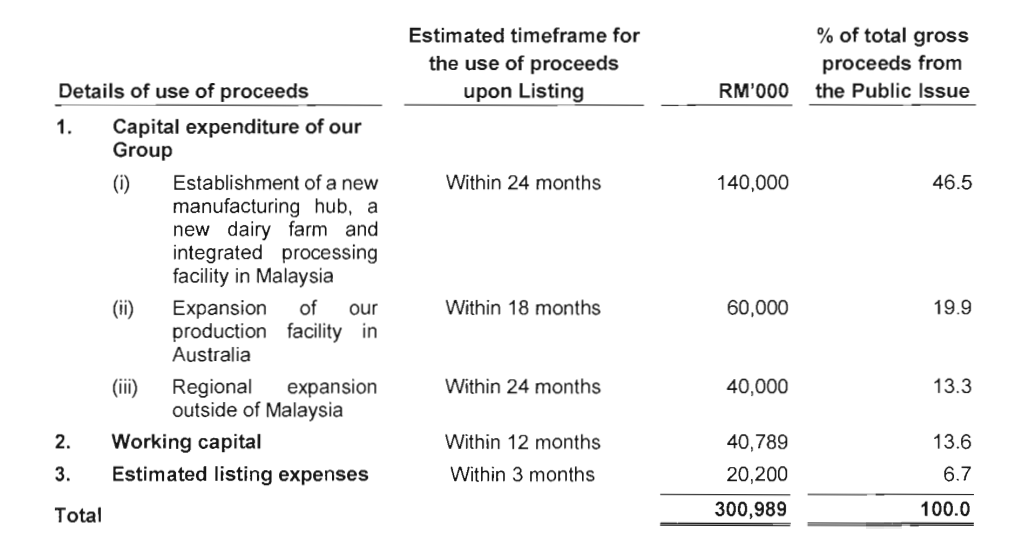 Source: Page 37 of Farm Fresh's IPO Prospectus
1. New Manufacturing Hub (RM 90 million) 
This involves the construction of a new manufacturing hub to manufacture UHT milk and ice-cream products.
Of which, RM 30 million is budgeted to acquire 10 acres of land, RM 20 million is allocated for the construction of the hub
Another RM 40 million is allocated to buy production lines, such as one UHT processing line, two UHT production lines and two ice-cream production lines. 
2. New Dairy Farm and Integrated Processing Facility (RM 50 million) 
This involves the exploration of using around 500-1,000 acres of land owned by the State Government-Linked Company to set up and run a dairy farm that shall have a capacity of housing 3,000 dairy cows. 
3. Expansion of Production Facility in Australia (RM 60 million)
This is mainly allocated to expand its Kyabram facility in Australia where it plans to use RM 10.0 million on building improvement initiatives and RM 50.0 million to purchase one UHT processing line, and three filling and packaging lines. 
4. Regional Expansion Outside Malaysia (RM 40 million) 
This involves the establishment of production & distribution capabilities in both Indonesia and the Philippines. 
5. Working Capital (RM 40.79 million) 
This is reserved to purchase raw materials, packaging materials and labour cost. 
As a result of these expansion plans, Farm Fresh revealed that it expects to: 
Grow annual production capacity from 137 to 201 million litres in Malaysia. 
Produce 2.34 million kgs of ice-cream products per annum in Malaysia. 
Produce up to 50 million litres of UHT milk products  in Australia.
Have annual production capacity of 20.8 million litres in Indonesia. 
Have annual production capacity of 20.8 million litres in the Philippines. 
#6 Major Shareholders

Source: Page 212 of Farm Fresh's IPO Prospectus
Loi Tuan Ee remains as the largest shareholder of Farm Fresh with 43.65% stake of the company, which is indirectly held under two entities which are Rainforest Capital and Farmchoice Food.
Loi Tuan Ee is now appointed as the CEO of Farm Fresh. His sister, Loi Foon Kion is a Non-Executive Director of the company. 
#7 Dividend Policy
Farm Fresh has revealed that it targets to pay out 25% of its net profits a year in dividends to reward its shareholders. Based on its adjusted PAT of RM 69.03 million in 2021, its adjusted earnings per share (EPS) would be ~3.72 sen.
Assuming a 25% payout ratio, its adjusted dividends per share (DPS) would be 0.93 sen. Divided by the IPO price of RM1.35, its indicative dividend yield works out to be around 0.69%.
#8 Valuation 
As discussed, Farm Fresh's market capitalization will be lifted to RM 2.51 billion, upon its IPO listing. Its adjusted PAT is RM 69.03 million in 2021.
Thus, the offer is valued at P/E Ratio of 36.36x based on its adjusted PAT in 2021. 
Our Take on Farm Fresh IPO – Apply or not?
Farm Fresh has achieved continuous growth in revenues and earnings due to its progressive expansion plans for the last 7-8 years. It is also clear that Farm Fresh IPO is to help raise funds to further expand its operations locally and aboard to Australia, Indonesia and the Philippines.
Despite the rosy growth prospects, one thing that investors should note is the reallocation of tax liability and reversal which bump the profits from RM32.8 mil to RM69.0 mil (>100%). If we were to take only the core profits – Farm Fresh IPO would be listed at a 76.5x FY2021 P/E ratio!
And given that the tax refund is a one-off event, it seems to us that this is financial engineering in preparation of the IPO. With that, we would avoid it for the short term. Long term wise, we will wait for more affordable valuations and compare to its peers before making any decision.