Sembcorp Marine is what many investors call a wreckage – after its share price suffered a long and painful decline from its heyday of $2.60 to only $0.08 – its all time low.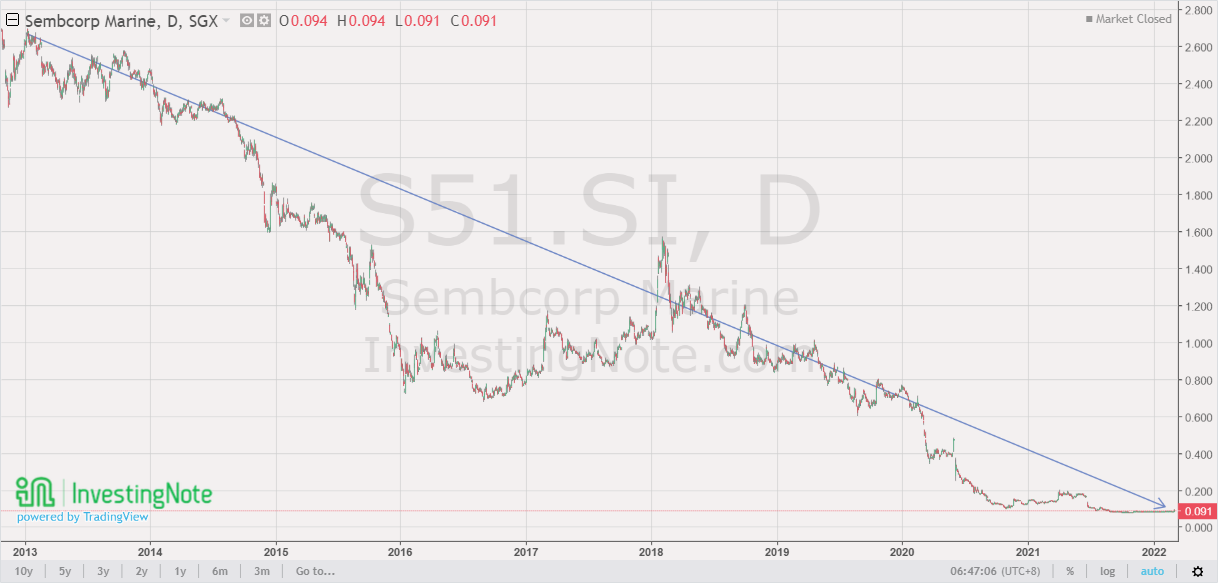 A quick background on Sembcorp Marine (SMM)
Sembcorp Marine (SMM) is a pure play in the offshore and marine sector. Its principal activities are rig building and offshore engineering, ship conversion, ship repair, and building of specialised vessels.
amid the downturn in the O&G industry, Sembcorp Marine had to shore up its balance sheet by launching a few rights issues since 2020. The rights issues increased its number of shares outstanding from 2 billion to around 31.3 billion – a bewildering 1,565%.
No wonder its share price has fallen so hard to under the magical $0.10; where people now treat the company as a penny stock now.
That said, Sembcorp Marine share price actually sort of 'revived' and jumped 12% on 3rd March 2022.
So what gives?
Why Sembcorp Marine share price jumped 12%?
To be fair, its latest FY2021 results was released on 25 Feb 2022 and didn't cause any big ripple in its share price.
There isn't any sigificant news in the past weeks except for a 'Delivery of Johan Castberg FPSO Project by Sembcorp Marine to Equinor for Completion in Norway'.
Hence, it is obvious that the share price jump is attributed to external factors or in particular, the buoyant O&G industry.
The recent Russia-Ukraine war has led to a spike in the oil prices with it touching US$120 per barrel in recent weeks.
This has led to an impetus for oil and gas companies to review plans for those deferred projects nearing Final Investment Decisions (FID).
In turn, it bodes well for Sembcorp Marine as it is actively pursuing multiple projects covering FPSOs, FSOs, and FPUs with tenders in progress.
3 Highlights from its FY2021 Results
Now lets take a look at its latest FY2021 results. We are just going to focus on 3 main things here – the current orderbook, balance sheet and growth prospects.
#1 Existing Orderbook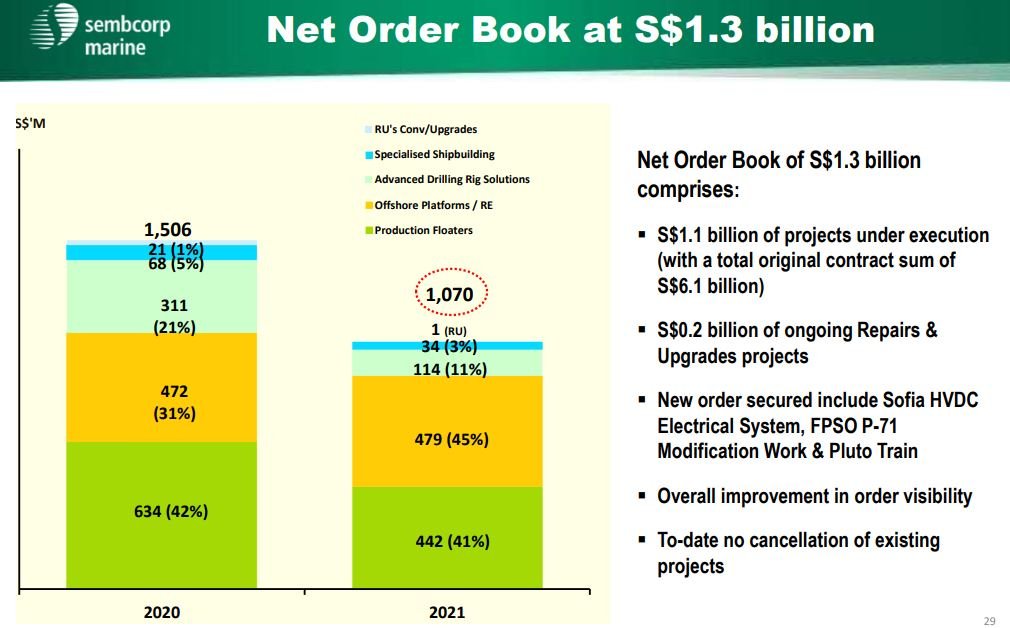 FY2021 orderbook was a disappointment nonetheless as it is even lower than FY2020. However, one bright spot is that 43% of its orderbook is made up of renewable or green solutions.
On top of that, during an analyst briefing, the management said that it is working on >$10B worth of orders and demand has improved tremendously (probably due to high oil prices).
It also highlighted that there are a handful of large projects between S$500m-$1b that could be announced in the next 6-12 months.
#2 Balance sheet
The completion of all the rights issues have strengthened its liquidity position and recapitalized its balance sheet, to meet its ongoing operational funding requirements.
Looking at the above, net debt has improved 29% to $1.97b and net gearing ratio coming down to a more manageable 0.49x. While NAV has dropped from 29.2 cents to 12.75 cents, the share price of $0.09 marks a low P/NAV of 0.7x.
Based on Sembcorp Marine's historical 5-year P/NAV of 1.1x, this translates to around 40% potential upside from here.
#3 Growth prospects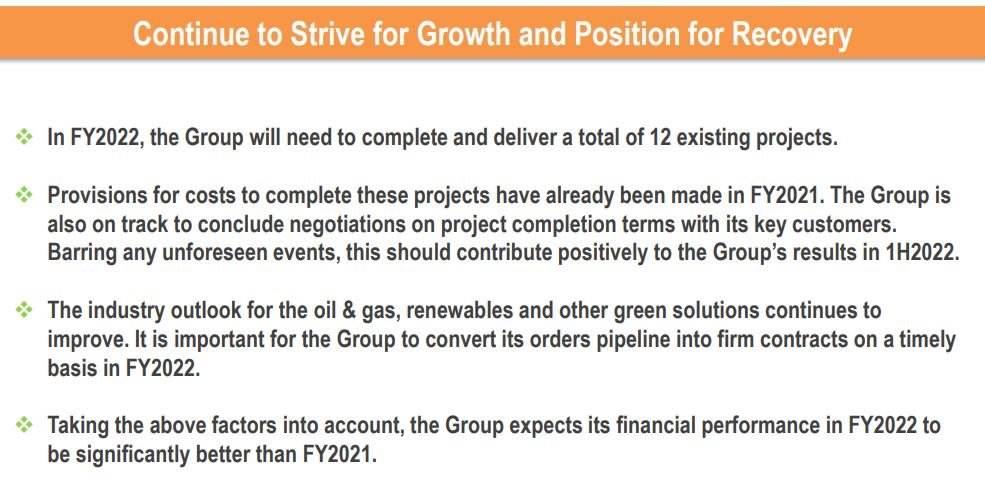 The provisions made in FY2021 has caused a large $1.2b of losses. Stripping out the impairment and provisions totaling S$839m, net losses would have been S$331.6m, 24% contraction in losses relative to a year ago.
Without this impairment, Sembcorp Marine has a high likelihood to post profits in FY2022.
Our Take: Is the Worst Over for Sembcorp Marine?
The 2 years have been detrimental to Sembcorp Marine as it faces challenges from poor orderbook (due to poor oil prices) and manpower shortage (due to COVID-19).
Evidently, Sembcorp Marine is a cyclical stock and we all know how commodities are in play right now. Furthermore, the management has guided for a better 2022/23 ahead and shifting the focus on renewable projects to keep up with the upcoming trends.
To top things off, there are ongoing talks about the potential combined entity with Keppel O&M (by 1Q22) with the support of sponsor Temasek Holdings.
All these positive things do point to the conclusion that the worst is over for Sembcorp Marine now… but the caveat is on how fast the rebound will happen and whether other factors will cloud the outlook in future.
P.S. Our new Telegram Chat Group is live so do join us and discuss about SG and MY stocks in here!