Excerpts from OCBC Investment Research report
Dyna-Mac Holdings (SGX: NO4)
Stronger than expected upcycle in the offshore oil & gas (O&G) sector
Further catalysts ahead to unlock value for shareholders
Attractive growth prospects given high potential to secure more orders going forward
Investment thesis
Dyna-Mac Holdings Ltd. (Dyna-Mac) is a leading fabricator of offshore topside modules and facilities, such as floating production storage and offloading (FPSO) vessels.
Its strategy to remain focused on niche topside module construction and to differentiate itself through its commitment to quality and reliable, timely deliveries position it well to capture burgeoning demand for FPSO modules amidst a shortage in capacity.
We also think that Dyna-Mac could deploy cash to expand its current yard capacity or to grow inorganically in a manner that is accretive to earnings, backed by its healthy net cash position.
Its share price has performed well, up 84.2% year-to-date (YTD) and 12.9% since we initiated coverage based on the last close price of SGD0.35.
We continue to see further upside for Dyna-Mac given a stronger-than-expected upcycle and potential catalysts ahead for the company, and revise our fair value estimate upwards from SGD0.37 to SGD0.415.
Upcycle for the offshore O&G sector
In our previous report, we wrote that long-term fundamentals for the offshore O&G industry remain sound, supported by an increased demand for energy (especially in Asia) and years of catch-up spending.
Recent data suggests that the current upcycle might be stronger than expected. According to the 2023 Rystad Energy FPSO Industry Report, investments in the offshore O&G sector resurged by 16% in 2022, and are projected to grow by another 16% this year.
There have also been supportive headlines from the wider industry, such as oil major Shell's recent announcement of plans to spend USD13b annually on its upstream and liquefied natural gas (LNG) business through 2030, equating to more than USD100b over the remainder of the decade.
Dyna-Mac valuation
Increase fair value estimate from SGD0.37 to SGD0.415. All things considered, we have adjusted our model to reflect expectations that Dyna-Mac will secure a larger dollar value of orders going forward.
We think this is achievable given the strong upcycle and the fact that Dyna-Mac had already secured firm contracts worth SGD270m from repeat customers in May 2023, which represents the total orders that it secured in the whole of FY22.
Dyna-Mac currently has a net order book of SGD609.1m, with deliveries stretching into 2025. We maintain our key assumptions and using the discounted cash flow (DCF) model, derive a higher fair value estimate of SGD0.415.
Despite its recent rally, Dyna-Mac is trading at a FY23 and FY24 price-to-earnings (P/E) ratio of 19.4x and 15.2x, which are still around one-tenth and slightly more than half a standard deviation below its five-year historical average of 20.7x respectively.
We think this still presents an opportunity for investors to gain exposure to the FPSO upcycle through a local small-cap proxy.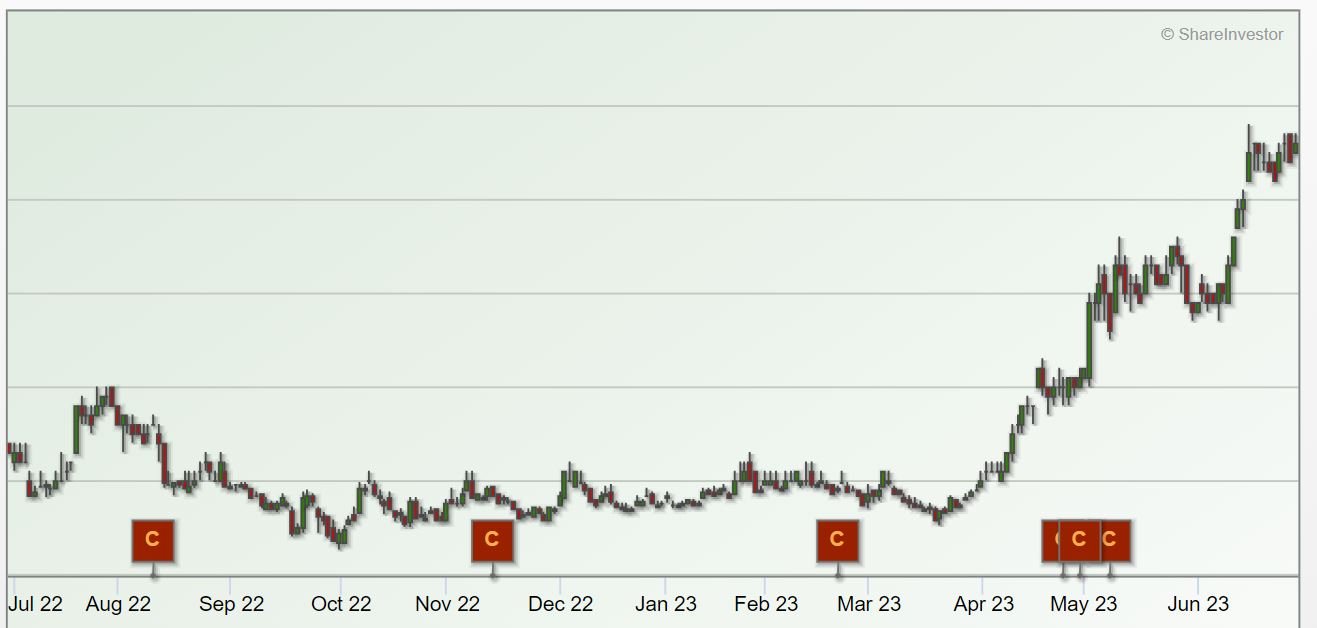 You can find the full report here and the company website here.