Excerpts from CGSCIMB report
China Sunsine Chemical (SGX: QES)
2H22 net profit declined to Rmb215m (-11% yoy) due to weaker downstream demand that hurt profit spread.
FY22 total DPS of 3Scts implies 6.1% yield.
China recovery bodes well for recovery in domestic downstream demand, though we are more cautious on export sales outlook in CY23F.
Reiterate Add and TP of S$0.60 on attractive 1.7x FY24F ex-cash P/E.
China Sunsine volumes resilient, but weaker profit spreads
China Sunsine Chemical Holdings' 2H22 net profit of Rmb215m (-50% hoh, -11% yoy) was in line with our expectations. FY22 net profit of Rmb642m (+27% yoy) formed 99%/100% of our/Bloomberg consensus' forecasts.
Sales volume rose 6% hoh due to stronger sales of insoluble sulfer and antioxidants (capacity expansion-driven), which offset weaker rubber accelerator sales.
However, weaker downstream demand compressed China Sunsine's profit spread; GP per tonne fell 36% hoh in 2H22. China Sunsine proposed a higher FY22 DPS of 3 Scts (FY21: 2.0 Scts), implying a 6.1% dividend yield.
Reopening of China could help domestic sales volume recovery
With China's pivot from its zero-Covid stance, we expect recovery in domestic downstream demand, supported by recovery of economic activities and potential stimulus measures by the government.
However, we are more cautious on export sales; major tyre manufacturer Bridgestone put out a guarded 2023 outlook during its recent results brief, as it notes that demand for replacement tyres in 4Q22 was hit by economic woes in the US and Europe.
Overall, we expect a slight 3% yoy sales volume growth for FY23F.
More time needed for profit spread recovery
According to sci99.com, a Chinese commodity market information service provider, both rubber accelerator and aniline prices remained weak through Dec 22-Jan 23, before showing some recovery in Feb.
Aniline spiked to Rmb12k/ton in mid-Feb (vs. Jan's Rmb10k/ton), driven by plant maintenance activities conducted by key manufacturers.
Given that Sunsine typically locks in quarterly pricing for its rubber accelerator products with major customers, while taking spot prices for raw materials, we expect near-term weakness in profit spreads for 1Q23F.
Profit spread expansion in quarters ahead will be dependent on the pace of downstream demand recovery, in our view.
China Sunsine valuation/recommendation
Reiterate Add as valuations remain attractive at 1.7x FY24F ex-cash P/E, with a sustainable dividend yield of c.5%. We finetune our forecasts and maintain our TP at S$0.60, still pegged to 0.7x FY23F P/BV (0.5 s.d. below 10-year historical mean).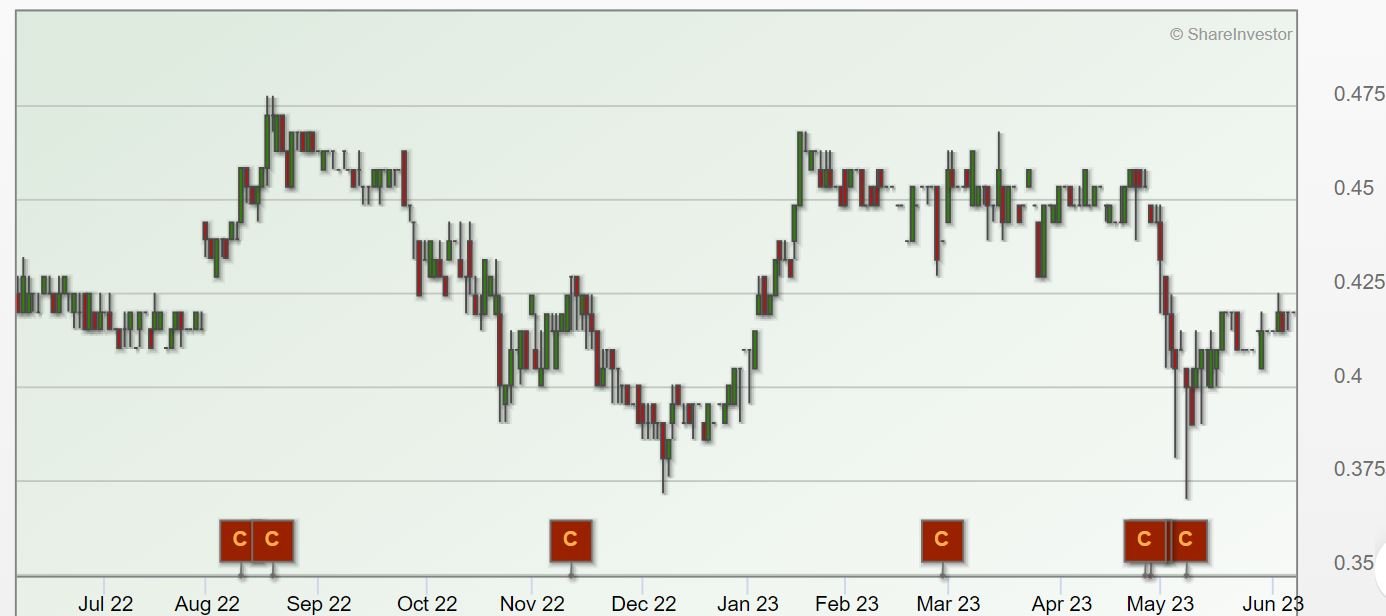 You can find the full report here and the company website here.