Excerpts from UOBKayHian report
China Aviation Oil (SGX: G92)
China Aviation Oil (CAO) has a monopolistic position supplying jet fuel to airlines at key airports in China. Predictably, its profitability has been hit by a COVID-19-related decline in air travel
CAO's balance sheet remains strong with net cash of S$0.24/share as at end-1H22. Nevertheless, it had material negative free cash flow of US$172m in 1H22 (1H21: +US$37m).
The company's valuations appear fair as it is trading at 2022 annualised ex-cash PE of 10x.
China Aviation Oil Hit by lower business levels due to COVID-19
Recent 1H22 results were poor with supply and trading volume declining 36% yoy to 11.27m tonnes. While higher oil prices helped revenue grow 7% yoy, net profit fell 19% yoy to US$20m due to higher staff costs, provisions and lower associate contribution from Shanghai Pudong airport as China's zero-COVID strategy throttled travel.
Notably, receivables nearly doubled to US$1.3b, and net cash fell 49% during the course of 1H22.
Reasonably healthy financial position
Despite its lower profitability in the past two years vs historical levels, China Aviation Oil Singapore Corporation's (CAO) balance sheet
remains debt free with its net cash at US$205m as at end-1H22.
This translates to a net cash per share of S$0.24, representing 28% of the company's current share price.
A mixed industry outlook at present, but should improve
While Chinese government actions have somewhat benefitted CAO (eg increasing CAO's refined fuel export volume of 20,000 tonnes), the company's outlook remains tied to the easing of China's zero-COVID strategy – and thus travel restrictions – rather than other factors in the next 6-12 months.
In addition, additional fuel charges for domestic flights, which in some instances represent about 80% of the ticket price, have currently dampened demand for short-haul domestic flights.
Volatile markets provide arbitrage opportunities for crude oil
The company has a diversified oil products portfolio (comprising of fuel oil, gasoil, gasoline and crude oil) as well as a trading network globally and thus is able to arbitrage pricing opportunities.
We note that in 2021 its arbitrage trade volume was the highest in its corporate history. We also highlight that aside from jet fuel, CAO has diversified away from its traditional aviation fuels and supplies other fuels to ship owners, power generators and end consumers.
Renewable energy a longer term threat and possibly opportunity
Given the high oil prices and environmental regulation on carbon emissions, power generating firms have turned to other alternatives, thus threatening CAO's profitability in the long run.
Cognisant of such risks, the company has stated that it will look to incorporate biofuels and carbon credits trading into its portfolio.
Valuations/Recommendation
Based on consensus, CAO trades at 2022 PE and P/B of 10x and 0.6x respectively vs peers' average PE and P/B of 8.9x and 0.8x. However on an ex-cash basis and annualising 1H22 EPS, the company currently trades in line with its peers.
In 2021, the company generated an ROE of 4.5% vs regional peers' average of over 10%.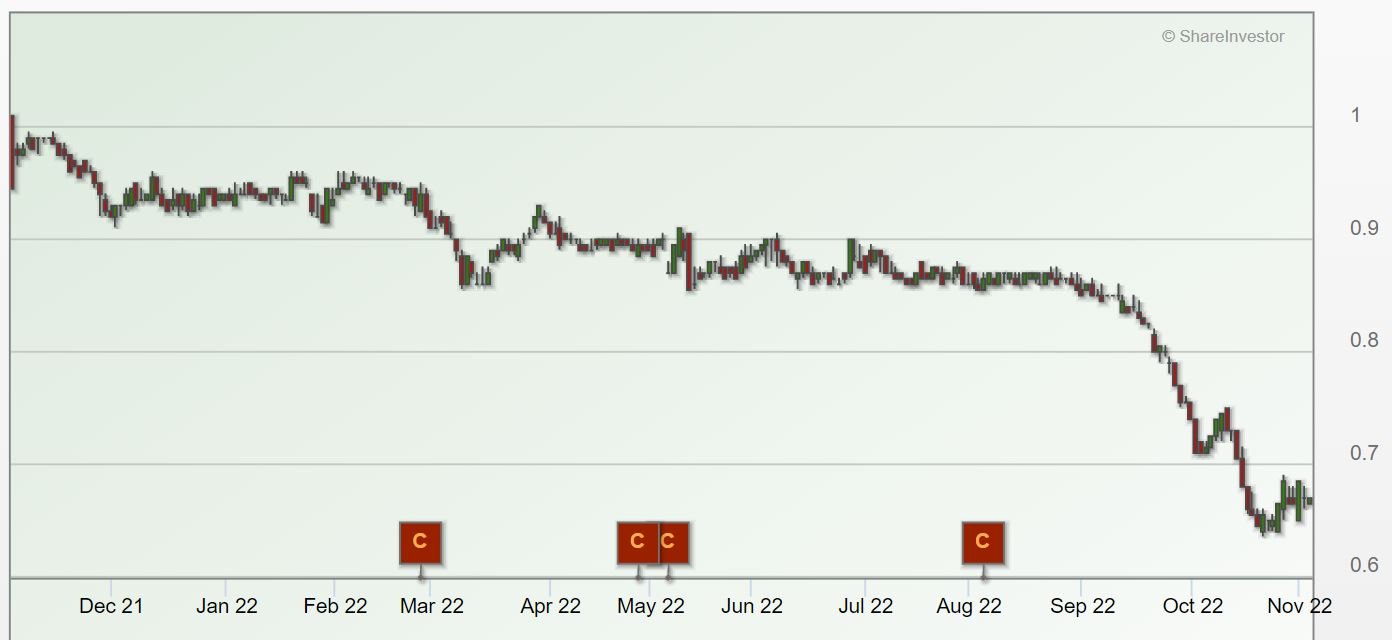 You can find the full report here and the company website here