Excerpts from CGS CIMB report
Champion Reit (HKG: 2778)
Champion Reit's (CREIT) DPU declined by 11% yoy in 1H22 as a result of higher operating expenses and lower interest income from investments.
Operations at 3GR Office face challenges, with high vacancy, negative rental reversions and new completions nearby.
We think a significant rebound in LP Mall's tenant sales should not be expected till 2023 when borders are more likely to reopen.
Reiterate Hold with a lower TP of HK$3.7 (40% discount to NAV).
1H22 DPU down 11% yoy
CREIT's DPU declined by 11% yoy to HK$0.1064 in 1H22, weaker than the 5% yoy decline in revenue, given
higher proportion of property operating expense incurred due to lower portfolio occupancy;
expense incurred for the opening of Langham Beauty at Langham Place (LP) Mall; and
lower interest income from its investment portfolio.
Champion Reit outlook for 3GR Office still very challenging
Revenue and NPI from Three Garden Road (3GR) Office declined by 6% and 7% yoy, respectively, in 1H22. End-1H22 occupancy worsened from 89% at end-2021 to 83.8% at end-1H22 as tenants cut back on leased space with little take-up during the peak of HK's fifth wave of Covid-19.
With the average rent of expiring leases in FY23F high at c.HK$120/sf vs. spot rent of HK$90-100/sf and new completions in Central in 2023, we believe negative rental reversions at 3GR Office will likely persist in the next 12 months.
LP Office sees first signs of stabilisation
LP Office was resilient in 1H22 with a 2% yoy rise in both revenue and NPI. Occupancy was satisfactory at 94.5% and lifestyle-positioned tenants took up 69% of office space at end-1H22.
We think they will not be so heavily affected going forward as HK is already off the peak of Covid-19 outbreaks given high vaccination rates.  Nevertheless, as 39% of GFA will have their leases expire in FY23F, mild pressure on rental reversion is unavoidable.
Expect no significant improvement at LP Mall until borders reopen
NPI for LP Mall was down 16% yoy in 1H22, weaker than its 6% yoy decline in revenue, due to operating expenses associated with the opening of Langham Beauty.
Turnover rent accounted for 17% of LP Mall's revenue in 1H22 (5% in 1H21) and c.10% of the tenants paid turnover rent only at end-1H22.
As large-scale reopening of borders looks more likely in 2023 than in end-2022, we do not expect its tenant sales to improve significantly. We think rental reversions will remain negative for the rest of 2022F.
Valuation/Recommendation
Reiterate Hold with a lower TP of HK$3.7. We cut FY22-24F DPS by 4-7% and end-FY22F NAV by 2% to HK$6.2 given a weaker office rents outlook with lower portfolio occupancy.
We also cut TP to HK$3.7 after widening its discount to NAV by 5% pts to 40% to factor in weaker profitability under low occupancies. 3GR Office remains the weak spot.
Key downside risks: further decline in occupancy and prolonged border closure of HK. Higher portfolio occupancy, especially at 3GR Office, is a key upside risk.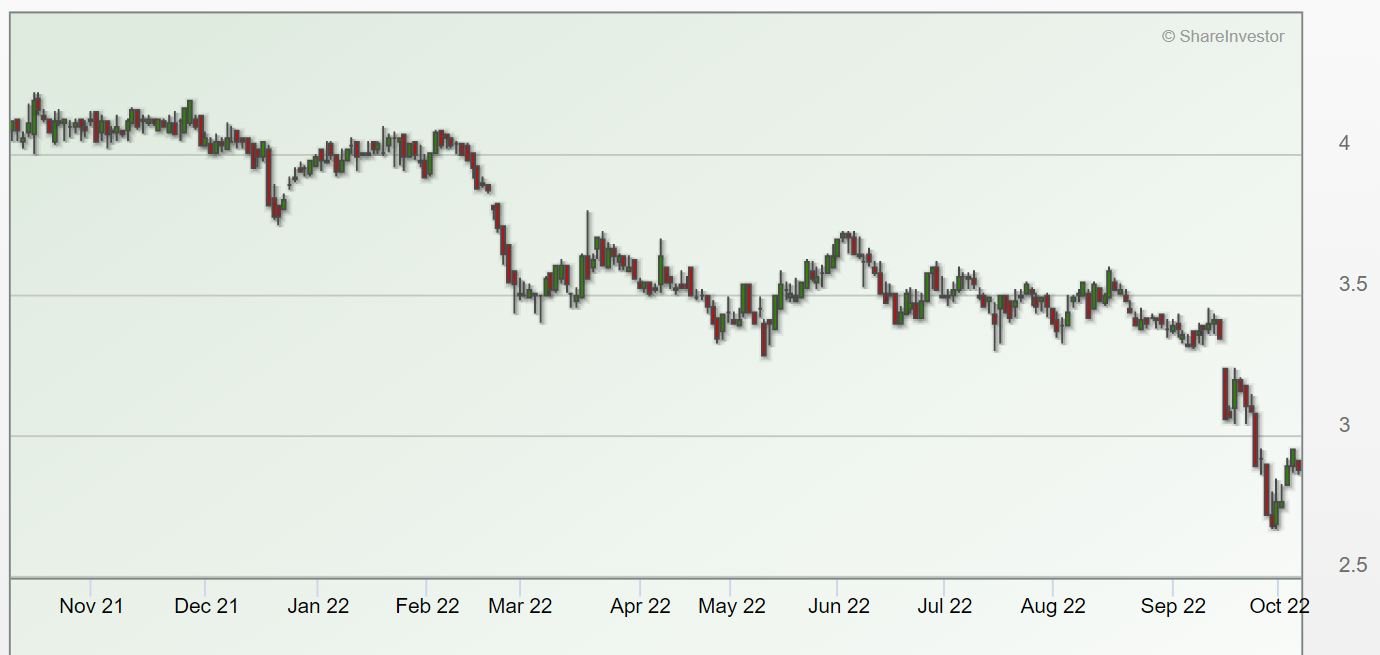 champion reit share price chartYou can find the full report here and the company website here