Excerpts from UOBKayHian report
CapitaLand Integrated Commercial Trust (SGX: C38U)
Downtown malls swung to positive rental reversion of 3.8% in 3Q22. Occupancy for CICT's Singapore office portfolio improved 3.1ppt qoq to 96.0%.
Management will adopt a disciplined and patient approach towards acquisitions, cognisant of difficulties in raising funds through the equity market.
CapitaLand Integrated Commercial Trust provides an attractive 2023 distribution yield of 6.7%.
Upgrade to BUY. Target price: S$2.14.
Reopening a boon for downtown malls
CapitaLand Integrated Commercial Trust (CICT) reported 3Q22 business update with gross revenue and NPI growing 13.7% and 12.7% yoy respectively, in line with our expectations.
CICT's retail portfolio recorded positive rental reversion of 0.6% in 9M22 (average incoming vs average outgoing) (1H22: -0.5%). We estimate that rental reversion was positive at 2.9% for suburban malls and 3.8% for downtown malls in 3Q22.
Retail occupancy improved slightly by 0.3ppt qoq to 96.8%. Downtown malls experienced stronger growth in tenant sales of 36.5% yoy (suburban:+10.7% yoy) but suburban malls experienced stronger positive rental reversion of 1.8%(downtown malls: -0.3%) during 9M22.
Management disclosed that tenant sales for suburban malls are already 5% above pre-pandemic levels, while that of downtown malls are on the verge of climbing above pre-pandemic levels.
Office maintained positive momentum
CICT's office portfolio registered positive rental reversion of 7.9% in 9M22. Average Singapore office rent was stable at S$10.52psf as of  Sep 22.
Office occupancy improved 2.2ppt qoq to 94.1% on a group-wide basis. Singapore office portfolio saw occupancy improve by 3.1ppt qoq to 96.0%.
Occupancy at Capital Tower has improved by 13.6ppt qoq to 90.7% after CICT secured ByteDance to backfill 120,000sf of office space vacated by JPMorgan.
Committed office leases will contribute to cash flow starting Jan 23 (after the fit-out period).
Integrated developments providing resiliency and diversification
Committed occupancy for integrated developments was stable at 97.5% in 3Q22. CICT will benefit from higher occupancies at the two hotels at Raffles City Singapore and serviced residence at CapitaSpring.
Room rates for Swissotel The Stamford and Fairmont Singapore are 2-3x higher than pre-pandemic levels, and CICT will benefit from an uplift in variable rents.
Resilient balance sheet to weather external uncertainties
Aggregate leverage increased slightly by 0.6ppt qoq to 41.2% in 3Q22. Cost of debt saw a slight up-tick of 0.1ppt qoq to 2.5%. Average term to maturity eased by 0.3 years to 4.1 years.
80% of its borrowings are hedged to fixed interest rates. Management estimated that every 1% increase in interest rates will raise annual interest expense by S$20m and reduce DPU by 0.3 S cents per year.
Valuation/Recommendation
We trimmed our 2022 DPU forecast by 3.5% as new office tenants will only contribute to cash flow starting Jan 23 (after the fit-out period). Our 2023 DPU is marginally reduced by 0.6% to 11.6 S cents.
Upgrade to BUY. Our target price of S$2.14 is based on Dividend Discount Model (cost of equity: 7.25%, terminal growth: 2.0%). Steady recovery in shopper traffic and tenant sales due to easing of social distancing measures.
Asset enhancement and redevelopment of existing properties and positive outlook for the office sector with limited supply and healthy pre-commitments within core CBD.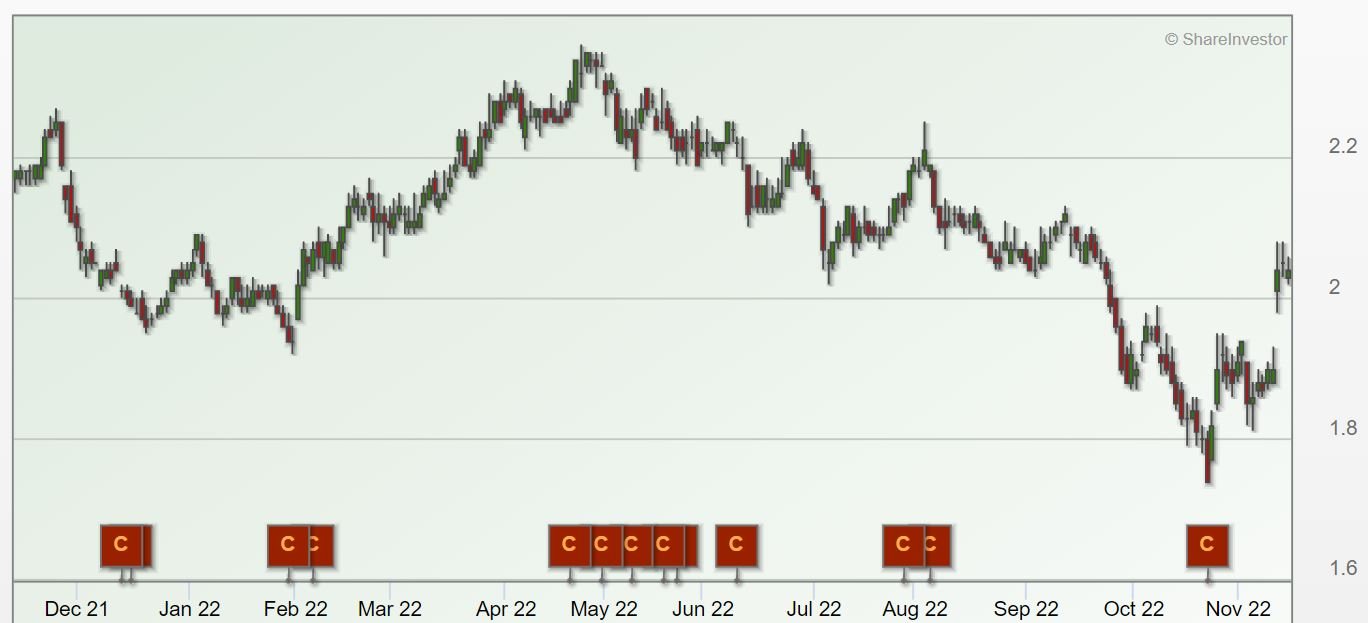 You can find the full report here and the company website here