On 29 November 2021, Aurelius Technologies Bhd's (ATech) IPO Prospectus was officially released and will launch its IPO at RM 1.36 a share.
Based on 358.18 million shares, ATech's market capitalization shall be lifted to RM 487.12 million after its IPO listing. Its listing date has been set to be on 16 December 2021.
You could download its IPO Prospectus at these links: Part 1 and Part 2 to study ATech.
You can also check out this summary on 9 things to know about ATech you need to make better investment decisions on it. 
#1: ATech's Business Model 
ATech is an Electronics Manufacturing Services (EMS) provider which is based at Kulim Hi-Tech Park, Kedah. ATech manufactures communication & IoT products, electronic devices, and semiconductor components. As of 1 November 2021, its operations consist of 1 manufacturing plant measuring 78,361 sq. ft., which has 9 SMT lines and warehousing facilities. ATech's manufacturing capacity and rate of utilisation are as follows: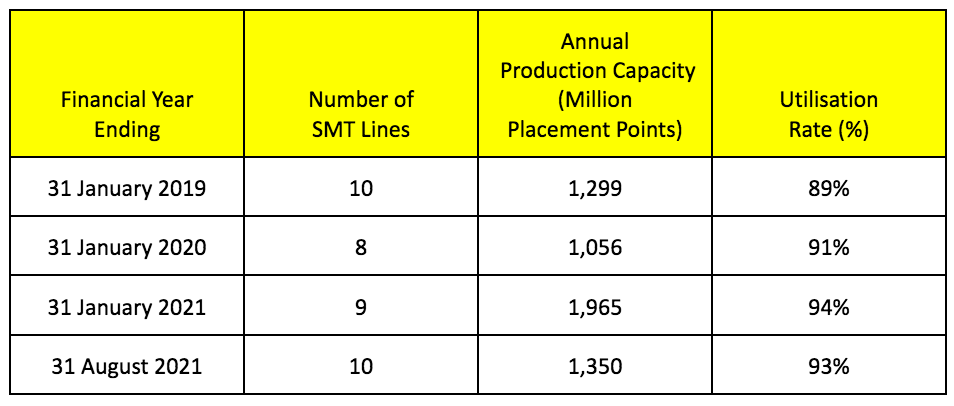 In October 2021, ATech installed 1 SMT Line and hence, increased its number of SMT lines to 11 as of 1 November 2021. 
#2: Major Customers 
ATech derived close to 90% of its revenues from 5 major customers:

In 2019, ATech entered into an EMS agreement with Customer F, which is a firm that produces wireless communication modules and solutions in the IoT field in China. From it, ATech offers semiconductor components manufacturing services to Customer F.
As of 1 November 2021, ATech planned about RM 34.0 million in capital expenditures (CAPEX) to undertake EMS works for Customer F.
Its CAPEX details are further elaborated in the next point but here suffice to say, its future plan is largely built around Customer F. 
#3: IPO Proceeds
ATech targets to raise a gross proceeds of RM 104.73 million from its IPO listing. After deducting its listing expenses of RM 7.09 million,
ATech plans to allocate a total of RM 40.00 million in machinery & equipment purchases, make RM 29.52 million in repayment of borrowings, and RM 28.13 million in working capital.
As stated in its IPO Prospectus, the details of utilization of the gross proceeds from IPO listing are elaborated as follows: 
a. Purchase of Machinery & Equipment (RM 40.00 million)
To serve Customer F, ATech is constructing a new manufacturing plant, adjacent to its current manufacturing plant. Measuring 61,909 sq. ft., the new plant shall increase its manufacturing floor space by 69% to 132,821 sq. ft. With additional floor space, ATech revealed that it would add more 4 SMT lines and hence, shall lift its number of SMT lines to 15 by the end of financial year (FY) 2024, growing its production capacity to 5,870 million placement points by FY 2024. 
In addition, ATech plans to use the additional floor space to produce lithium-ion battery pack systems for use in light vehicles. It is currently working with a third party for the development phase of this product. 
b. Repayments of Borrowings (RM 29.52 million) 
ATech revealed that it intends to repay RM 26.91 million in Maybank term loans and RM 2.60 million in finance lease liabilities. Hence based on an effective rate of 4.67%, it would realise a savings of around RM 1.38 million per annum. 
c. Working Capital (RM 28.13 million) 
This would include RM 25.13 million in purchases of raw materials and RM 3.00 million in operating expenses. 
#4: Major Shareholders 
After its IPO listing, Main Stream Holdings Sdn Bhd (MSH) shall hold 71% equity interest in ATech.
Lee Chong Yeow and Loh Hock Chiang are key shareholders of ATech via their interest in MSH. Lee is the CEO of ATech while Loh is its CFO. 
#5: Financial Results
ATech has recorded a decline in revenue, from RM 389.31 million in 2020 to RM 362.17 million in 2021.
This is because the sales decline from Customer D was a lot more than the sales growth from Customer A, B, and E. This had contributed a decline in profits after tax (PAT) to RM 15.10 million in 2021.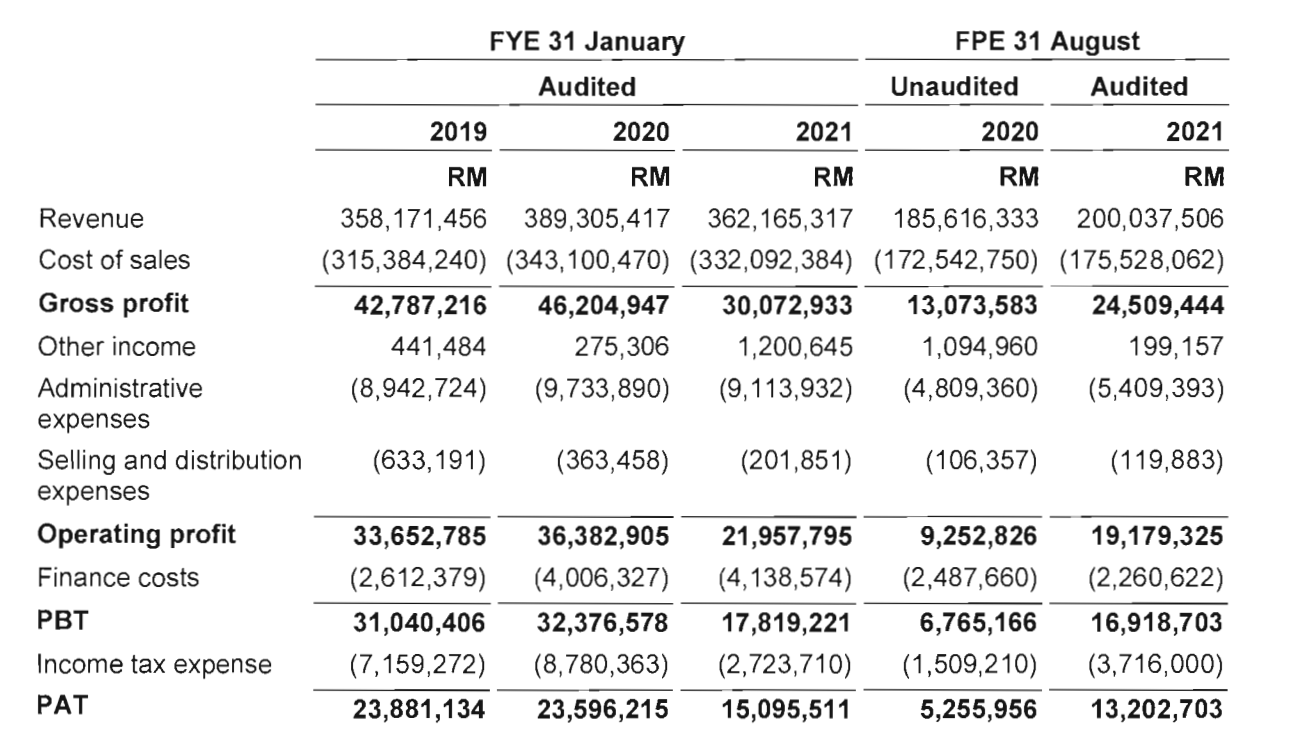 #6: Gearing Ratio 
Since FY 2020, ATech had maintained RM 125-135 million in total borrowings. It has maintained 100%-200% in gearing ratio over the past 2 years.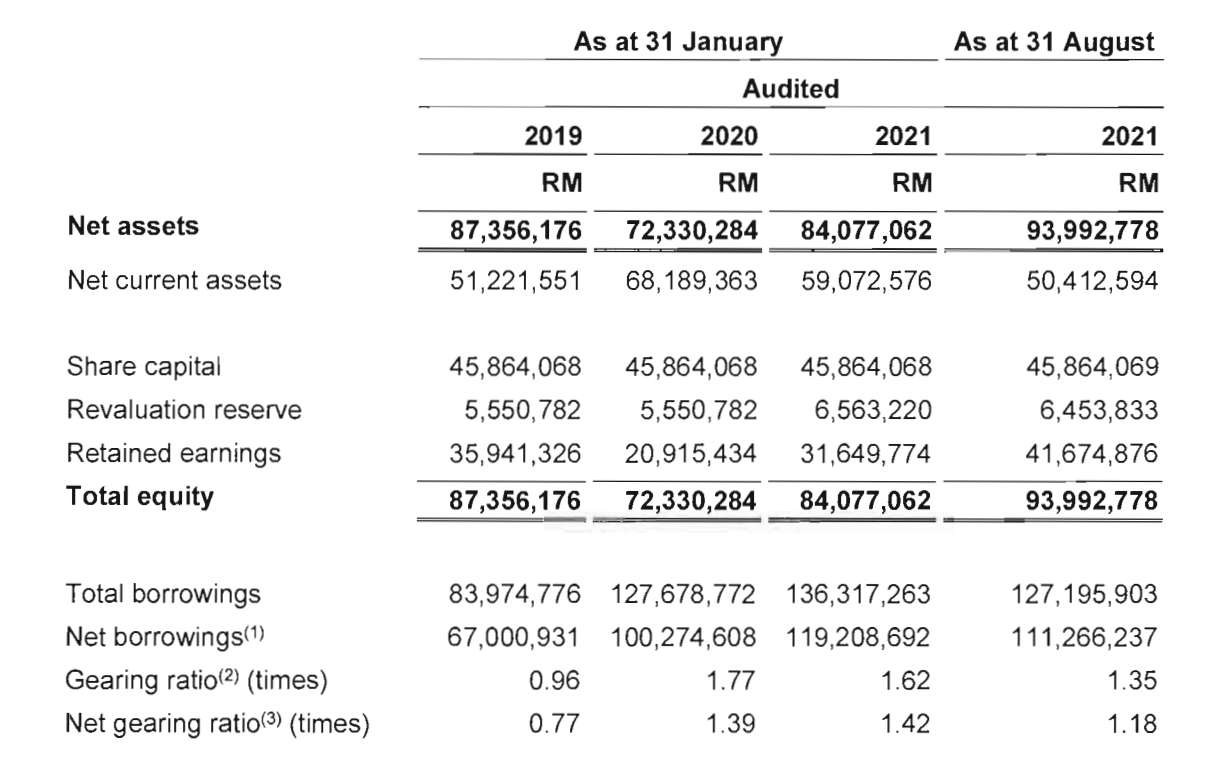 #7: Order Book
As at 1 November 2021, ATech has an unbilled purchase orders worth RM 482.7 million which are to be delivered over the next 25 months till November 2023:

#8: Valuation 
ATech's IPO shares are offered at RM 1.36 per share. 
Based on its earnings per share (EPS) for FY 2020, which is 6.59 sen, ATech's IPO shares are offered at P/E Ratio of 20.64x. 
Based on its earnings per share (EPS) for FY 2021, which is 4.21 sen, ATech's IPO shares are offered at P/E Ratio of 32.30x. 
#9: Dividend Policy 
ATech aims to pay out 20% of profit after tax (PAT) attributed to shareholders in the form of dividends. 
Conclusion
ATech has built long-term relationships with its 5 key customers and they would continue to remain instrumental to its financial results. 
At present, ATech's plan for growth is heavily concentrated on serving Customer F. As such, investors would need to be comfortable with the dependency on the 5 customers above.
Lastly, investors could assess if the valuation is comparatively reasonable against other tech stocks listed in China and the United States (USA) to make a much better investment decision on ATech.