On 30 November 2021, Swift Haulage Bhd (SHB) is launching its IPO at RM 1.03 a share. The listing of SHB's shares is set to be on 21 December 2021. Upon its listing, SHB's market capitalization would be lifted to RM 916.5 million.
Here, you may download the IPO Document via these links: Part 1, Part 2, Part 3, and Part 4 to study SHB as a candidate for investment.
Alternatively, you may spend 10 minutes here, where I had summarised 8 things to know about SHB before you invest. 
#1: SHB's Business Model 
SHB is an integrated logistics firm based in Malaysia. As of 31 October 2021, the firm has reported to have 1,546 prime movers, 5,518 container trailers, 811 box or curtain-sider trailers, 53 trucks, and 42 CNG tankers. Also, the company has a total of 849,731 sq. ft. in warehouse storage spaces and as much as 28,500 TEU in capacity for its container depots. 
SHB plans to raise RM 161.9 million in gross proceeds from its IPO listing and of which, it intends to utilise them in the following initiatives: 
#2: Initiative 1 – Construction of a New Warehouse (RM 28.57 million) 
In 2020, SHB operated 354,300 sq. ft. of warehouse spaces at Port Klang, which included Westport Warehouse. SHB's lease agreement on Westport Warehouse has expired on 31 October 2021. Hence it has leased a temporary warehouse to avoid business disruption. 
SHB intends to build 1 ambient temperature warehouse, measuring 178,000 sq. ft. for the storage of general goods on a piece of leasehold land at Port Klang. It has submitted its building plan for approval. Upon completion, it would enlarge its warehousing capacity as Westport Warehouse had 54,300 sq. ft. in capacity. 
The estimated cost and timeline to construct the warehouse are as follows: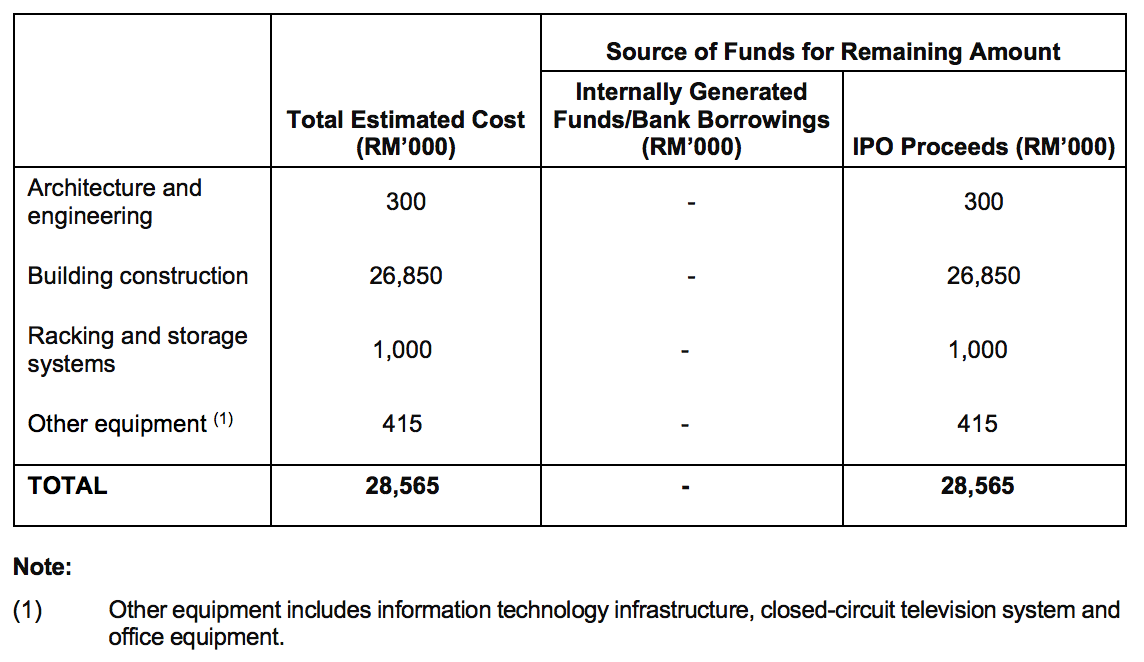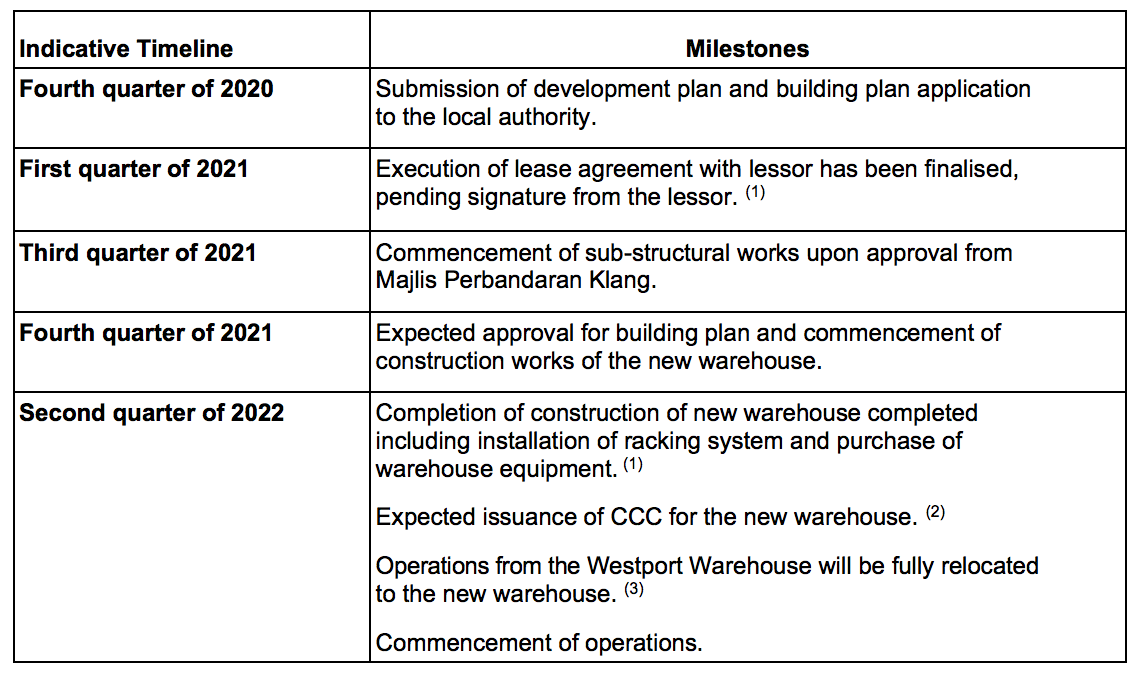 #3: Initiative 2 – Purchase of Land (RM 41.56 million)
Here are the key details of SHB's land purchase: 
First, on 15 July 2021, SHB had acquired 100% interest in Ann Joo Properties for RM 10.0 million. 
Second, Ann Joo Properties leased the Bandar Sultan Sulaiman Land, measuring 1.26 million sq. ft. from the State Development Corporation of Selangor (PKNS). It is a leasehold land expiring on 30 June 2105 and is occupied by 2 tenants. For the 2 tenants, their tenancy agreements shall expire on 15 January 2022 and 28 February 2022. 
Third, Ann Joo Properties has an option to acquire the leasehold land. PKNS has offered Ann Joo Properties to buy the land for RM 59.4 million in July 2021. The offer is accepted in the same month. Upon completion, SHB has revealed that it would expand its container haulage, land transportation and/or warehousing & container depot services on the land, after 2 tenants end their tenancies. 
In total, the cost to acquire the land is RM 69.4 million:
#4: Initiative 3 – Purchase of Prime Movers (RM 12.00 million) 
From Point 1, SHB has 1,546 prime movers where 1,460 are in Malaysia and the remaining 86 are based in Thailand. The average utilisation rate on its container haulage operations and inland transportation & distribution operations that are based in Malaysia were 81% and 89% in FY 2020. SHB plans to spend RM 12.0 million to purchase 30 prime movers to support its business growth. 
#5: Initiative 4 – Repayment of Bank Borrowings (RM 69.73 million)
SHB allocates RM 69.73 million from its gross proceeds to repay these facilities:
This would generate around RM 2.1 million in savings in finance cost a year. 
#6: Major Shareholders 
Upon its listing, Persada Bina remains as SHB's major shareholder with as much as 35.87% shareholdings of the firm. As a result, Dato' Haji Md Yusoff, Loo Yong Hui and Loo Hooi Keat shall be substantial shareholders of SHB via their interest in Persada Bina. 
Loo Yong Hui is the Group CEO of SHB while Loo Hooi Keat, his father and Dato' Haji Md Yusoff are appointed as non-executive directors of SHB. 
Kumpulan Wang Persaraan (Diperbadankan) and Bluefin Bidco Ltd remain as its strategic investors with 9.12% and 7.79% shareholdings of SHB after listing. The details of SHB's shareholdings are as follows: 
#7: Financial Results 
SHB has reported an increase in revenues in 2019 due to full-year consolidation of Tanjong Express Group and Komunajaya, which were acquired in July 2018.
It had, however, reported lower earnings in 2019 as compared to 2018 as SHB did make RM 20.0 million in gain from disposal of a land at Pulau Indah, Klang in FY 2018. 
Subsequently, SHB reported a fall in revenues in 2020 compared to 2019. This is because its operations were impacted by COVID-19. But, SHB's earnings grew in 2020 as compared to 2019 despite its sales decline.
This is contributed by SHB's accrual of a legal claim of RM 20.00 million made by a client of Swift Integrated Logistics prior being acquired by SHB.
The accrual was made by SHB as SHB had a possible obligation on this claim. However, this accrual was no longer needed. This is because the legal claim was settled in 2020 by Swift Integrated Logistics' former shareholder. 
Thus, the one-off transactions in 2018 and 2020 had resulted in higher earnings in the two years. It is important to exclude them when valuing SHB because the one-off transactions would not contribute regularly to SHB's financial results for the future.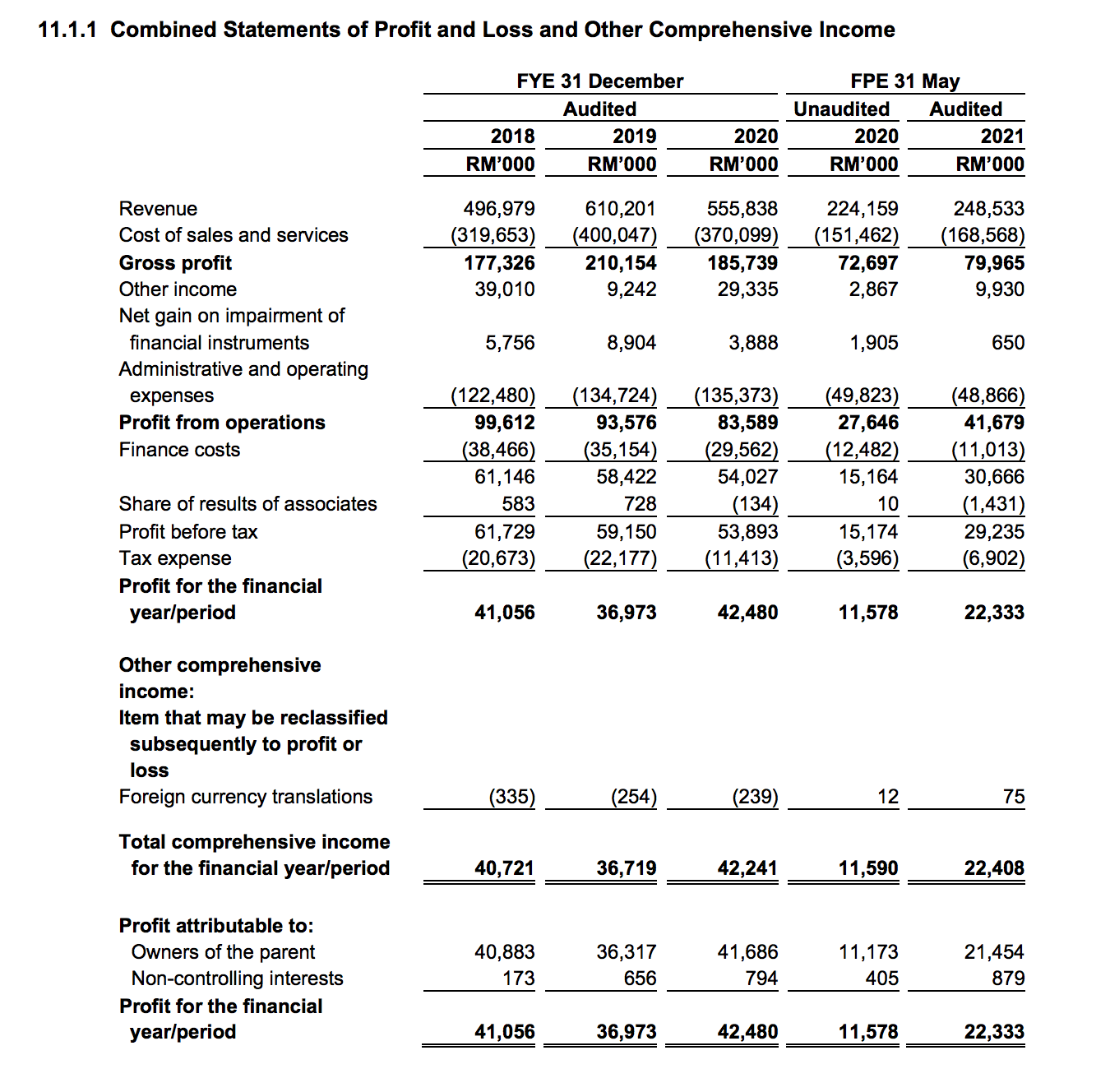 #8: Dividend Policy and Valuation 
SHB offers its IPO shares at RM 1.03 per share. Based on the earnings per share (EPS) of 4.8 sen in 2020, the offer is valued at 21.46.
The EPS of 4.8 sen is based on the group's profits after tax (PAT) of RM 42.5 million which is inclusive of RM 20.0 million in accrual of a legal claim (one-off transaction). SHB aims to pay up to 30% of its shareholders' earnings as dividends.  
Conclusion
Since 2011, SHB had been proactive in growing its businesses and currently, the firm aims to expand its operations further with its construction of 1 warehouse, purchase of land and prime movers.
Here, it is vital for investors to assess SHB's valuation and compare it with other listed logistic players before investing.