Excerpts from RHB report
Ascendas Reit (SGX: A17U)
Ascendas Reit (AREIT), Singapore's largest and well-diversified industrial REIT, offers a good mix of defensiveness and growth potential amid a volatile macroeconomic environment.
Recent refined fee structures will save costs and alleviate some of the pressures from rising utility charges.
The REIT has also been boosting its logistics exposure, by acquiring seven logistics assets in the US.
BUY, SGD3.60 TP, 25% upside. Its valuation is attractive – at 1.2x FY22F P/BV, offering a 5.5% dividend yield.
Ascendas Reit Management fee savings a positive, will mitigate rising utility charges
AREIT has inked new management agreements that will take effect from Oct 2022 for the next 10 years. As a part of its new Singapore property management agreement, it will be responsible for all car park management site staff costs, opex and capex.
Previously, when it paid carpark management fees of SGD2.16m and 40% of hourly carpark income. The new structure will result in additional revenue of SGD3.9m pa (based on FY21 numbers) and cost savings of ~SGD1.6m pa.
These savings should mitigate the impact of the rising utility charges – at c.8% of opex and expected to rise ~50% this year as a result of higher electricity tariffs.
Seven new US logistics assets will improve income stability
In May, AREIT announced the acquisition of seven freehold logistics assets in Chicago for USD99m (SGD133m). The assets are fully occupied (no single tenant accounts for >20%), with a WALE of 5 years and come with an initial NPI yield of 5.3%.
The leases also have a built-in rental step-up rate of 2-3% pa. The acquisition comes on the heels of its Oct 2021 acquisition of 11 last-mile logistics assets in Kansas City for USD156m (SGD208m).
Post transaction logistics assets account for c.25% of its portfolio, with the US becoming the largest market outside of Singapore – accounting for 15% of its portfolio.
The transaction will be funded by debt, and is yield-accretive –with a post-acquisition gearing still at a modest c.37%.
Rental growth set to continue offsetting interest rate impact
AREIT's portfolio assets had a 1Q positive rent reversion rate of +4.6% (FY21: +4.5%), with all segments and markets leased seeing rental growth –Australia (+16.5%), US (+14%) and Singapore (+3.9%).
This, in our view, should more than mitigate rising interest rates. c.79% of loans are on fixed terms with an average tenure of 3.7 years, and every 20bps increase in interest rates will have a marginal 0.4% impact on DPU.
The REIT also has a high natural hedge (c.75%) for its overseas property income, with local currency borrowings mitigating recent volatilities in FX rates.
AREIT has the highest ESG score of 3.3 out of 4.0
Among the industrial REITs, AREIT has the highest ESG score reflecting its committed ESG efforts over the years. As this score is three notches above our country median, we applied a 6% premium to our intrinsic value to derive our TP.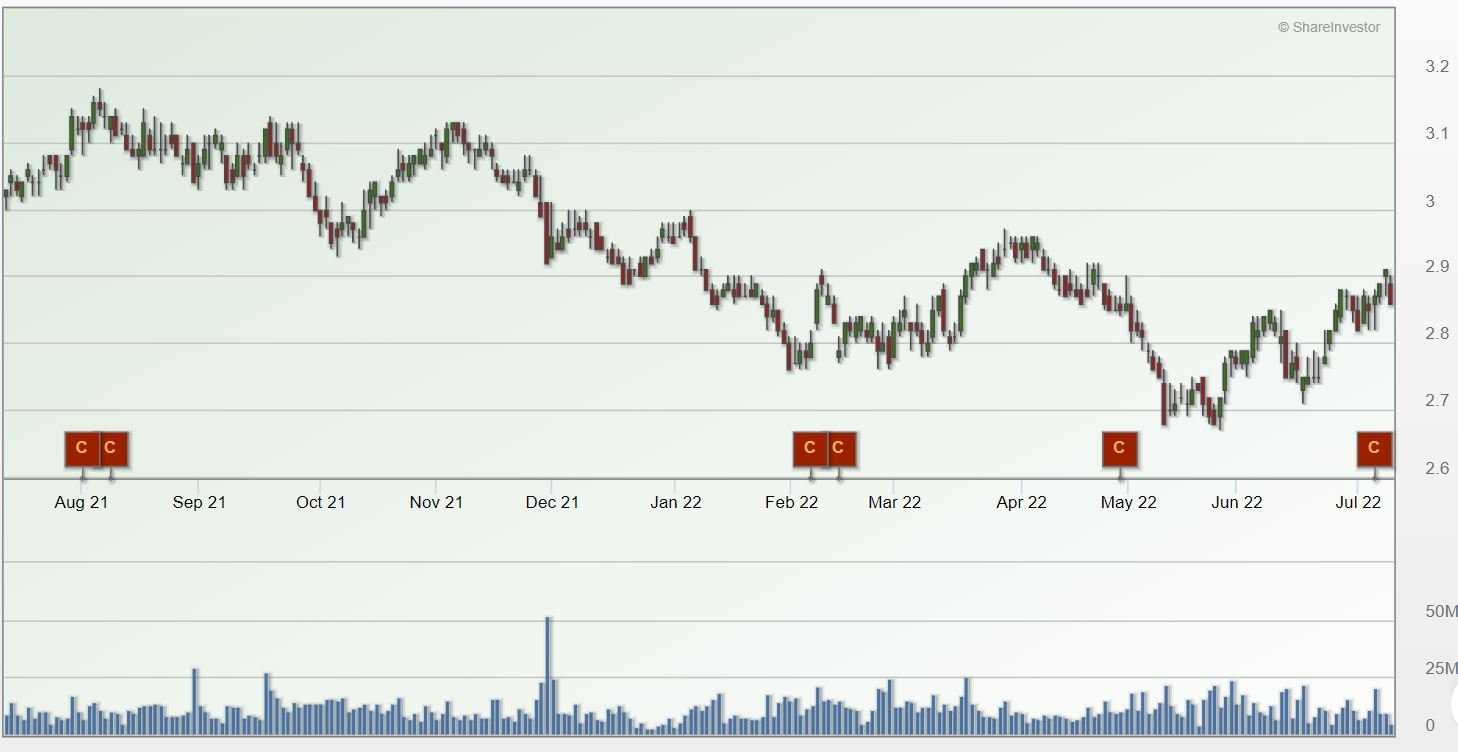 You can find the full report here and the company website here