moomoo powered by FUTU has bulldozed into the Singapore market with advertisements plastered in all places like the Mrt stations, bus stops and more.
And if you have yet to take advantage of the moomoo powered by FUTU's welcome promotion, now is the time to check out the details below!
moomoo Promotion Bundle powered by FUTU
To cut to the chase, moomoo powered by FUTU is running an attractive limited time offer from now to 2 October 2021.
New users (in Singapore) who register for a FUTU SG Securities account via moomoo app will receive the following benefits:
FREE 1 Apple share (ticker: AAPL) – limited to 15,000 shares!
Cash coupon of S$88 (Only from now to 30 September at 23:59 hrs SGT)
180 days of unlimited commission-free trades (US, HK & SG markets)
Free real-time quotes (SG, US, China A share markets)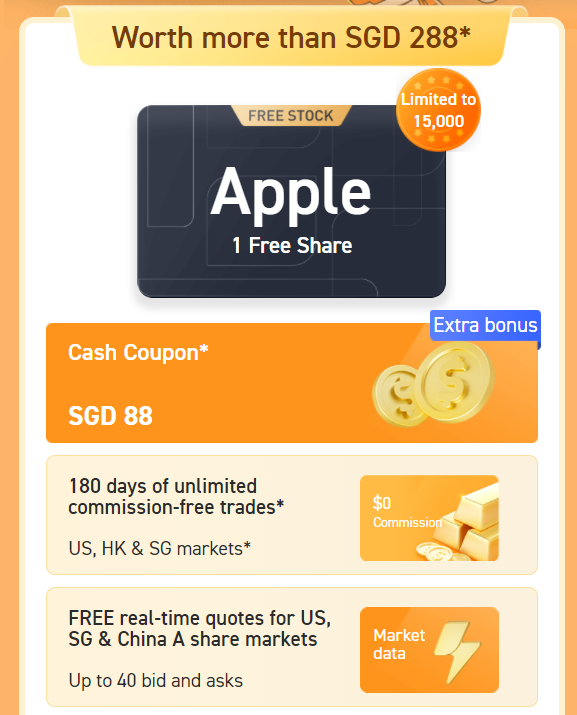 The above rewards are eligible upon completion of the necessary actions and the usual T&Cs apply.
Step-by-step guide to grab FREE Apple Share + Bonuses worth ~S$288
Step 1
Sign up using this link; and click on the "Claim Now" button.
Step 2
Fill in your email and password to sign up. Then download and install the moomoo app from Android Play Store or Apple App Store.
Step 3
Setup your Futu Singapore Securities account and wait for your account to be approved. While it is stated to take 1-2 business days for the approval process, many of my friends said that the approval took less than an hour!
Step 4
In order to get cash coupon of S$88 and free Apple (AAPL) share, remember to do 2 important things:
Deposit a SGD 2,700 (or USD 2,000/HKD 16,000) after your FUTU SG securities account has been successfully opened before 30 September 2021, 2359hr SGT to receive your SGD 88 cash coupon. This is available for a limited period only.
Once your first deposit is successful, complete 5 trades on any market and product (except futures) within 60 days to receive your AAPL share within 5 business days.
And that's it – 4 Simple steps to get ~S$288 for free!
But remember, this promotion is capped at 15,000 Apple (AAPL) shares so fastest fingers first – Sign up using this link now!
4 Great Features why you should trade via moomoo app
1. Competitive Commission Fees
Seedly.sg has done us a favour of tabulating all the minimum fees and commission rates for popular brokerages in Singapore.
moomoo app stands out among the competition with one of the cheapest fees S$2.49 and 0.03% commission for SG stocks.
On top of that, trading via moomoo app also has "0" custody fees, "0" account maintenance fee, "0" account inactivity fee and even "0" minimum deposits; way much better than my traditional broker who used to charge me S$2 per quarter for my overseas holdings (omg…).
2. Free real-time market data
moomoo app offers a wide array of powerful, in-depth and customised analytics tools. In addition, moomoo app retrieves trading quotes from exchanges in real-time:
Level 2 market data for the US market which displays real-time bids, asks and stock quotes
Level 1 real-time SGX Securities SG market data and 24/7 aggregated updates
Level 1 China A Shares market data which displays real-time bids, asks and stock quotes
This is a good boon for traders because they can then depend on this tool for the best execution price.
3. Join the global community
moomoo is currently one of the fastest growing investor community in the region which enable investors to stay abreast of the latest investment trends.
For some perspective, Futu Holding Limited (FUTU), parent company to the moomoo trading platform, has garnered almost 16 million users from more than 200 regions around the world and more than one million average daily active users.
So now, you can engage with the general public, gain new perspectives and gauge the market sentiment before you trade.
Last but not least, you gain reward points when you accomplish the various Daily or Growth Tasks.
4. Learning courses + 24 hours customer service
Beginner investors tend to be clueless on 2 fronts:
i) Lack of investment knowledge
ii) Face technical issues or confused of the investing app
moomoo app has done a great job removing the initial barriers of beginner investors by offering free trading guides and courses available 24/7, even on-the-go. It has amassed more than 20 complete online courses and videos that covers across Stocks, IPOs, Options, ETFs for all customers to upskill.
In addition, Futu prides itself in putting users' experience as a priority so that users are not left in the lurch when faced with any teething issues.
To elaborate further, users are able to enjoy 24 hours customer service on trading days for a peace of mind. Within moomoo's App itself, customers can also use the in-app live chat function via "customer service" where a customer service representative will attend to any of your burning questions.
Last but not least, additional customer service support is also made available via the in-app "Help Center", hotline, email and social media platforms:
"Help Center" via in-app
Email: clientservice@futusg.com
Social media: @moomoosingapore
Customer service line: +65 6321 8888 (working day:24 hours, Weekdays: 9am – 9:30pm)
Conclusion – Go for moomoo powered by FUTU's Welcome Promotion now
Having tried moomoo's trading platform, I am fascinated by all the wonderful features packed in 1 single app.
The best part?
The generous moomoo powered by FUTU's welcome promotion to get me started in the 1st place.
1 Free Apple share and S$88 cash coupon (total worth ~$288) just for <15 mins of 'admin time'. Don't miss it out!
S$88 cash coupon end on 30th September at 23:59 hrs SGT, 1 free AAPL share expires on 2nd October 2021.
Click this link to sign up today!