NetLink Trust is a business Trust soon to be listed on the SGX mainboard.
Here is a quick glance into the details of the IPO:
Close to 2.90 billion shares will be issued, subjected to over-allotment
Public offer open on 10 July, 5pm and close on 17 July, 12pm
Offer price will be between 80 and 93 Singapore cents
Trust's market capitalisation will stand between S$3.09 billion and S$3.59 billion
The IPO will represent 75% of the Trust's total shareholding. SingTel will be withholding the remaining 25%, and also pocket the water-salivating IPO proceeds.
Attached is the preliminary prospectus for your reference.
Netlink Trust's Profile
NetLink Trust builds and operates passive fibre network infrastructure of Singapore's Next Gen NBN. This will deliver ultra-high speed internet access to residential homes and non-residential premises throughout mainland Singapore and its connected islands.
The Trust's network consisted of approximately 76,000 km of fibre cable, 16,200 km of ducts and 62,000 manholes. The Trust Group's primary customers consist of SingTel, Nucleus Connect (Starhub), M1, MyRepublic and ViewQuest.
As of 31 March 2017, its network supported approximately 1.1 million residential and 38,500 non-residential end-user connections in Singapore. Respectively, this accounts for 76.3% and 32% of total market share in Singapore.
Through the IPO, estimated net proceeds will amount between S$2.26 billion to S$2.63 billion. Over-allotment option will bring in an additional S$100 million. The use of the proceeds will include purchase of Singtel's broadband assets and also repayment of a S$1.1 billion loan to Singtel.
Profitability
From the prospectus, the Trust experienced both top-line and bottom-line growth for the past 3 years. Its revenue undergone a CAGR of 11.26% from 2015 to 2017 ending March. This is primarily due to an increase in fibre business. Similarly, its net profits more than doubled from 2016 to S$73.7 million to 2017.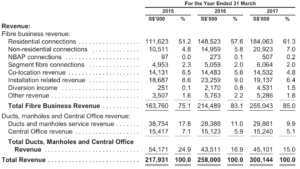 With regards to its revenue breakdown,
More than half of its revenue comes from residential fibre connections.
The other significant portion comes from charging rental for its ducts and manholes, which allows its Licensees to establish their own network.
The remaining revenue source comes from installation services.
For its loans, it has been relatively steady for the past 3 years, hovering at S$1.61 billion as of 31 March 2017. This enormous figure is expected, considering that a huge amount of capital outlay is needed to establish a nationwide extensive network.
Over the past 3 years, its business has been bringing in positive operating cashflow, increasing at CAGR of 21.19%. However, due to its extensive spending under purchase of property and equipment, its cash pool is a mere S$92.4 million versus the S$1.6 billion debt it amassed.
However, moving forward, its forecast indicates a dip in total revenue from S$300 mil from 2017 to S$221.5 mil in 2018 before picking up the following year.
Total expenses are also forecasted to creep up due to higher depreciation. You can refer to the diagram below.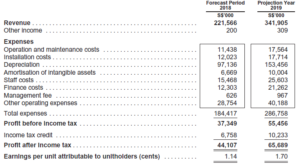 Its earnings per unit attributable to shareholders stand at 1.04 cents in 2016 and 2.06 cents in 2017. For its forecast period 2018, it is calculated on the assumption from 1 August 2017 to 31 March 2018. Its full year earnings per unit for 2018 will hence translate to be 1.71.
Growth Prospects
Setting up network to cater to the whole of Singapore requires a huge outlay of capital. Hence, there will be barrier to entry for any potential competitors. Furthermore, the nature of its business will consistently bring in recurring income streams.
The main bulk of its revenue comes from residential connections. From the diagram below, its prospectus predicts subscriptions to increase at CAGR of 6.5% from 2016 to 2021.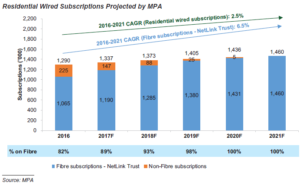 Moving forward, based on research by MPA, the proportion of residential wired broadband subscription stood at a whooping 82%. Similarly, its fixed residential wired broadband household penetration stood at 88% as of Dec 2016.
These figures are forecasted to increase over the next few years. Even at its current standing, it is significantly higher than most countries. This will thus reflect a huge continuing demand for NetLink's services.
Images taken from its prospectus
Its annualised distribution yield for 2018 is expected to be between 4.73% and 5.50%, thereafter it will grow by 5.50%. That is based on a distribution of 2.93 cents per unit in 2018. You can refer to the diagram below, taken from its prospectus as well.

Conclusion
Its earnings per unit in 2017 stands at 2.06 cents. With that, its P/E ratio will vary between the range of 38.8 to 45.1. I will say that this is relatively expensive, as its P/E ratio fall on the higher end, compared to other Trust in the market.
Investors may also want to take note that as a Trust, it is not mandatory to distribute dividend. This is unlike REITs whereby it is mandatory to distribute at least 90% of disposable income to the unit holders. Therefore, if you are more risk-averse and looking for passive income, you may want to consider investing in REIT instead.
Fancy an Ebook that teaches you the hallmarks of multi-bagger stocks and how to find them? Simply click here to receive your copy of a brand-new FREE Ebook titled – "100 BAGGERS" by Christopher W. Mayer here today!
Last but not least, do remember to Like us on Facebook too as we share the latest investing articles and stock case studies for you!