Recently, we have done a review of your survey responses and some readers inquired about China International (SGX: BEH).
A brief search on SGX StockFacts shows that it has an amazingly low P/B and P/E ratio. Its P/B ratio stands at 0.191 while its P/E ratio stands at 0.8! But before you jump right into it, it is wise to delve into its fundamentals before making a decision.
Here is a 5-min guide to what you need to know about China International.
China International's Profile
China International is an investment holding company, dealing in 3 main segments. They are energy and natural resources; water supply services; as well as land and real estate property development.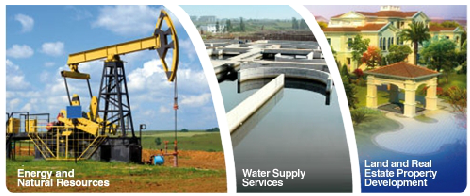 Image taken from its company website: http://www.cihgrp.net/index.html
Its water supply services segment is involved in the construction of water pipeline and supply of gray water. Its land and real estate development segment deals with land development projects and also develops and sells properties. All its businesses are based in China.
Financial Health
From its latest quarterly report, its revenue increased by 24.4% to RMB 42.2 million, compared to the previous year. This is due to an increase in property sales by Yichang Xinshougang Property Development. For a brief overview, the company has acquired a 55% interest in Yichang Xinshougang Property Development in 2013.
However, this acquisition comes with some escalated costs. Its latest quarter revealed a 92.7% increase in cost of sales due to higher property development costs from Yichang Xinshougang. As a result, its gross profits actually decreased by 31.7% to RMB 12.7 million.
All in all, it is important to know that its swing into profitability is not due to an improvement in its main businesses. From its financial statements, it is mainly due to a component under "Other Income". This huge gain is attributed to payables which were partially waived by a non-controlling shareholder of its own subsidiary, Yichang Xinshougang Property.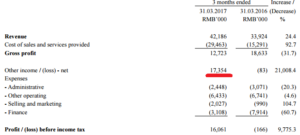 A further warning sign to take note is that its cash and cash equivalents currently stand at RMB 59.6 million. That translates to a 62% decrease from the amount of RMB 157 million one year ago.
On the other hand, its short-term borrowings amount to RMB 85.8 million which is 44% more than its pool of cash!
Growth Prospects
Its latest earnings per share displayed a turnaround from a loss of 16.08 fen the last quarter to 21.79 fen currently. However, as mentioned above, this huge surge in profitability is due to a one-off gain from a waiver of payables from its own subsidiary.
It seems that China International is highly dependent on the performance of its 55%-owned subsidiary – Yichang Xinshougang Property Development. A look at recent news will show that that subsidiary is facing a court claim for the repayment of an alleged loan. You can refer to the article here.
With much uncertainty revolving around this counter, it is best to stay at the sidelines and observe for more concrete growth elements before jumping into it.
Fancy an Ebook that teaches you the hallmarks of multi-bagger stocks and how to find them? Simply click here to receive your copy of a brand-new FREE Ebook titled – "100 BAGGERS" by Christopher W. Mayer here today!
Last but not least, do remember to Like us on Facebook too as we share the latest investing articles and stock case studies for you!