APAC (ERA) Realty, one of Singapore's largest real estate agencies, is soon to be listed on the SGX mainboard after delisting in November 2012.
Here is a quick glance into the details of the IPO:
48.9 million shares will be issued, comprising of 4,411,000 Public Offer Shares and 44,503,200 Placement Shares
Public offer open on 21 Sept, 9pm and close on 26 Sept, 12pm
Offer price will be 66 Singapore cents
39.3 million shares snapped up by cornerstone investors such as FIL Investment Management (Hong Kong), Qilin Asset Management, Asdew Acquisitions and Azure Capital.
Attached is the IPO prospectus for your reference.
APAC ERA Realty's Profile
APAC Realty's principal business is the wholly owned ERA Realty, now ranked second by agent strength with 6,272 agents as at last count.
It also holds the exclusive regional master franchise rights to Realogy's ERA brand for certain countries in the Asia-Pacific region as well as the master franchise rights to Realogy's Coldwell Banker brand for Singapore.
Another wholly owned subsidiary, RIA, provides training, valuation and property management services.
[Important Note] – Singapore is its Primary Market.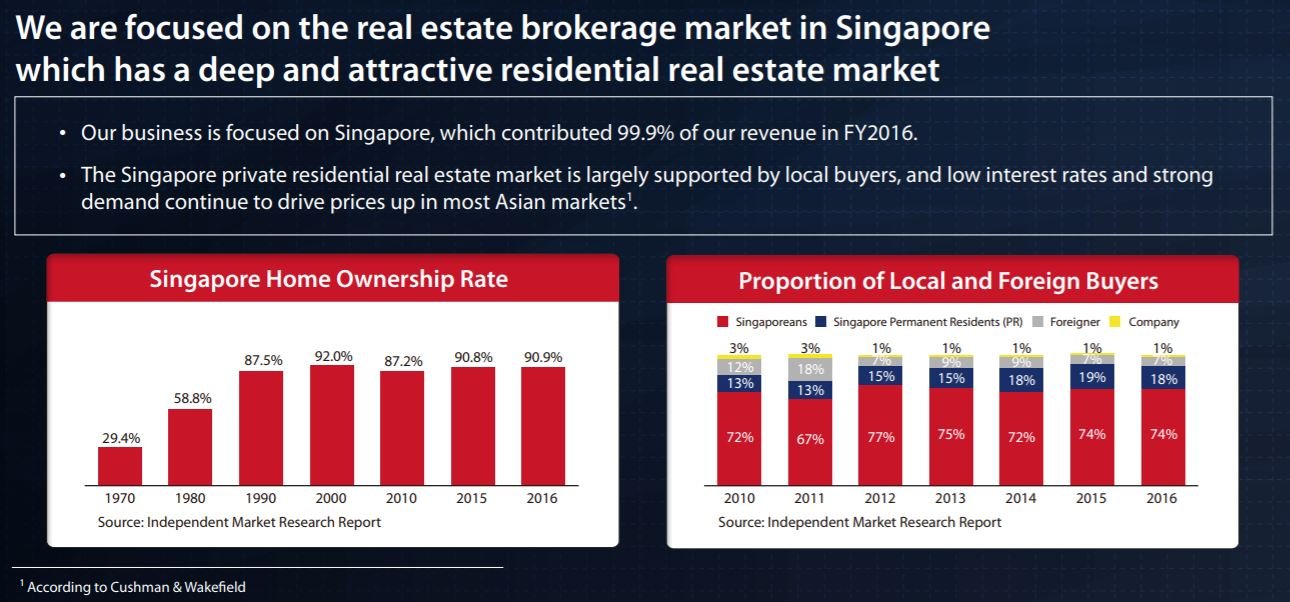 While it has many brokerage offices and agents in countries across Asia, Singapore makes up 99.9% of its revenue in FY2016.
With that, you can delve deeper into the business model and segments of the company as shown below. It is safe to say that the bulk of revenue generated comes from Brokerage portion (Buying and selling of houses) as it takes up 80.9% of gross profits in FY2016.
So the company's 'fate' intertwines closely to that of the Singapore's property market outlook. This also takes into account:
Government's housing regulations (whether it will ease the tightening policy soon)
Interest rate hikes (any uptick will impact the buyers' financing of the houses)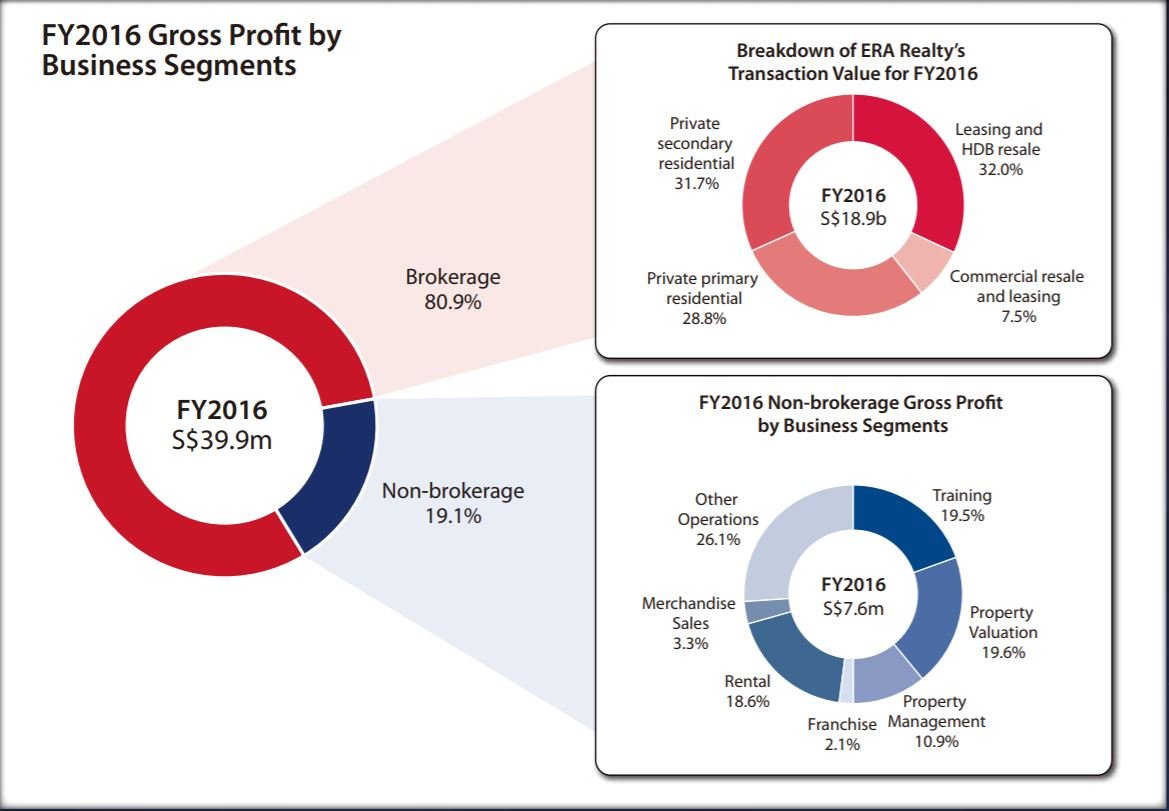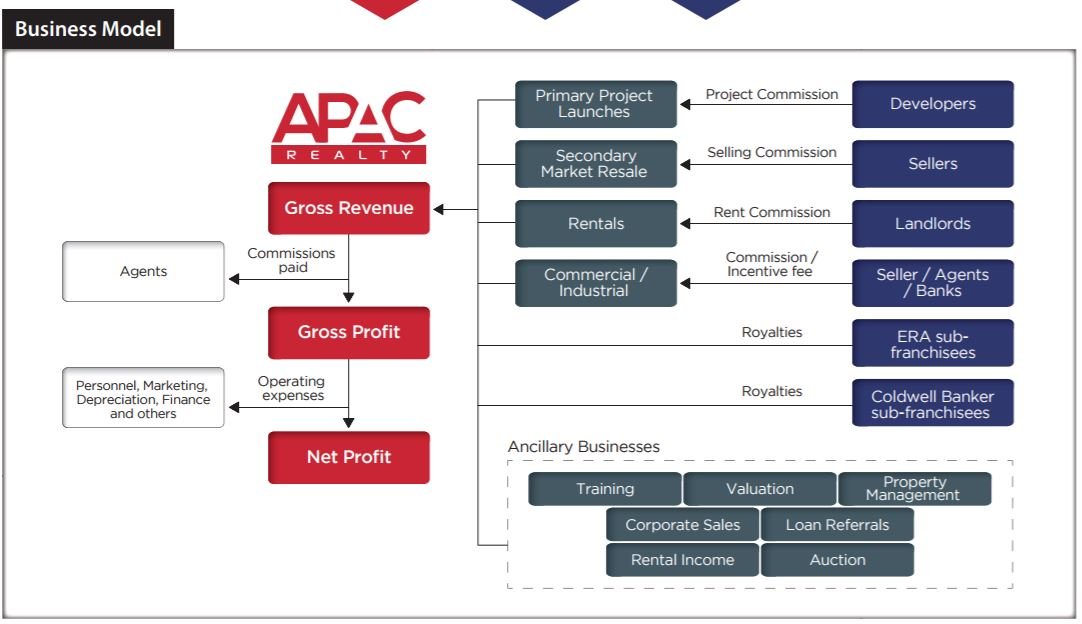 On another note, the IPO prospectus mentioned the words 'resilient business model' a couple of times, which is different from what i have in mind.
I decided to check out its financials over the past years and this brings us to the financial highlights next.
Financial Highlights
From the prospectus, we can safely say that our initial hypothesis is accurate in a way that the APAC Realty's net profits follow the housing market trend closely.

Just a look at the graph reveals certain key points:
The global financial crisis led it to register a $2.2 million profit. While it is not making losses, that's a 80% drop from the previous year!
After the imposition of TDSR framework, its profits went on a downtrend from $22.3 mil in FY2012 to $8.5 mil in FY2015.
Lsatly, the private residential price index (grey line) seems to be a good indicator of how ERA is going to perform too. When the index is down, ERA profits also follow suit.
Next up, we zoom in on its financial position.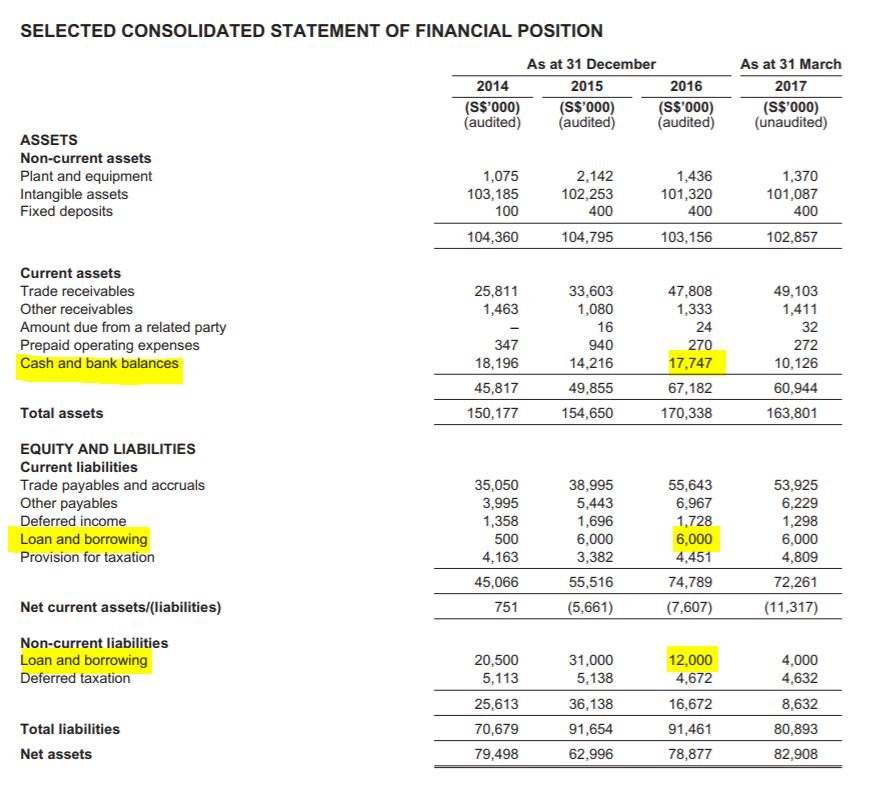 The borrowings have come down quite substantially from FY2015. In addition, its cash hoard of $17.7 mil can already clear up most of its loans and borrowings.
With that lets move on to the part where most people are interested in – the Dividends and Valuation.
Valuation & Dividends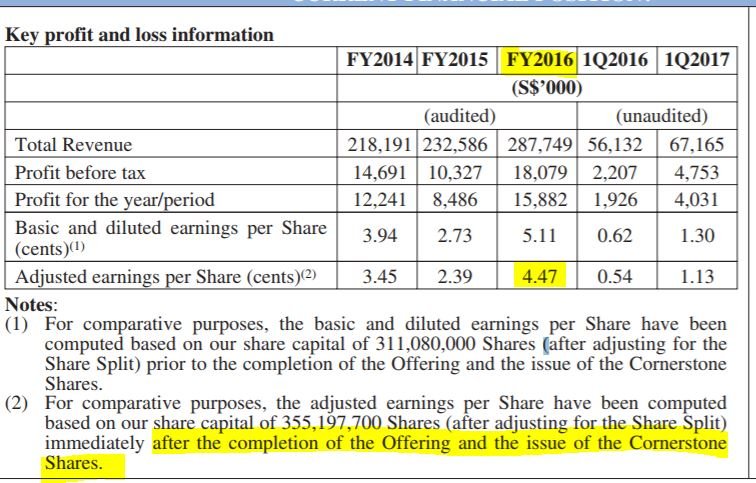 Its adjusted EPS stand at 4.47 cents in 2016 and taking IPO price of $0.66, it is going to debut at a P/E ratio of 14.76x. For some comparison, the STI ETF is trading at 11x P/E.
Thus, APAC ERA IPO's price is not considered cheap but not too 'over the roof' either. I would see it as fairly valued at the moment. But things can change rather quickly because as you all know, the property market is always cyclical.
In addition, APAC Realty is making a commitment to pay out at least 50% of profits as dividends this year and the next. Assuming an EPS of 4.47 cents, DPS (Dividends per share) will be at least 2.235 cents, translating into a dividend yield of 3.38% at the minimum.
Our Take
Overall, we are excited about this IPO for its flipping potential but neutral on its long-term potential. Our thoughts are as follows:
For flipping: Good
ERA is a brand synonymous with properties' buying/selling that almost all Singaporeans have heard of. Furthermore, there are some of the renowned asset management firms like FIL Investment Management (Hong Kong) and Azure Capital.
On top of that, the CEO has mentioned that Singapore seems to be on the cusp of a property upcycle and offers plenty of growth headroom for investors. Last but not least, there are only 4 mil shares for grabs, resulting in pent-up demand especially when the price is 'only' $0.66!
For long-term holding: Neutral
ERA is a cyclical stock as its profits heavily depend on the property market. I have no crystal ball but i know that interest rates will be on the rise soon and things may get ugly in time to come (3-5 years?).
Furthermore, we may see more real estate consolidation on-going too. ERA's top spot was just overtaken not long ago and then come this IPO. Maybe they wish to set their eyes on more acquisitions going forward?
Fancy an Ebook that teaches you the hallmarks of multi-bagger stocks and how to find them? Simply click here to receive your copy of a brand-new FREE Ebook titled – "100 BAGGERS" by Christopher W. Mayer here today!
Last but not least, do remember to Like us on Facebook too as we share the latest investing articles and stock case studies for you!