By now, you would have probably heard of Tiger Brokers with so many positive press coverage and financial bloggers talking about this up-and-coming online brokerage.
Nevertheless, I will still share with you 5 things I personally like about Tiger Brokers.
But first, here is a quick background on this innovative brokerage firm.
Tiger Brokers Profile
It started off as an online brokerage startup that caters to Chinese investors wanting to invest in overseas securities, particularly stocks listed on the U.S. and Hong Kong exchanges.
Launched in 2014, its app, 'Tiger for US Stocks', is characterized by a Chinese interface and supports multiple features like one-click short selling, personal profit and loss analysis, stock options trading, real-time quotes, and iOS, Android, Windows, and Mac OS coverage.
Backed by US-based brokerage Interactive Brokers, Chinese tech giant Xiaomi and Wall Street investment guru Jim Rogers, Tiger Brokers has grown by leaps and bounds and is listed on the Nasdaq five years later as UP Fintech (its parent company).
In the second quarter of 2020, it had 833,900 customer accounts worldwide, up 44.5% from a year ago. The trading volume also jumped almost 100% to US$46.8 billion in the same period.
Tiger Brokers Singapore operates with a Capital Markets Services Licence from the Monetary Authority of Singapore
With that in mind, lets dive into 5 things I like about Tiger Brokers.
1) Super Fast Account Opening
Personally, I have opened multiple brokerage accounts before. Traditional companies like Maybank Kim Eng and OCBC Securities will require us to fill up many pages of hard copy forms and mail them back. Then we have to wait for them to get back maybe 1 week later and you need to wait further if there are any discrepancies with the handwriting etc.
All that is gone with the seamless account opening process I had with Tiger Brokers. Using the government's MyInfo portal, it allows me to fill out all the details quickly.
I also like how it leverages critical tools such as the use of AI to verify IDs, documents and handwritten signatures, as well as face recognition technology which speeds up identity verification and prevents fraud.
The whole process takes up less than 10 mins and my account was approved within an hour. Even the funds deposit was also done within the same day! To be honest, I wished many legacy brokerage players can also adopt this high level of standard someday too.
2) Incredibly Low Commission Fees
The price war among brokerage firms has been on-going for some time. That said, most of them kept $25 trade commissions as the minimum and offered lower rates when customers pay upfront. Even the lowest rate offered is by iFast with a flat S$10 commission fee (unless you are a premium user).
There hasn't been a case where the online brokerage firm offers anything lower – not until Tiger Brokers came into the market. Below, I shall highlight Tiger Brokers commission for the more popular asset classes – SG and US Stocks.
Tiger Brokers Commission – SG Stocks

Assuming you want to invest S$5,000 to buy a stock, your total charges (inclusive of trading, clearing and GST) would be:
S$5,000 * 0.08% = S$4 commission (Tiger Brokers)
S$5,000 * (0.0075% + 0.0325%) = S$2 fees (SGX)
Total (after GST) = S$6 * 1.07 = S$6.42
Here's how the S$5,000 trade stacks up against Poems & OCBC Securities (total fees):
Singapore Stocks

(online account)

Tiger Brokers
POEMs Cash Plus
OCBC Securities
Commission
$4
(0.08%, no min.)
$8
(0.12%, no min.)
$25
(0.275%, min S$25)
SGX Access + Clearing Fees
$2
$2
$2
SGX settlement fees
Nil
$0.35
$0.35
Total SGD (before GST)
$6
$10.35
$27.35
Total SGD (after GST)
$6.42
$11.07
$29.26
Note: Tiger Brokers has absorbed the minimum charge of S$2.88/trade until 31 Dec 2020. It also waived off the S$0.35 settlement instruction fee until further notice.
Tiger Brokers Commission – US Stocks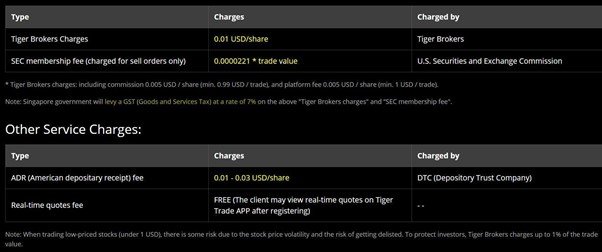 Assuming you want to invest US$5,000 to buy 18 shares of Facebook, the minimum commission is only a ridiculously low US$1.99.
That's equivalent to just 0.0398% out of your initial costs.
Here's how the US$5,000 trade stacks up against Poems & OCBC Securities too (total fees):
Note: There are also other foreign fees payable like SEC Fees (sell only trades) and ADR fees. You can check out them here.
In short, Tiger Brokers offer one of the lowest commission rates not just in Singapore but across different global markets too.
It is clear that the Tiger Brokers would be a good starting point for many new investors with such competitive rates, especially when the minimum fees are waived as of now.
3) Multiple Products/Markets in 1 platform
With a single account, investors can trade multiple popular markets such as the U.S., H.K., Singapore China and Australia using a multi-currency facility.


Sourced from tigerbrokers.com.sg
In addition, Tiger Brokers provides access to various types of products as well:
Equities
Exchange-Traded Funds (ETFs)
Stock options, warrants and Callable Bull/Bear Contract (CBBC)
Index/Commodity Futures (up-and-coming)
So if you are a stock investor looking to dabble into some of the ETFs or stock options (gaining fame recently), Tiger Brokers platform allows you to do everything in 1 place.
And that's not all, financial markets are often volatile, which is why it is essential to have up-to-date information.
Tiger Brokers' platform allows users to gain access to Real-Time market data and news feed. This means that investors are equipped with 24/7 updates on financial, industry-related and corporate information to make informed trading decisions.
4) Superb User Interface
The User Interface of Tiger Brokers is a BIG plus point for me and I have grabbed many screenshots from my account to show you (beware.. long passage below).
Upon downloading the Tiger Trade App and opening it, here's the screen you will see:
(i) Quotes Tab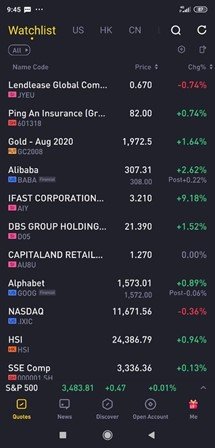 From the 'Quotes' tab, you can add different stock counters into your watchlist. Swiping left on the top row also brings you to US, HK, SGP markets as seen below.
Inside the SGP market, you get to see the Straits Times Index price, the Top Industries and even a Heat map that shows you the % change in the various sectors today. Then there's also the popular list of star stocks and reits which investors would be prone to look at (including myself).
In the next tab, you can keep abreast of the latest news in its 'News' tab.
(ii) News Tab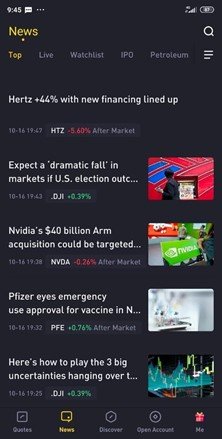 Don't like the IPO, Petroleum, Gold news type? You can even change it to different news sources like Benzinga, Reuters and DowJones!
(iii) Discover Tab
Moving on to the 'Discover' tab, investors can check out the hot stocks, their technical scanner and hot collections – those wildly popular industries like SAAS, Cloud Computing, Semiconductor and more.
One thing I like is their proprietary Tiger Lab which offers investors a few quantitative strategies together with their win rates.
One of it is the growth momentum strategy where it combines the growth factor and momentum factor to screen for stocks in the U.S. stock market.
Last but not least, you can also tap on the ideas of other people through this 'most watched' column – Vipshop, NIO, Apple etc.
(iv) Open Account Tab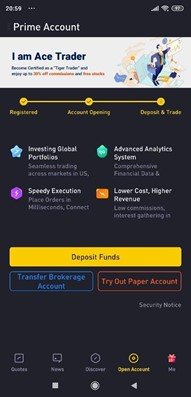 If you have downloaded the app before opening an account, you can do it fuss-free in this tab.
Deposit of funds will also be done here and you can even try out virtual (paper) account if you're not ready for the big game.
To add on, Tiger Brokers is running this "I am Ace Trader" programme where you enjoy bigger discounts off commissions and receive free stocks upon meeting their different Trader tiers (i.e. Silver/Gold/Ace).
(v) Me Tab
Last but not least, the 'Me' tab is for you to check out their latest promotions, change your profile picture and introduction and reach out to their help centre for any enquiries.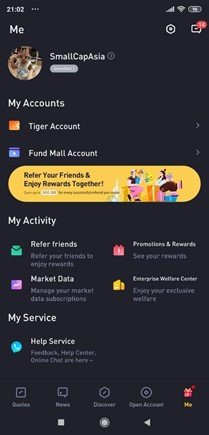 Check out my profile changes – my website name and my son's cool picture!
Best of all, you can refer your friends to enjoy some enticing rewards – which brings us to the next thing we like about Tiger Brokers…
5) Attractive Referral Programs
Every time a user invites a friend to register and opened an account successfully, both the inviter and invitee will obtain free Level 2 market data for U.S. stocks and 1 commission-free trade in the US/HK markets.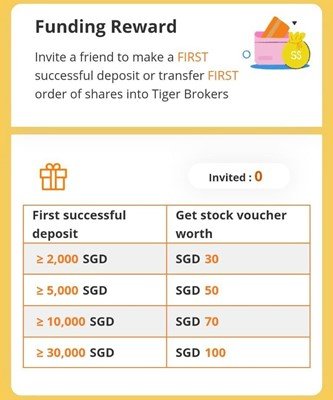 On top of that, when you friend makes the first successful deposit more than S$2,000, both your friend and you will obtain a stock voucher worth S$30 each.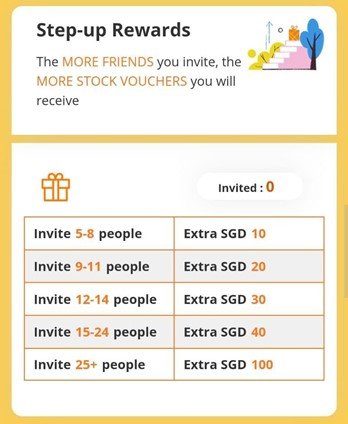 The compounding effect comes into play when you refer more people because the more you invite, the more stock vouchers you will receive!
The above rewards are set to end by this year 31 December 2020. So if you're convinced by what I have mentioned so far, stop sitting on the fence and click this link here to register a FREE account right now!
Conclusion
To end off, Tiger Brokers is really a game-changer when it comes to the stock brokerage space with its ease of account opening process, ultra low brokerage fees, and intuitive mobile-first user interface.
So if you like what you see and want to try it yourself, don't forget to scan my exclusive invitation QR code below (or Click Here) or click in my invitation code (smallcap88). Happy Investing!~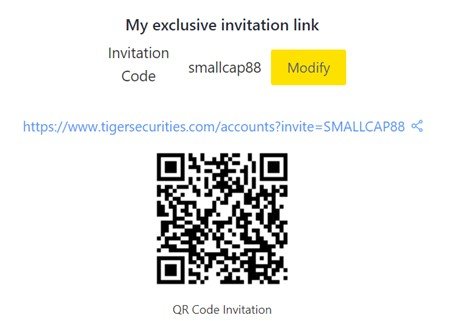 This article is written in collaboration with Tiger Brokers but the views/opinions are of my own.