Aspen is a Malaysian-based developer of residential and mixed development properties. It provides value-added options and services for their completed units, such as quality furnishings and home appliances.
Aspen IPO Details
Aspen's IPO will be offering a total of 173,270,000 invitation shares. This includes 4,348,000 shares for the public and 168,922,000 placement shares. The issue price will be S$0.23 per share.
The IPO has opened at 3pm on Wednesday (July 19) and will close at noon next Wednesday (July 26). Its shares are expected to start trading next Friday (July 28).
You can find its prospectus here.
Aspen plans to raise around S$39.9 million from its IPO. The use of proceeds are as follows:
S$25 million (62.7%) to acquire development land and future developments
S$2 million (5%) to repay bank borrowings
S$9.7 million (24.4%) for working capital
S$3.1 million (7.9%) for listing expenses
Before you jump on board this IPO, you may want to think twice and read the 3 things we don't like about this company.
1. Concentration Risk
Firstly, investors should take note that its current projects are all in Penang, Malaysia. The image below summarises its projects.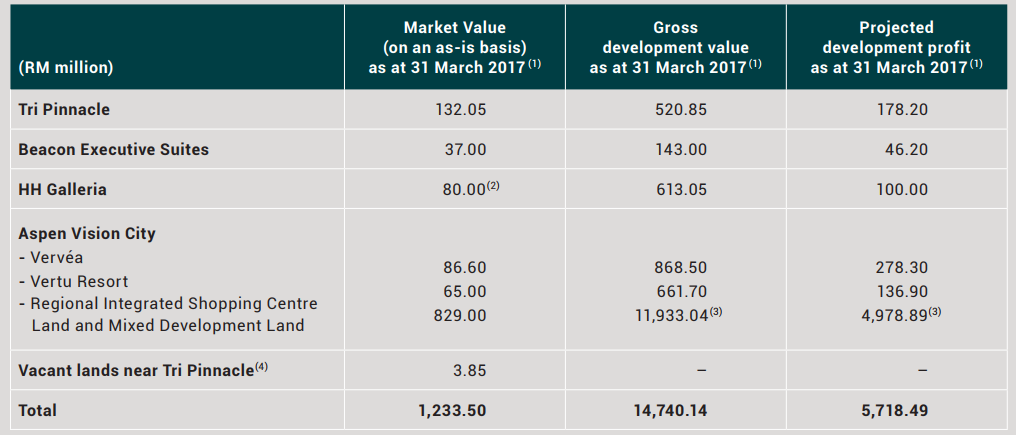 As we can see, Aspen Vision City takes up the main bulk of the company's operations. As at 31 March 2017, it accounts for 94.3% of the company's projected development profits.
Therefore, Aspen businesses are not only dependent on the development of Penang in Malaysia, it is also heavily dependent on the success of its Vision City.
For Aspen Vision City, Aspen is co-developing it with Ikano, which is the parent company of IKEA. The City is a 245-acres freehold mixed development, located in Batu Kawan, Penang.
The land allocation for the project will be as follows:
170 acres (69.4%) as mixed development land (think of it as residential use)
51 acres (20.8%) for a shopping centre
24 acres (9.8%) for an IKEA store (first IKEA store in northern Peninsula Malaysia)
The project will be completed in phases over the next 10 years.
2. Poor Profitability
Aspen commenced its property development activities only in FY2015. Therefore, there are no profitability figures as of FY2014.
From FY2015 to FY2016, Aspen's experienced a 89% growth in its revenue from RM52.5 million to RM99.7 million. This huge increase is mainly attributable to the increase in construction activities and higher percentage of units sold for both Tri Pinnacle and Vervéa.
However, investors beware!
Its bottom-line actually suffered a loss in FY2016 despite the surge in its top-line growth. This is because of a further increase in its cost of sales, which diluted its gross profits. In FY2015, cost of sales accounted for 56.84% of its revenue but increased significantly to 64.44% in FY2016.
To make matters worse, its expenses nearly doubled over the same period. This is due to increased development costs for its existing and upcoming projects, accompanied by higher tax expenses.
As of FY2016, Aspen has total debt holdings of RM118.7 million versus a cash pool of RM103.4 million. The total alarming debt is even more than its entire sales figure in FY2016!
3. Uncertainty on Future Growth
As of FY2016, Tri Pinnacle had 78.77% of units sold and Vervéa has 82.95% of its units sold. To me, it seems that both projects are tending towards its full capacity. Therefore, Aspen's future growth hinges greatly on
whether it can deliver the Mega Integrated Shopping Centre and
its ability to seek more projects going forward
Furthermore, each project may take years to materialize, accompanied by huge initial outlay of development expenses.
This is definitely not for income investors as well because Aspen has not been distributing cash dividends since its incorporation in 2016.
There is no mention of a fixed dividend policy in the IPO prospectus too.
SCA Take
Despite an 89% increase in its revenue last year, Aspen suffered a loss at its bottom-line. Moving forward, this growth may be harder to sustain, given that the main contributing projects are hitting full capacity.
Furthermore, its profitability will be further depressed by one-off IPO costs this upcoming year. One big allocation for this IPO is catered towards 'land purchases and future developments'. As this is a relatively new company, we are hesitant about its track record too.
It is relatively difficult to gauge its future growth solely based on its financials for the past 2 years. Therefore, investors may want to stay at the sidelines and look out for further proof of its financial strength before jumping on board this company.
And once again, Aspen's IPO will close at 12pm on 26 July 2017.
Fancy an Ebook that teaches you the hallmarks of multi-bagger stocks and how to find them? Simply click here to receive your copy of a brand-new FREE Ebook titled – "100 BAGGERS" by Christopher W. Mayer here today!
Last but not least, do remember to Like us on Facebook too as we share the latest investing articles and stock case studies for you!