Market sentiments are downright bearish due to global inflationary pressures and rate hike scenarios in the US.
With big tech stocks and cryptocurrencies down in the rut, the question is: where should your money go to?
Today, we bring you 3 such small cap growth stocks with great future prospects.
1. Civmec Limited (SGX: P9D)
Civmec Ltd is an Australian construction company. Its business activities include civil construction, fabrication, precast concrete, SMP (Structural, Mechanical and Piping Erection), insulation, maintenance, and plant hire.
The company's operating segment includes Oil and Gas, Metals and Minerals, and Infrastructure and Defense.
Civmec has displayed an 80% yoy bump in revenue and 108% yoy jump in net profits for the year 2021.
Civmec has generated positive FCF for the last 3 years and holds S$48 million in cash holdings (FY2021).
The total debt to equity figure stands around 0.4x – a reasonable figure for a construction company.
Recently, the orderbook received a further boost of A$120 million (US$86 million) of new contracts across multiple operating sectors, including 3 new agreements with BHP and Roy Hill.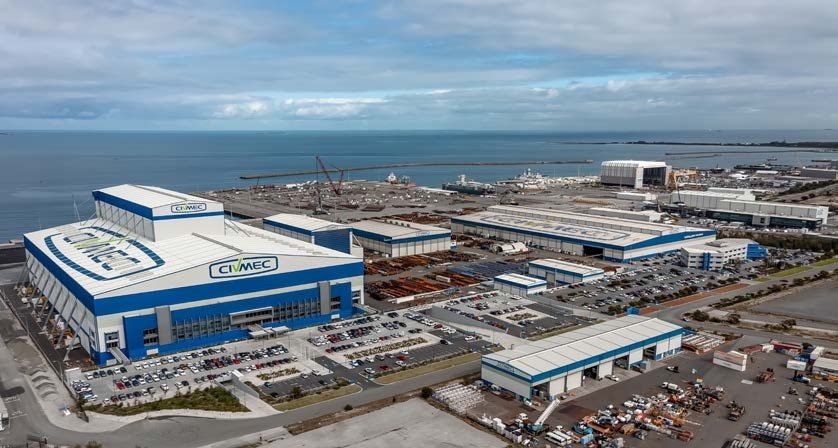 Furthermore, Civmec has started construction of Australia's largest undercover shipbuilding facility at Henderson Dry Dock project.
Civmec's CEO Mr Pat Tallon, said, "The new shipbuilding and maintenance facility at Henderson will be a significant piece of industrial infrastructure, adding a new resource to the Australian maritime landscape whilst allowing Civmec to continue to service its clients in the other sectors in which it operates."
Civmec last traded at S$0.60, which translates to around 7.7 times earnings with over 3% dividend yield.
2. mm2 Asia (SGX: 1B0)
mm2 Asia Ltd is an investment holding company with media related core operations.
The company's reportable segments include Core business, Digital content production, Cinema operations, Concert and event, and others.
The Cinema operations segment refers to sales of cinema tickets and concession, hall rental and screen advertising.
The Core business segment refers to the group's production and distribution of motion picture, video and television programs, and sponsorship; which generates majority revenue.
Geographically, it derives a majority of revenue from Singapore and also has a presence in Malaysia, China, Taiwan, Hong Kong, and Other Countries.
While mm2 Asia has suffered from losses mainly due to Covid-19, it has devised a restructuring plan to de-leverage and turn around its operations.
For FY2022, revenue from the core production business grew 39% yoy. Over the next 2-3 years, mm2 Asia's core production pipeline is set to remain sizeable at S$150 – 190 million. Currently, the group has over 30 projects that are in various stages of development, production and distribution.
In addition, mm2 Asia is exploring options to refinance its maturing debt which may include an IPO or divestment of its Cathay cinema business.
Reopening of theatres and new concerts in Singapore are the way to its profitability.
The blocked/delayed Hollywood blockbusters like Spider-man: No Way Home, Thor: Love and Thunder, Top Gun: Maverick are all bringing big crowds and hence more revenue for its cinema business.
Through its stake in UnUsUaL, the concerts segment has a lineup of A-lin, Justin Bieber and Eric Chou concerts in Singapore this year alone.
All this buzz will equate more revenue streams and signal a strong sign of recovery for the year 2022. mm2 Asia is trading at 0.8x P/B based on its share price of S$0.055.
3. Silverlake Axis (SGX: 5CP)
Silverlake Axis Ltd is a provider of software solutions for the banking, insurance, government, retail, and logistics industries.
The firm's operations are organized in 7 segments including software licensing, software project services, maintenance and enhancement services, sale of software and hardware products, SaaS – Insurance processing, Retail, and Others.
The firm has operations in Southeast Asia, Northeast Asia, South Asia, the Middle East, the Americas, Africa, and Europe.

Its MOBIUS cloud-based banking software is the differentiating factor that gives it the competitive edge .
The software, which was launched in 2020, allows banks to roll over new digital products in a targeted and timely manner.
Banks can utilise the MOBIUS with its existing core banking software and propel them to new digital products. It is expected to garner almost RM100 million of orders from MOBIUS itself.
Silverlake has also displayed a pandemic-proof resilience due to its recurring maintenance fees. In fact, this segment's revenue actually increased due to greater digitalization required among its customers.
Furthermore, its project pipeline in providing custom solutions is healthy, at RM1.7bn, with a record-high order backlog of RM450mil, a 50% y-o-y increase.
Although Silverlake Axis' share price has jumped over 60% in the past year, it still trades at about 15.3 times trailing 12M earnings and yields 1.6% in dividends.