Excerpts from UOB KayHian report
Thai Beverage (THBEV) announced 1HFY22 core PATMI of Bt16.3b, beating expectations as its postCOVID-19 recovery gets underway.
1HFY22 revenue for every segment rose as consumption volumes grew, while the food segment benefitted from the resumption of dining in at restaurants.
Several ASP hikes in 1HFY22 mitigated the impact of rising raw material and packaging costs on margins.
THBEV is currently trading at -1SD of its five-year mean PE, attractive in our view.
Maintain BUY on Thai Beverage with a higher target price of S$1.05.
Thai Beverage 1HFY22 core earnings above expectations.
Thai Beverage (THBEV) released its 1HFY22 results whereby overall revenue (+8.9% yoy) and core PATMI (+13.3% yoy) surged past our expectations, forming 57.2% and 56.1% of our full-year estimates respectively.
Advertising and promotion expenses continued to decline as bars and nightlife remain shut, with SG&A expense-to-revenue ratio falling to 14.2% in 1HFY22 (-0.5ppt yoy).
The group declared a similar interim dividend of Bt0.15 per share (1HFY21: Bt0.15), representing a 1HFY22 earnings payout ratio of 23.1%.
Backed by a strong quarter
The strong 1HFY22 outperformance was largely driven by a robust 2QFY22, with strong yoy contributions from the beer, non-alcoholic beverages and food segments.
2QFY22 revenue (+10.7% yoy) and core PATMI (+20.0% yoy) posted sturdy growths, backed by the full reopening of Thailand's international borders as well as the easing of social distancing measures.
The spirits segment was the sole segment that posted negative EBITDA growth in 1HFY22, dragged by higher raw material and packaging costs along with an unfavourable product mix.
Spirits: Margin compression
Although the spirits segment recorded increases in both revenue (+2.1% yoy) and sales volume (+6.4% yoy) for 1HFY22, EBITDA (-2.6% yoy and PATMI (-0.6% yoy) softened as rising raw material and packing costs dragged down margins.
EBITDA and net margins moderated 1.2ppt yoy and 0.4ppt yoy respectively. 1HFY22 had a product mix favouring the lower-margin white spirits as bars and nightlife venues still remain shut.
THBEV also raised the ASPs of its white spirits twice in Nov 21 and Feb 22 which resulted in customers front loading their purchases to mitigate the impact of the price hikes, leading to higher white spirits sales volume and lower overall margins.
Looking forward, with the return of tourists arrivals, management is optimistic that the product mix between brown and white spirits would improve.
Additionally, raw material costs are expected to soften as the crop yield for molasses in FY22 has improved as compared with FY21, leading to lower raw material costs while supporting margins.
Beer: Increased consumption volumes as social distancing eases
Overall, beer sales volume was up (+5.5% yoy), largely contributed by higher volumes from Sabeco in Vietnam. We reckon that this is due to Vietnam easing social distancing restrictions earlier as compared with Thailand.
1HFY22 beer revenue (+14.7% yoy), EBITDA (+18.6% yoy) and PATMI (+119.2% yoy) surged, in line with higher sales volume.
Although the segment was affected by increasing raw material and packaging costs, two ASP price hikes in 1HFY22 along with production costs efficiency helped mitigate rising costs.
EBITDA and net margins were higher by 0.4ppt yoy and 1.7ppt yoy respectively. Similar to the spirits segment, tourists arrivals coupled with bars and nightlight venues reopening would help boost beer consumption volumes moving forward.
Thai Beverage food segment: Back to profitability; Higher SG&A to support growth
The food segment clawed back from a net loss position in 1HFY22 to profitability due to the resumption of dine-in restaurants.
1HFY22 food revenue (+30.6% yoy), EBITDA (+63.8% yoy) and PATMI (-Bt79m to +Bt163m) grew and are expected to continue as social mobility in Thailand increases.
The NAB segment also recorded solid revenue (+8.1% yoy), EBITDA (+8.1% yoy) and PATMI (+57.7% yoy) for 1HFY22 as higher SG&A, prudent cost management along with higher sales volumes (+7.5% yoy) boosted revenue and profitability.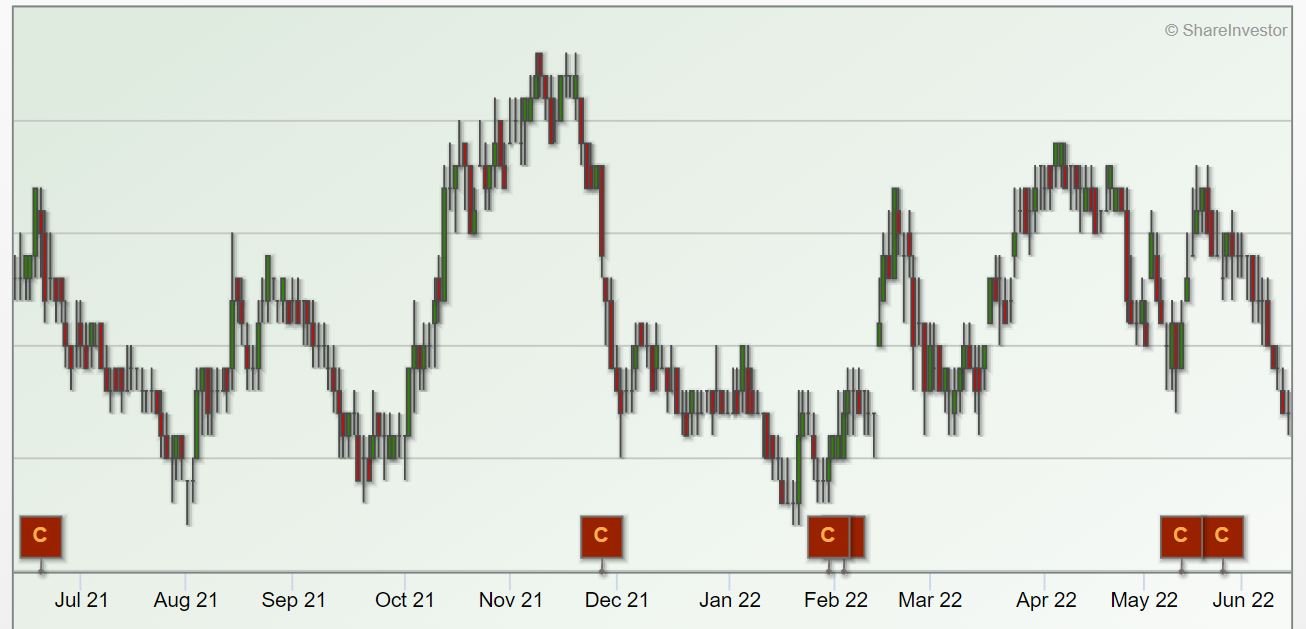 VALUATION/RECOMMENDATION
Maintain BUY with a higher SOTP-based target price of S$1.05 (S$0.90 previously), we reckon THBEV remains attractively priced at -1SD to its five-year mean PE, backed by an expected earnings recovery underpinned by favourable tailwinds.
You can find the full report here and the company website here