In the quest for yield, the REITs often pops up on investor's mind. Many income investors rely on REITs to generate a steady stream of predictable, passive income.
With Singapore's core inflation running at 3.8% in July and full-year inflation forecast to end between 3.5% to 4.5%, it is imperative that you park your money in inflation-beating stocks.
In this article, we shine the spotlight on 3 Singapore REITs that sport distribution yields of 5% or more.
1. AIMS APAC REIT
In its first 1QFY 2024 update ended 30 June 2023, net property income increase by 4.2% to S$32.3 million while DPU increase by 1.3% to 2.31 cents. Its gearing ratio dropped to 32.9% from 37% after completion of its rights issue. This translate to an annualised DPU of 7.1%!
AA REIT result is commendable as the DPU increased despite the rights issue and this clearly demonstrate in the increased share price. With the lowered gearing, AA REIT is well positioned now to do any acquisition when opportunities comes to grow its DPU.
We have earlier written an article on AIMS APAC REIT (AA REIT). You can view the article here. I said then that AA REIT could outperform in 2023. Indeed YTD, AA REIT share price increased by 4.03% while the FTSE REIT index declined by 4.15% YTD excluding dividend collected!
In fact AA REIT share price has outperform even the so called strong sponsor REIT such as CapitaLand Integrated Commercial Trust which drop 4.93% and Mapletree Pan Asia Commercial Trust which decline 9.58% in share price respectively.
This clearly debunk the myth that REITs with strong sponsor are good to invest despite many bloggers saying so. Share prices do no lie, people perceptions do.
Hence, if you want to avoid losing money in REITs, look no further, consider our newly launched Dividend Kaki by signing up at this link!
2. Mapletree Industrial Trust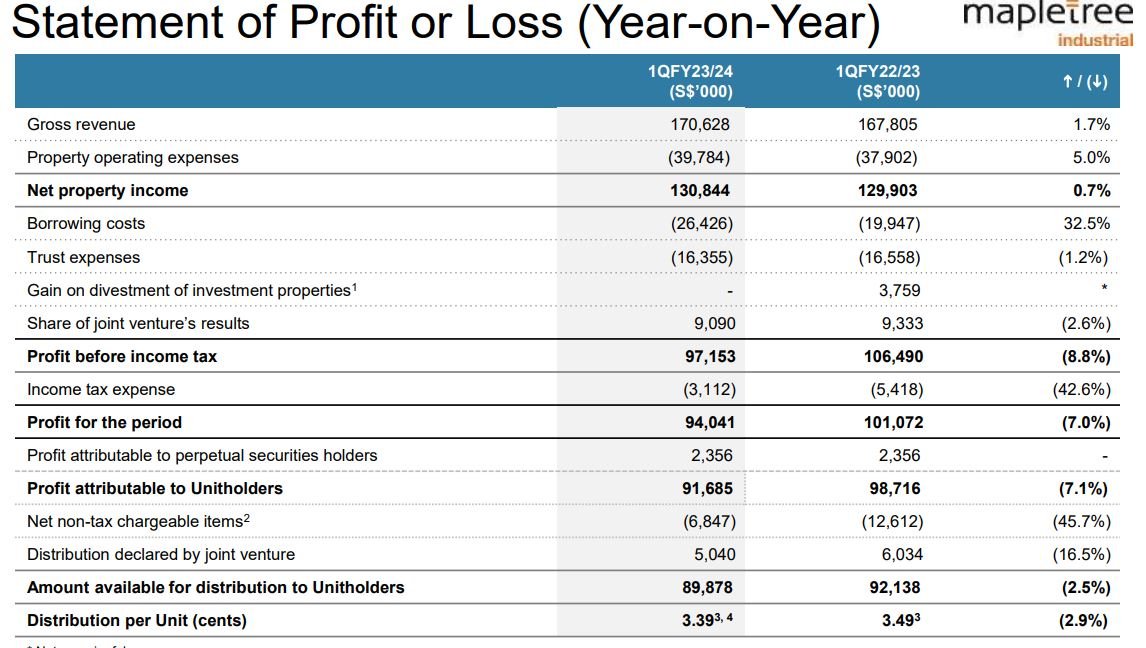 Mapletree Industrial Trust (MIT) reported a mixed bag of results for the 1QFY 23/24. Net property income is up 0.7% to S$130.84 millions while DPU dipped 2.9% to 3.39 cents mainly due to higher borrowing costs. This gives an annualised dividend yield of 5.87%.
However, gearing ratio is still relatively decent at 38.2% with well spread out debt maturity profile. Percentage of debt in fixed rate is 78%. This give MIT more leeway in managing the higher borrowing costs should interest rates remain high.
The REIT recently acquired a Data Centre in Osaka, Japan partially funded by debt and proceeds from the private placement. This will increase MIT DPU by 2.1% ensuring stability in DPU distributions.
However, MIT noted that increasing property operating expenses and borrowing costs could continue to exert pressure on distributions. Hence, investors need to be aware of the risks
3. ESR-Logos REIT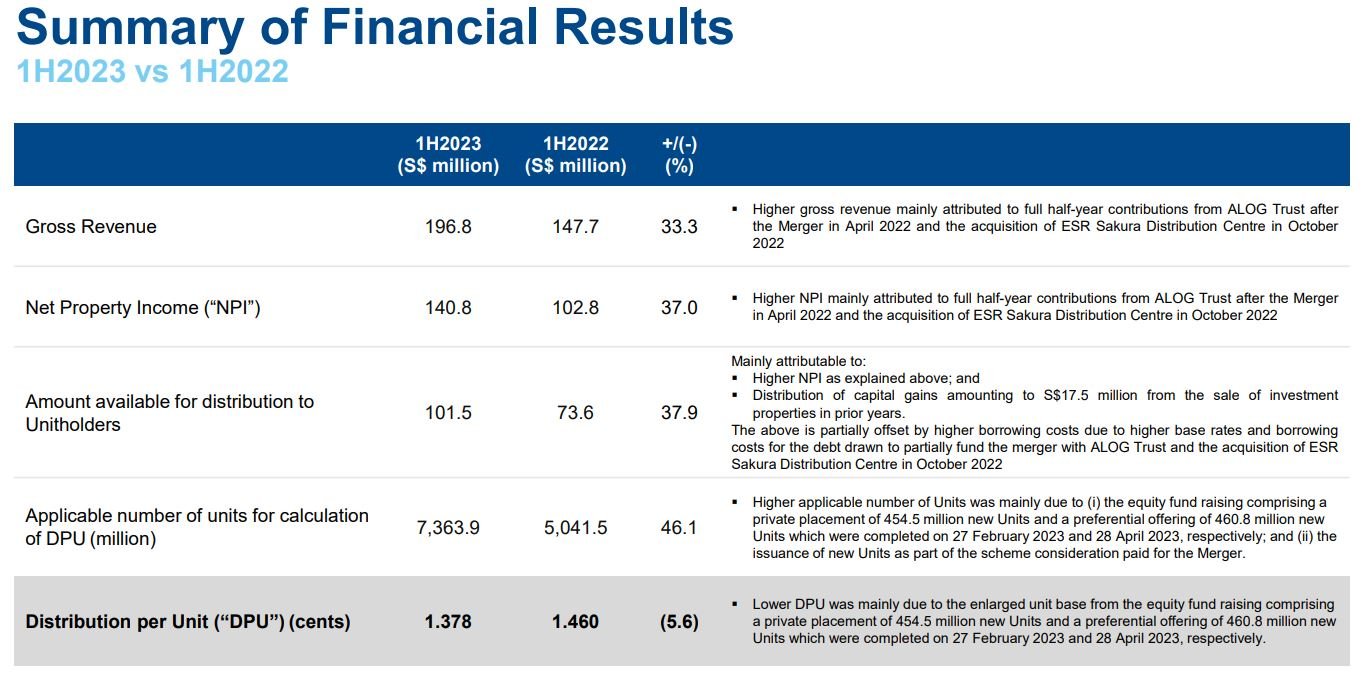 ESR-Logos REIT reported net property income of S$140.8 million up 37.0% for half year ended 30 June 2023 mainly due to contributions from the merger of ALOG Trust. DPU was down 5.6% to 1.378 cents due to the equity fund raising recently.
This gives an annualised dividend of 8.8% which is certainly attractive at current price.
Gearing ratio is 39.4%. However, after completion of the divestment of non-core assets, gearing will be lowered to 33.6% with 74.8% of debts hedged. This will lower borrowing costs for the REIT which is important in this high rates environment.
Potential growth drivers for ESR-Logos REIT is rejuvenation  of assets through AEI while at the same time divest non-core assets to recapitalise for future growth
Conclusion
To conclude, here are the 3 S-REITs dishing out more than 5% Yield and it may be a good starting point to add them in your watchlist if you are keen but do be aware of the macro interest rate environment too.
On top of that, to avoid investing in the wrong S-REITs, join our latest Dividend Kaki membership as we show you a fuss-free way to invest in dividend stocks and REITs. Many people love dividend investing, but few truly know how to profit from it consistently. Click the link here to sign up and test drive to discover the secrets!