Singapore Trading Festival is back and the theme this year is for you to Reposition, Reallocate, and Reset your portfolio.
It comes at a time where year 2023 is expected to continue the trends of slowing global growth, elevated interest rates, and higher inflation and costs.
On a bright note, market and investors remain positive on Asia's growth, amidst the gloomy global outlook, global reopening theme, and recent business-friendly policies adopted by China.
Hence, it's timely for investors to review and relook at their portfolios, to capture opportunities and ride on these trends.
Singapore Trading Festival Programme
Speaking of which, the event is happening over 9 days, from 25 March (Sat) to 2 April (Sun).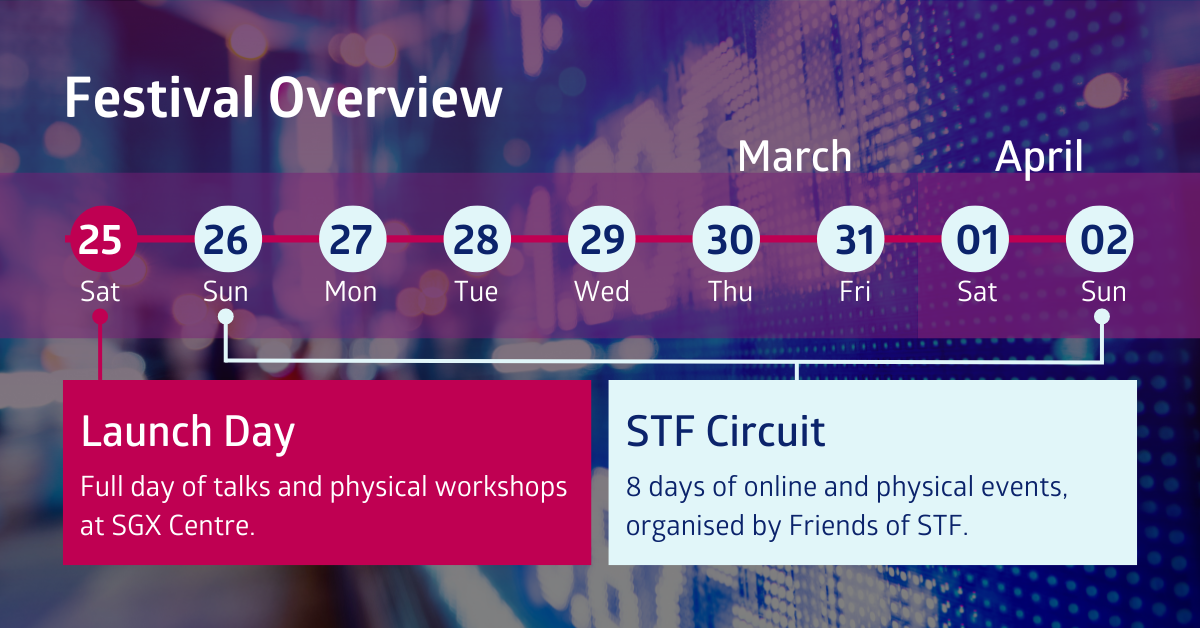 The Launch Day on 25 March is fully signed up but you can still join the STF Circuit – which offers a range virtual and physical events on 26 March (Sun) to 2 Apr (Sun).
The STF Circuit comprises of 8 days of in-depth workshops and sharing, conducted by SGX partners. From market outlook to investing strategies to navigating uncertainty, there is definitely something for you to learn more at STF.
Below, I will highlight some of the events that caught my attention.
1. Singapore & Sustainability: Identifying Winners of the Clean Energy Transition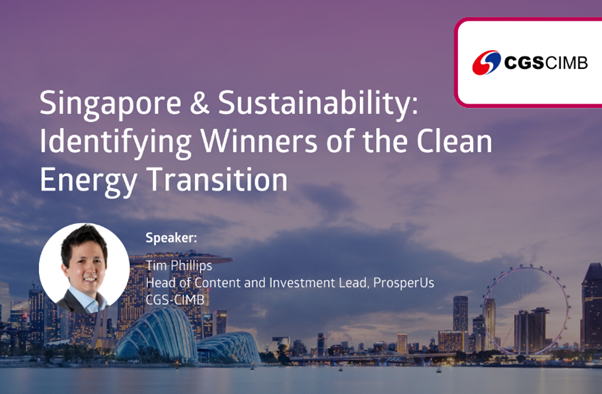 Clean Energy is the next big thing as we all become more environment-conscious. The world's "Net Zero by 2050" initiative will bring about many opportunities in the years ahead so I will like to hear what Tim has to say regarding this multi-decade transition.
This virtual event is happening on Mar 29, 2023 07:30 PM and you can sign up here.
2. Building a Resilient Investment Portfolio with Safe Haven SG Stocks
According to their write-up, this event will cover how to build a resilient investment portfolio using SGX listed stocks, with a focus on identifying stable and protective stocks during market volatility. Attendees will learn how to create a diversified portfolio that balances risk and reward, helping them meet their long-term objectives.
On top of that, when you join the webinar, you will get SGD15 cash voucher for SG trades! At the end of the webinar, provide your uSMART ID to the speaker/host. The SGD 15 cash voucher will be issued to your uSMART ID account within 5 working days and can be redeemed after completing 1 SGX Stock Buy/Sell Trade.
This virtual event is happening on Apr 01, 2023 10:00 AM and you can sign up here.
3. 用蓝筹股积累财富:简单高股息策略战胜指数
I love how this session will be conducted in Chinese by Mr. Alvin Chow from DrWealth.
He will be talking about a simple investment strategy that delivers high dividends and returns called the Dogs of the Dow Theory.
This virtual event is happening on Apr 01, 2023 9:00 AM and you can sign up here.
4. Navigating China's Global Reopening: Positioning & Opportunities
Last but not least, it is a good time to learn about the potential opportunities to tap on China's Global Reopening too.
A panel is always interesting as it explores different viewpoints of various experts from UOB Asset Management and Moomoo SG.
This virtual event is happening on Apr 01, 2023 1:00 PM and you can sign up here.
Conclusion
The Singapore Trading Festival organized by SGX provides a unique opportunity for people to learn about the financial markets, investment strategies, and trading techniques. By attending this festival, participants can gain insights from experienced traders, analysts, and market experts, and acquire knowledge that can help them make informed investment decisions.
All in all, attending the SGTradingFestival can be a valuable experience for anyone interested in the financial markets, whether they are new to investing or seasoned traders.
The STC Circuit programme has 8 days of exciting activities that await us. Click to see the full STF Circuit programme and sign up for the individual events today >> bit.ly/3ISrMdj