Excerpts from UOBKayHian report
Xiaomi Corp (HKG: 1810)
Xiaomi Corp will report its 3Q22 earnings on 23 Nov 22. We expect the company's revenue to grow 10% yoy but remain flat qoq, and adjusted net profit to decline both 62% yoy and 6% qoq.
While the sharp yoy decline is well-expected, the sequential decline should have stabilised, while inventory level has been improving since end-2Q22.
Maintain BUY but trim target price to HK$11.30.
Xiaomi Corp third quarter results
Earnings decline should have stabilised. We expect 3Q22 revenue to decline 9.9% yoy and remain largely flat qoq at Rmb70.3b, blended gross margins to fall 1.3ppt yoy but recover 0.2ppt qoq, and adjusted net profit to decline 62.2% yoy and 5.9% qoq to Rmb1,958m.
Xiaomi Corp Smartphone shipment remained sluggish as expected
As reported by IDC, Xiaomi Corp's (Xiaomi) smartphone shipment in 3Q22 declined 8.6% yoy but grew 2.5% qoq to 40.5m units, which is below our estimate of 43m units.
It is not entirely unexpected given the ongoing destocking across the smartphone value chain and poor end-demand in China and Europe, the two largest markets for Xiaomi Corp.
We expect ASP to marginally decline by 2% on higher mix from low-end smartphone sales in India and LATAM, while its margins should recover slightly on less promotion events.
As such, we estimate the segment's revenue to decline 10.2% yoy but remain stable qoq at 1.6% growth to Rmb43b, while margins should decline 3.7ppt yoy but recover 0.4ppt qoq to 9.1%.
We see a parallel in the IoT & lifestyle segment
We are expecting an 8% yoy decline in the segment's revenue to Rmb19b in 3Q22, on the back of sluggish demand for wearables and home appliances in domestic and foreign markets, as well as the ASP declines in key IoT products such as TVs.
On the bright side, we are expecting gross margins to remain stable at 14.5% (vs 14.3% in 2Q22), thanks to moderating component costs and less promotional events.
Xiaomi Corp internet services business to face pressure from low advertising spending in China
We are expecting the segment's China business to register a 10.7% yoy and 0.9% qoq decline to Rmb5.3b, primarily due to the deteriorating advertising spending by domestic corporates amid the ongoing COVID-19 situation.
This will be partially offset by a resilient 18.5% yoy and 6.7% qoq growth in the overseas business on the back of MAU expansion (+8% qoq to 440m).
Overall, we expect the internet service segment's revenue to decline 4.1% yoy to Rmb7.0b, and its margins to decline slightly by 0.5ppt to 72.5% due to deterioration in the high-margin advertising business.
Valuation/Recommendation
Maintain BUY, and cut target price to HK$11.30, as we factor in lower earnings estimates. Our target price is now based on 21.0x 2023F PE, still pegged to 0.5SD below mean.
We believe the market is aware of the risks on Xiaomi, and expectations have already reached the lowest point with a visible trough in 4Q22-1Q23. As such, we are now turning more positive on the company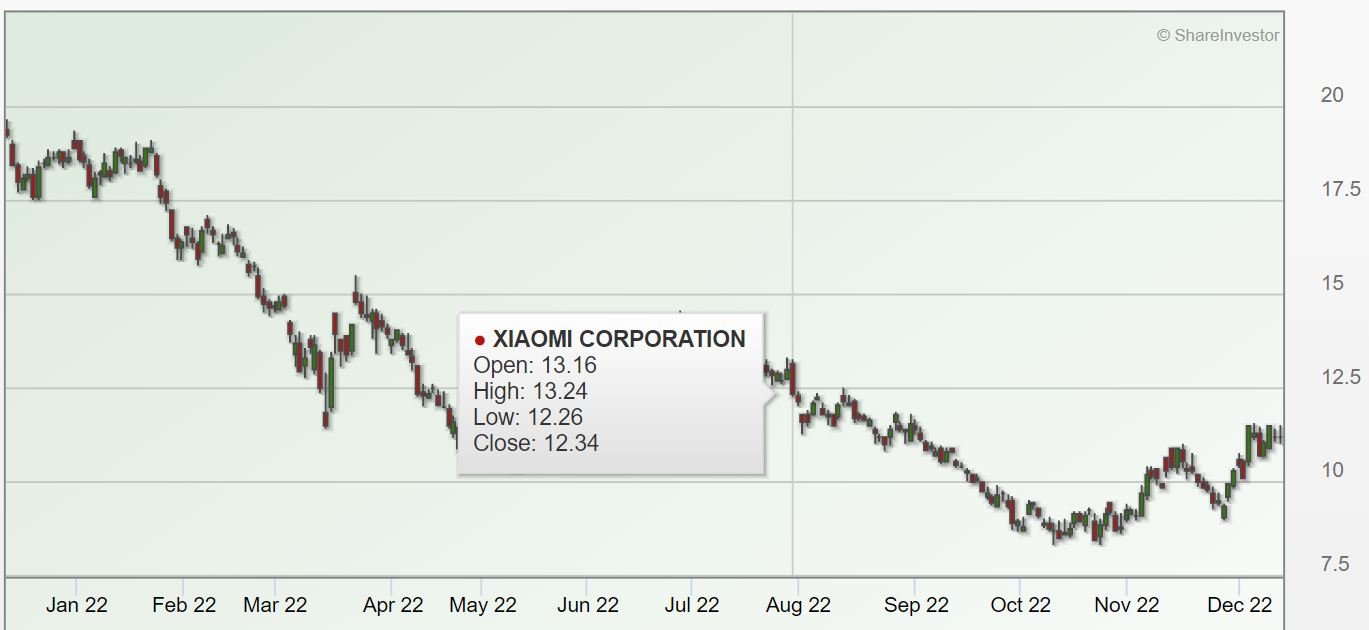 You can find the full report here and the company website here