If you have scanned through the Top 20 volume today (24th Feb 2017), you would have noticed the 16.7% plunge in Noble Group Limited (SGX:N21) share price today. So the question is: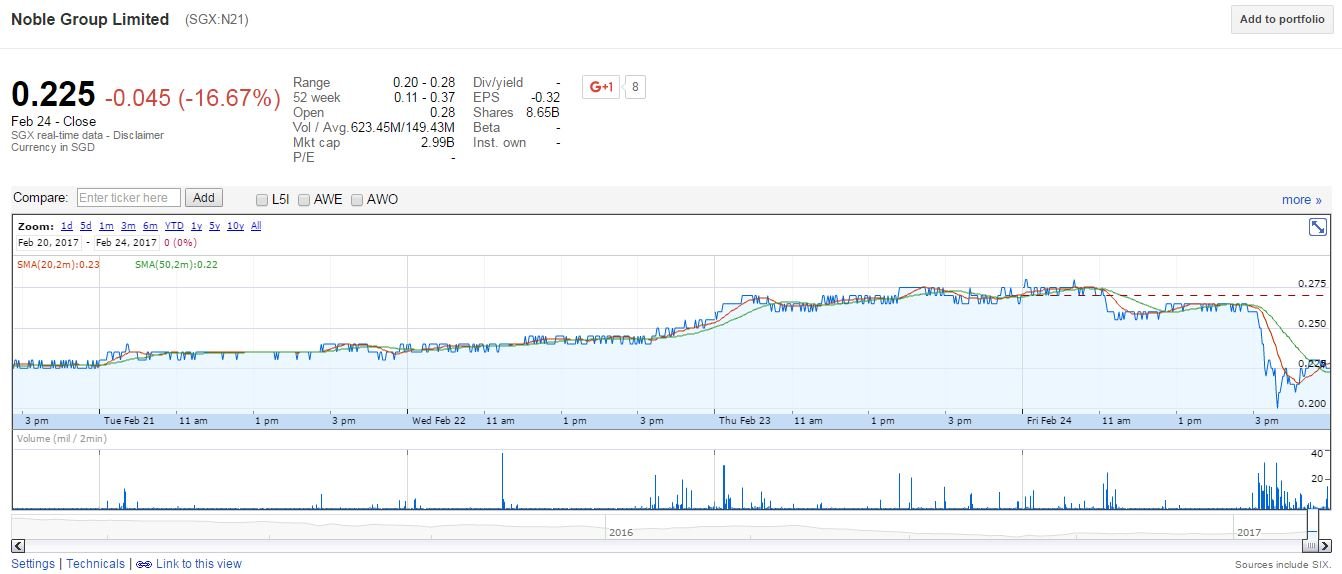 What has happened?
Apparently, SGX has also queried the company on the 'unusual' price movement and Noble Group replied in this announcement – that it is highly likely caused by an article dated 24 February 2017 issued by Iceberg Research.
You can find the article here titled – "NOBLE GROUP: HOW MANY TIMES CAN YOU FOOL THE SAME PEOPLE?".
I read through the entire article and here is the breakdown in 3 simple points:
Noble group's so-called white knight or potential investor (namely Sinochem) has actually been given access to invest in it one year ago and should have done so by now.
Its business operation model is not working as their profits should not be affected by "low commodity prices" but the volatility instead.
Iceberg also compare Noble Group to other firms like Vitol & 

Trafigur

a which have made US$1 billion of profits in year 2015. So the question here is "why can't Noble Group function like them?"

The same group of people that resulted in this mess still helms Noble Group today –

Chairman Richard E

lman & Auditors EY Hong Kong.
What I think?
There are 2 ways to look at it: Short-term & Long-Term.
Short-Term: Noble group may be suffering from a knee-jerk reaction from the Iceberg report today. And it is going to release its 2016 Full Year Financial Results on Monday, 27 February 2017. If the results for the last quarter turns out to be a positive surprise (like confirmation of SinoChem's investment or strong earnings rebound), its share price may see a substantial gain or a strong recovery following this share price drop.
So it may be worthwhile to punt it for a few days, but one must monitor it closely to prevent any downside risks too.
Long-Term: In a nutshell, Noble group's fundamentals are still flawed and there are so many unknowns lingering. Personally, I have doubts in Noble Group as a "turnaround" play. I believe that there are much more companies with strong fundamentals inclined for a turnaround such as Food Empire Holdings Limited (SGX:F03), Singapore Medical Group Ltd (SGX:5OT) and more.