On 25 Feb 2017, Golden Agri-Resources Ltd (SGX: E5H) reported a 4Q16 net profit of US$46 million, a 133.2% increase from US$19.3m during 4Q15. Its full-year revenue, on the other hand, saw a 10.7% boost from US6.5 billion to US$7.2 billion.
You can read more from the Straits Times article here.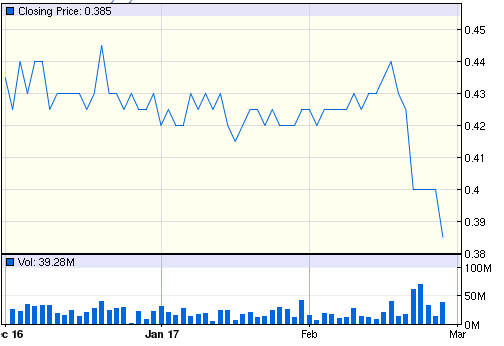 However, since 17 Feb 2017, its share price experienced a devastating dip from S$0.43 to s$0.38 currently (as of 28 Feb 2017). That is a shocking 11.6% drop over a period of less than 2 weeks!
As a result, we are intrigued to find out what is happening behind the scenes… but first, let's take a look at its corporate profile.
About Golden-Agri
Golden Agri is an Indonesian plantation group with integrated operations for the production of palm oil-based edible oil and fat products. It also has operations in China and India which includes a deep sea port, soybean crushing plants and production of refined edible oil products. It is currently the largest plantation group in Indonesia and third largest globally in terms of crude palm oil (CPO) production.
Why the Surge in Profits?
One of the major factors affecting CPO production is weather patterns. Since late 2015, the country has been hit by El Nino dry weather and a year later in 2016, La Nina heavy rains followed right after. You can read more about the details here and here.
This double whammy severely lowered palm oil production, which drives a substantial increase in CPO price of about 25%. This tight supply then translates to a large boost to Golden Agri's profits and as we can see, its palm oil counterpart, Sime Darby, has also recently posted a jump in net profits by 126%.
Another reason for Golden Agri's strong profits includes the revaluation of some of its plantation assets in Indonesia for future tax benefit, which leads to a positive net tax impact of US$62 million in 4Q17.
Why the Fall in Stock Price?
With the high reported profits and falling stock price, you may have thought of jumping into it, considering that the current price is far below its 5-year moving average.
However, you may want to think twice.
As we will have expected, year 2017 marks the recovery of palm oil supply (with higher supply means more competition). Improved rainfall in Malaysia and Indonesia will boost production well beyond its El Nino-depressed levels. According to Reuters, "palm oil output in world No.1 producer Indonesia is expected to grow by around 10% in 2017" and this is likely to happen by the 2nd quarter of the year.
To add on to the looming issue, palm oil demand growth will also be challenged as traditional buyers such as China and India slow down their vegetable oil import growth rates. These forces from both the supply and demand side will push CPO prices further south, posing a huge challenge for Golden Agri for the year 2017.
To Buy or Not to Buy?
To end off, Golden Agri is fundamentally strong with a total market capitalization of S$4.9 billion. In addition, it has started to delivered positive cashflows with a dividend policy to distribute up to 30% of underlying profit to its shareholders. This translates to a dividend per share of S$0.00635, to be distributed in May 2017.
That said, we are predicting that CPO production will pick up in lieu of better weather conditions and prices will probably head southwards again in the near term.
Thus, it is advisable to stay at the sideline and keep this company in check for the moment. Golden Agri last closed at a price of S$0.38 and a Price/Book value of 0.845x.
We've released our 3 HOT growth stock picks which could skyrocket >100% by the end of 2017. History has shown that getting in early on a good idea can often pay big bucks – so don't miss out on this moment.
Simply click here to receive your copy of our brand-new FREE report, "3 stocks poised for explosive growth".
Do Like us on Facebook too as we share the latest investing articles and stock ideas for you!