For those uninitiated, GE Healthcare is a leading global medical technology, pharmaceutical diagnostics, and digital solutions innovator. Using its intelligent devices and data analytical applications, supported by its Edison intelligence platform, GE Healthcare has provided over 4 million imaging, mobile, diagnostic and monitoring devices worldwide.
In addition, GE Healthcare markets to over 150 countries, performs 230 million ultrasound exams annually, and is currently valued at $18 billion with over 50,000 global employees.
That being said, this article is not about GE Healthcare. Its about a smaller company called Ventripoint Diagnostics (TSXV: VPT) and how it has scored a significant collaboration with the former.
How Ventripoint will benefit tremendously from the partnership
It is no doubt that this collaboration would work well in Ventripoint's favor tremendously. Investors can also take comfort that Ventripoint's software has been fully integrated into the GE platform and is on track for an early 2022 rollout.
Consider, for a moment, GE's imaging-system platforms, existing customer base of cardiologists, but most importantly, their massive distribution channels.
Ventripoint can simply tap on GE's 500,000 ultrasound machines worldwide since it is offering an adapter that turns ultrasound machines into, essentially, an advanced MRI.
This is essentially a giant step forward for the small company that only has a market capitalization of US$60 million at the time of writing.
Why did GE approach Ventripoint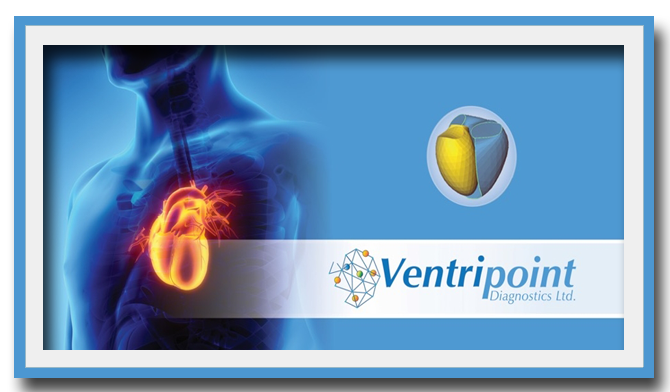 However, you may be wondering… "Why did GE Healthcare approach Ventripoint Diagnostics for a collaboration when it is such a big company?"
The reason is simple – Ventripoint has the key technology to do something that no one else is doing; something that GE Healthcare is unable to replicate too.
On that note, Ventripoint is both an industry leader in echocardiology and also one that managed to marry heart imaging software to artificial intelligence.
Medical practitioners see Ventripoint as a technological salve; a solution for those who combat the leading cause of death for men and women worldwide: congenital heart disease.
Strong Leader at the Helm
This collaboration probably would not happen without the mentioning of Dr. George Adams, Executive Chairman of VentriPoint Diagnostics. In his own words, Ventripoint's mission is to make cardiac diagnostics better for everybody worldwide, especially for children.
The background of Dr. Adams is amazing. He has partnered with Baxter, World Heart, Dupont, Corvita, Pfizer and Boston Scientific over the last 30 years to develop and commercialize diagnostic and medical device innovations.
On top of that, from 2005 to 2010, he served as President and CEO of Amorfix Life Sciences Ltd. and prior thereto, he was the CEO of the University of Toronto Innovations Foundation. He is also currently Chairman of the Board for Sernova Corporation. Dr. Adams obtained his PhD. from McMaster University.
Last but not least, he has both the drive and experience to propel Ventripoint to greater heights with 124 scientific publications under his name – making him an authority on blood surface interaction and biomaterials.
An Unlikely Covid-19 Beneficiary
Everyone knows that the Covid-19 virus induces duress on the heart — specifically the right side.
Unfortunately, the world is simply unprepared to deal with this backlog of patients suffering from Covid-induced congenital heart disease – an area where Ventripoint excels in for heart imaging.
In this video, Dr. Adams illustrates the effect of COVID-19 on the heart's health, the role of an improved cardiovascular healthcare system during the pandemic, and the involvement of the company's echocardiogram innovation within that space.
The company's collaborative agreement with GE Healthcare and the partnership with National Research Council of Canada's Industrial Research Assistance Program are also highlighted in that video.
In layman terms, the company is able to accurately create a 3D-model of a heart based on a two dimensional image produced via an echocardiogram. With the technology settled in the latest version of the product, the company has now begun selling the product to some of the world's leading hospitals.
Conclusion
All in all, there exists a pressing problem even before COVID-19 where 40% of adults are unable to complete their 2nd hour of MRI scanning, let alone an infant. Ventripoint is looking to resolve it through their innovative echocardiogram called VMS+ 3.0, which reduces the whole process to under two minutes.
To top it off, Ventripoint Diagnostics is set to benefit from 2 major tailwinds ahead:
more urgent needs during this pandemic,  and
the anticipated year 2022 rollout with GE Healthcare.
With the current share price only trading at an all-time low of $0.50 CAD, this may well be a potential hidden gem that investors may want to dig further into.