On 12 May 2023, Synergy House Bhd (SH) issued its IPO Prospectus (Part 1, Part 2 & Part 3) and so, extended an invitation to subscribe its IPO shares at 43 sen a share. SH's market capitalisation shall be lifted to RM 215 million. T
he listing date is set to be on 1 June 2023.

Source: Page 17 of SH's IPO Prospectus
Here, I'll summarise 8 things to know regarding its IPO: 
1. Business Model
SH designs, manufactures and sells ready-to-assemble (RTA) furniture such as: 
Bedroom furniture

Living room furniture

Dining room furniture
It operates from two locations: 
Setia Alam: its headquarters. 

Port Klang: its showroom and prototype assembly facility. 
SH sells its RTA furniture to: 
B2B customers: online retailers, chain-stores, and wholesalers. 

B2C customers via its website, Lazada, and Shopee and Amazon.

2. Geographical Markets
SH derived most of its sales from exporting its RTA furniture to 3 key countries:
The United Kingdom

The United States

United Arab Emirates

Source: Page 228 of SH's IPO Prospectus
Evidently, SH's revenue growth is contributed by sales from the United States. It is due to orders received from 2 key customers in the United States:
Hillsdale Furniture 

Undisclosed client (Customer C).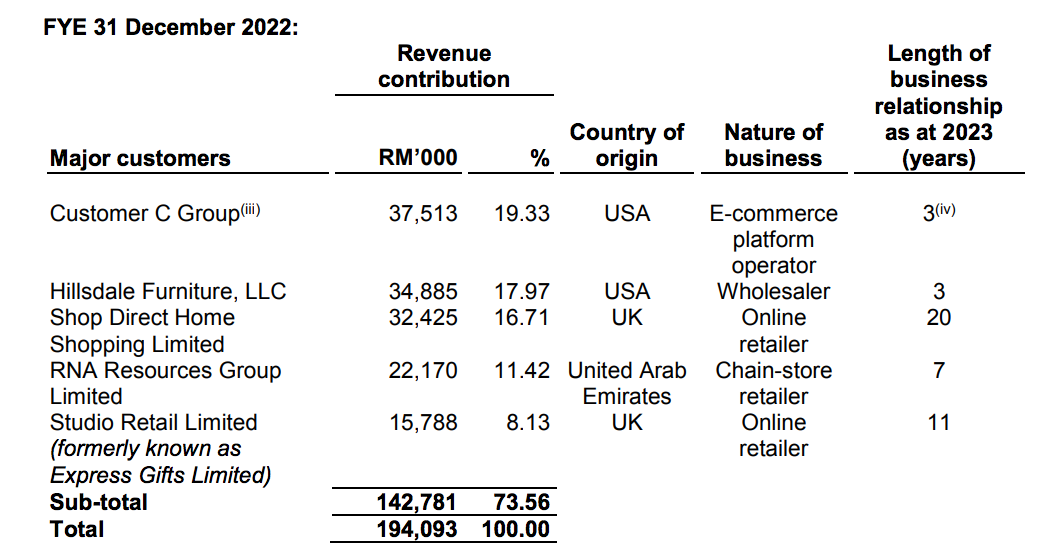 Source: Page 127 of SH's IPO Prospectus
Collectively, the 2 customers accounted for 37.3% of SH's revenues in 2022. 
3. Financial Results
Source: Page 208-213 of SH's IPO Prospectus
SH grew its sales and PAT in 2019-2022. They are contributed by growing orders for: 
Bedroom furniture

Living room furniture
They have offsetted order decline for its dining room furniture in the period. SH maintained its PAT margin at 7.5%-10.0% and as such, contributed to its growth in its PAT from RM 10.9 million in 2019 to RM 16.6 million in 2022. 
In the 4-year period, SH generated RM 52.8 million in operating cash flows. The company had also raised RM 19.8 million in long-term debt. Of which, it mainly spent on: 
RM 32.4 million in net purchase of property, plant & equipment (PPE)

RM 27.8 million in dividend payments. 

RM 8.0 million in interest expenses.

Its main PP&E spent include: 
Warehouse

Showroom and prototype assembly facility in Port Klang in 2022.
4. Financial Standings

Source: Page 208-213 of SH's IPO Prospectus
SH raised its long-term borrowings over time and thus, caused its gearing ratios to be maintained at >50% levels in 2019-2022.
Its current ratio remained stable at 1.5-2.0 levels during the period.

5. Utilisation of IPO Proceeds
SH intends to raise RM 34.4 million in gross proceeds and utilises them: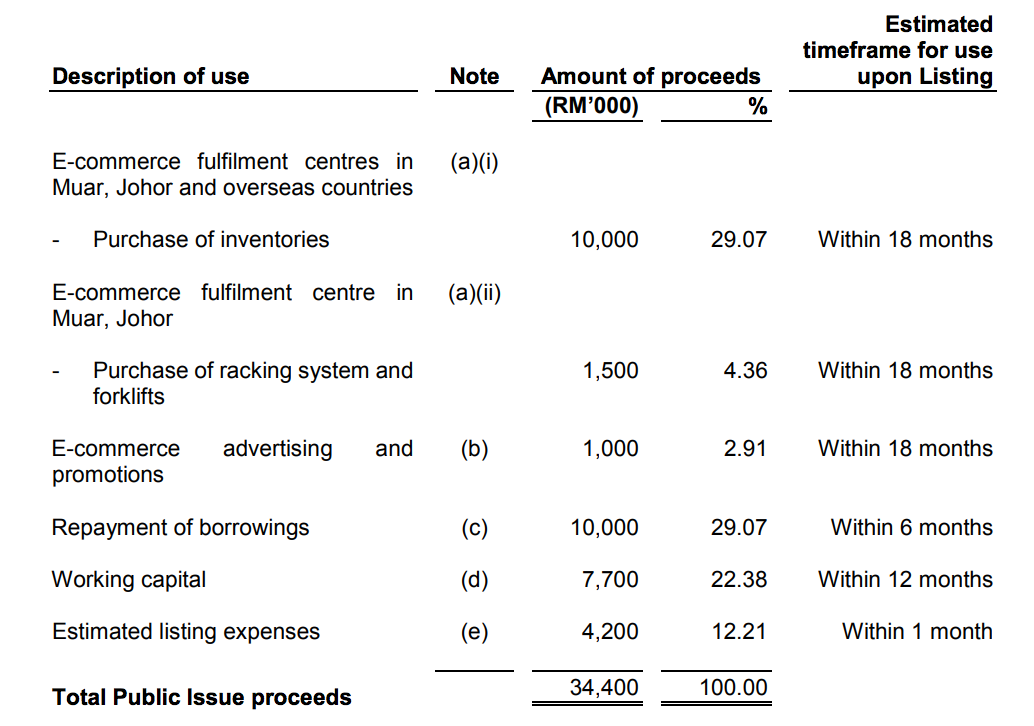 Source: Page 26 of SH's IPO Prospectus
1. E-commerce Fulfilment Centres (RM 11.5 million)
SH allocates RM 11.5 million to:
Buy inventories for its warehouse in Muar (RM 6.5 million)

Buy inventories for third-party fulfilment centres (RM 3.5 million)

Buy racking system and forklifts (RM 1.5 million)


2. E-commerce advertising and promotion (RM 1 million)

3. Repayment of borrowings (RM 10.0 million)
SH reveals that it expects RM 0.65 million in interest costs per year by repaying: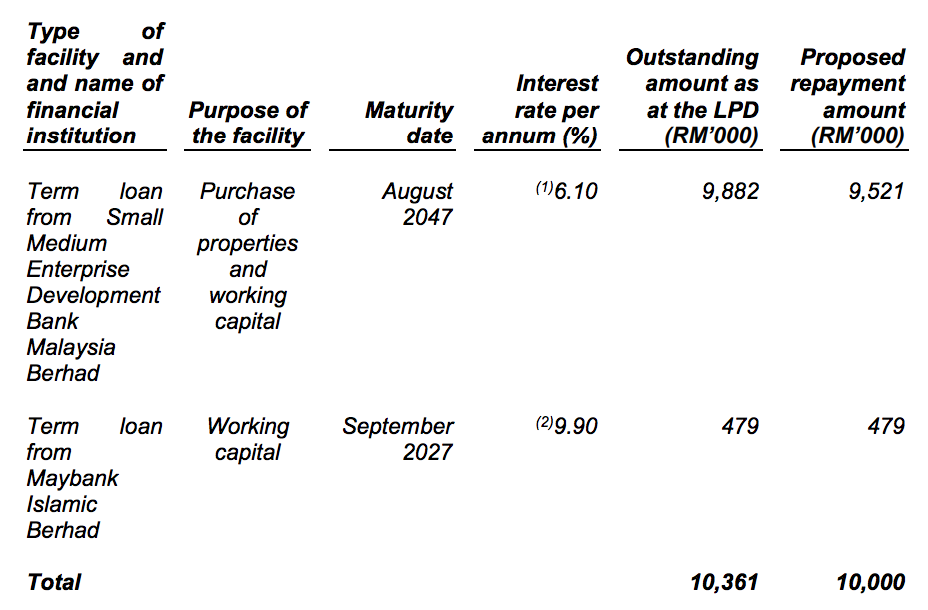 Source: Page 29 of SH's IPO Prospectus
4. Working Capital (RM 7.7 million)
They would include: 
Manufacturing costs (exclude inventories) – RM 1.6 million

Staff costs – RM 0.8 million

Selling & distribution expenses – RM 3.5 million

Administrative expenses – RM 1.8 million

5. Estimated Listing Expenses (RM 4.2 million)


6. Major Shareholders
Source: Page 38 of SH's IPO Prospectus
Tan Eu Tah and his cousin, Teh Yee Luen remain as main shareholders of SH. Tan Eu Tah and Teh Yee Luen are appointed as Executive Directors of SH. 
Tan Eu Tah is responsible for: 
Design and development

Operations

Purchasing and Procurement

Quality Control

Warehousing 

IT

Internal Control
Teh Yee Luen is responsible for: 
Sales and marketing 

Human resources

Finance

7. Dividend Policy
SH does not adopt a formal dividend policy. In 2019-2022, it had declared the following dividends: 

Source: Page 283 of SH's IPO Prospectus
Based on 43 sen a share, its initial yield would be 2.74% a year (DPS 2022). 
8. Valuation
Based on 2022 EPS of 3.32 sen, the IPO offer is valued at ~13x P/E. 
Conclusion: 
SH has attained higher orders for its RTA furniture from 2 main customers. They had contributed to SH's growth in sales and profits in 2019-2022.
In terms of its balance sheet, SH maintained 1.5-2.0 in current ratios and had >50% in gearing ratio in that 4-year period.
Moving forward, SH revealed that it shall split its IPO proceeds into 2 areas: "growth & expansion" and "debt-repayment".
All in all, it is for investors to make comparisons with other listed peers and weigh in all the pros and cons before deciding on SH as an investment.