Excerpts from UOBKayHian report
Singapore Post Limited (SGX: S08)
Singapore Post (SPOST) reported strong 1QFY23 revenue (+34.7% yoy) but weak operating profit (-46.7% yoy).
The Domestic Postal segment underperformed as postal volumes dropped while the International Postal segment saw elevated air freight costs.
The Logistics segment saw higher consignment volumes due to the consolidation of FMH.
The Property segment benefitted from the relaxation of social distancing measures.
In view of strong headwinds, we downgrade to HOLD. Target price: S$0.61.
Weak quarter, dragged by lower volumes
Singapore Post released its 1QFY23 business update, with higher group revenue (+35% yoy, -4% qoq) of S$475.2m but soft operating profit (-47% yoy, -54% qoq) of S$10.6m, forming 26.2% and 9.2% of our full-year forecasts.
Revenue was in line with expectations as contributions from the consolidation of Freight Management Holdings (FMH) gave a boost to overall revenue.
However, rising operating costs and lower volumes led to a drop in operating profit with operating margins falling to 2.2ppt (-3.9ppt yoy, -2.2ppt qoq).
Lower volumes from industry headwinds
Volumes for the domestic post & parcel (DPP) segment were lower yoy as volumes for both e-commerce (-26% yoy, +7% qoq) and letter & printed papers fell (-2% yoy, -2% qoq).
International post & postal (IPP) volumes also moderated (-33% yoy, -4% qoq) due to sporadic lockdowns in China, coupled with elevated air conveyance costs.
Consignment volumes in Australia were the only positive for 1QFY23 with volumes up (+30% yoy, +39% qoq) due to the consolidation of FMH.
Singapore Post valuation/recommendation
We slash our net profit forecasts, accounting for lower growth assumptions for the DPP segment, along with lower margin assumptions. We now forecast FY22-24 PATMI at S$36.1m (S$82.5m previously), S$64.8m (S$94.2m previously) and S$92.1m (S$108.5m previously) respectively.
Downgrade to HOLD with a lower PE-based target price of S$0.61 (previously: S$0.78). We have pegged our PE multiple to 21.3x, SPOST's average long-term mean PE, to SPOST's average net profit for FY23-25F.
This is to account for SPOST's gradual recovery in earnings. However, based on our SOTP valuation, we value SPOST at S$0.79, with the logistics and property segments valued at ~S$1.6b.
Given that SPOST's market cap is at ~S$1.5b, we think that the postal segment is being undervalued by the market. Any potential reversal in postal earnings could lead to valuation upside.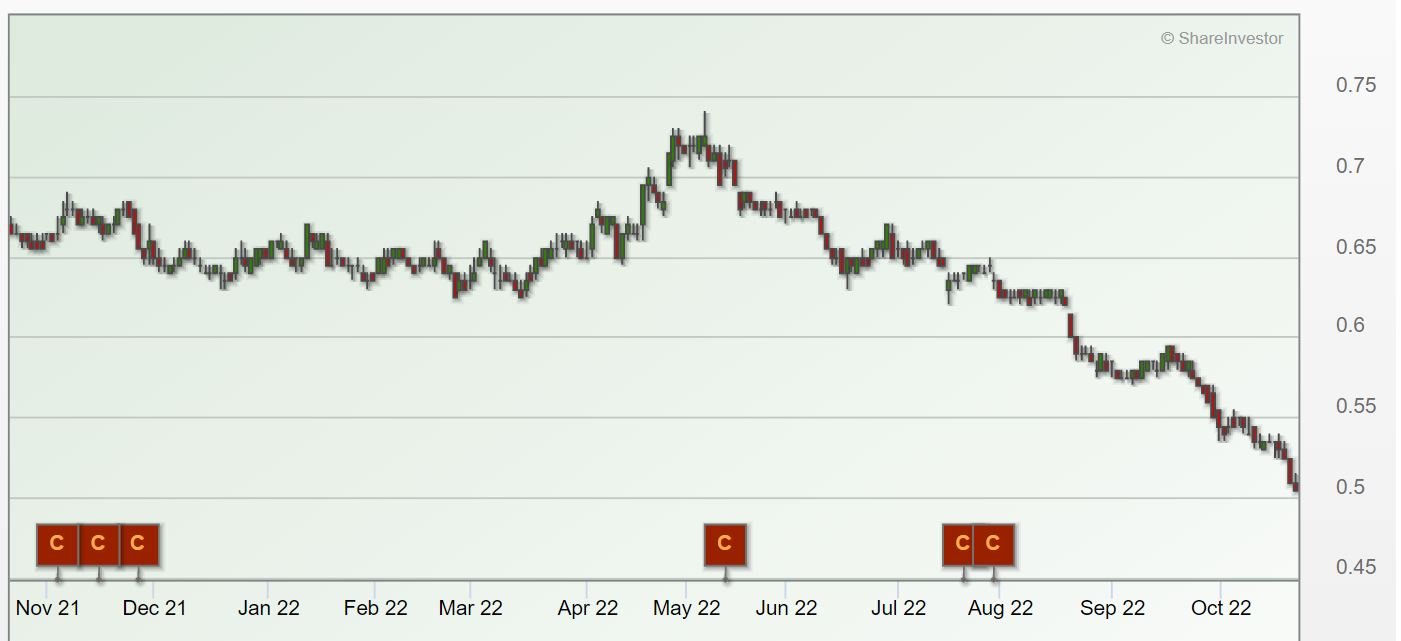 You can find the full report here  and the company website here