Sanli Environmental Limited ("Sanli" in short) is the latest IPO to join the SGX Catalist with proposed listing of 52 mil new shares at $0.225 each. 2.5 mil shares are available for the public and 49.5 mil are kept for the placement.
The IPO offer period will close on 6th June 12pm and will commence trading on 8 June 2017.
You can check out the IPO prospectus here or visit its website here.
1. Sanli's Company Profile
According to its prospectus, Sanli is an environmental engineering company in the field of water and waste management. Water management refers to the treatment of raw and used water and Waste Management refers to the treatment of refuse in incineration plants.
They have 2 biz segments: Engineering, procurement, construction & Maintenance. Basically, I believe most of the revenue will come from the construction segment – where they will design and build the various treatment systems.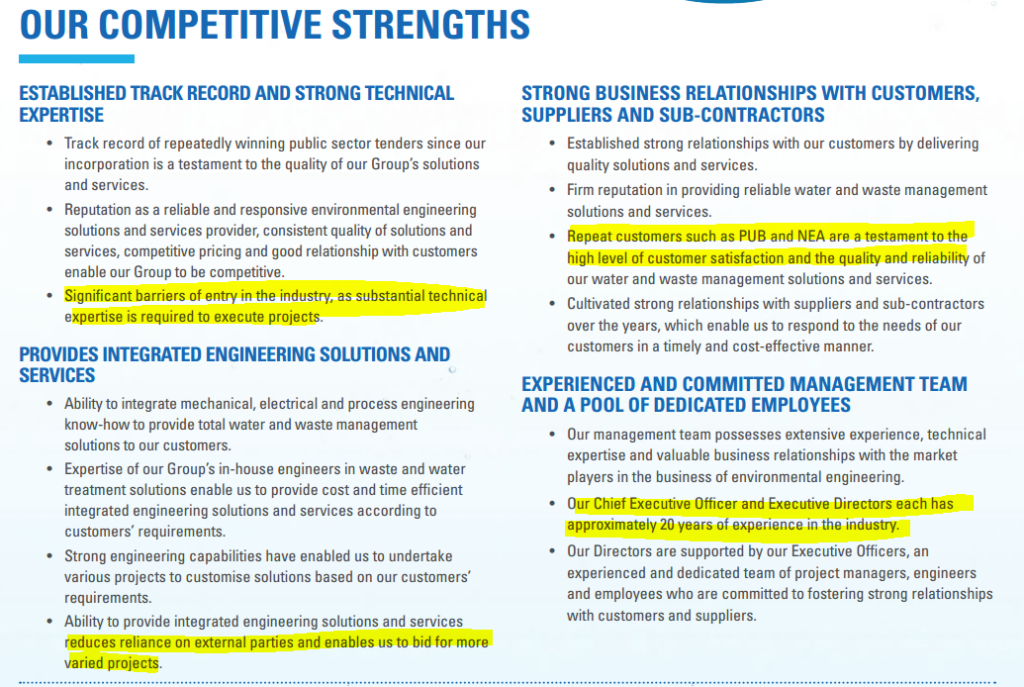 Above is what matters more – competitive strengths. I have highlighted 4 key points that may drive growth for the company going forward.
They can be summarized into the below:
Barriers of Entry – Moat
Repeat Cust from Govt Bodies – Quality/Reliability – Recurring Income
Integrated solutions – Bid for projects with higher value
CEO & directors >20 years exp in industry – Good Management Team with Track Record
2. IPO Details
Sanli is seeking to raise net proceeds of about S$9.72 million.
Around 59% will go to the securing more and larger projects,
30% to expand its business premises
11% to set up biz development department to pursue opportunities outside of Singapore (imo, its just a simple step so majority of growth will still come from Sg for the time being)
Taken from Offer Document 
3. Financials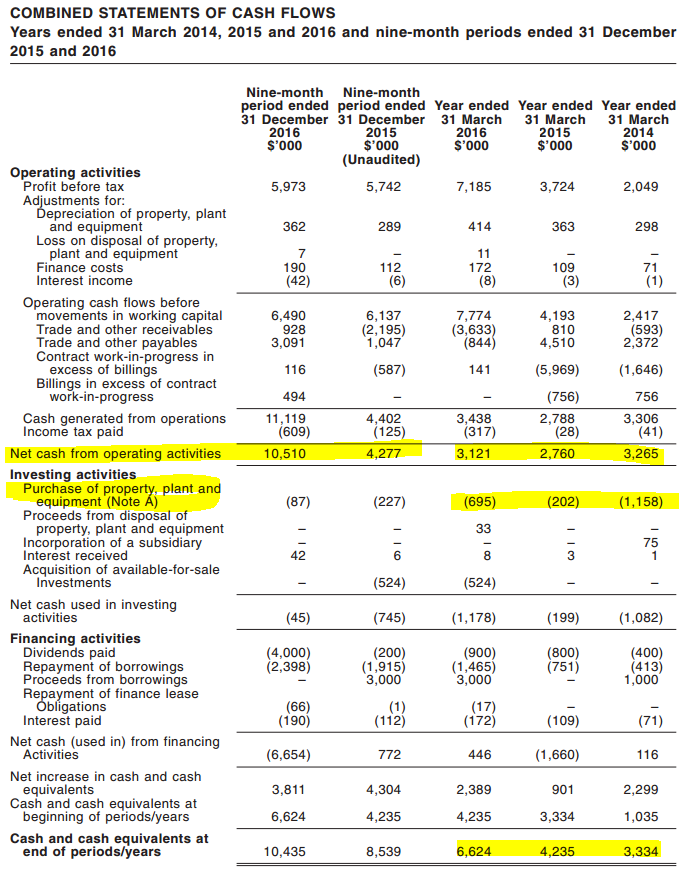 All the financial statements look good!
The company has seen explosive growth over the 3-year period from FY2014-2016 where both Revenue and Profits soar up almost 300%.
The growth is also not excessively fueled by debt as minimal total borrowings stand at around $4.2 mil, comfortably paid off by just 1 year earnings if need be.
It also generates strong free cash flow over the period as the company doesn't need to incur huge capex for their operations.
4. Growth Prospects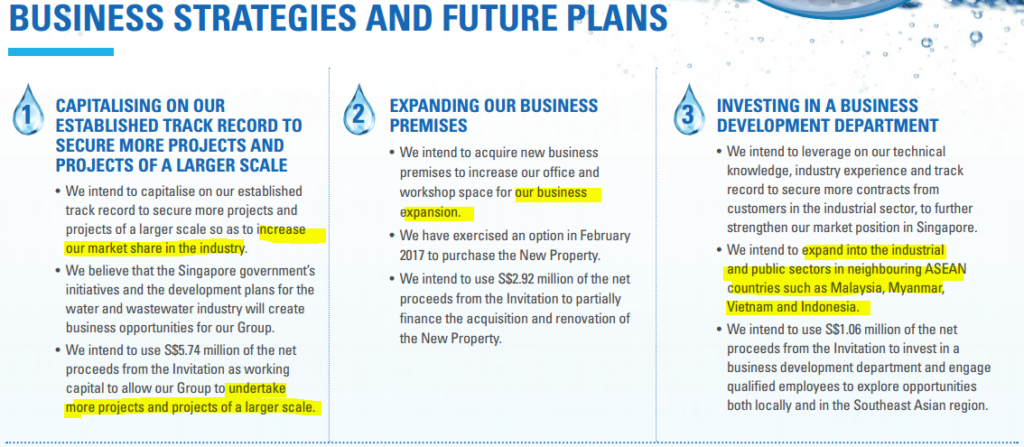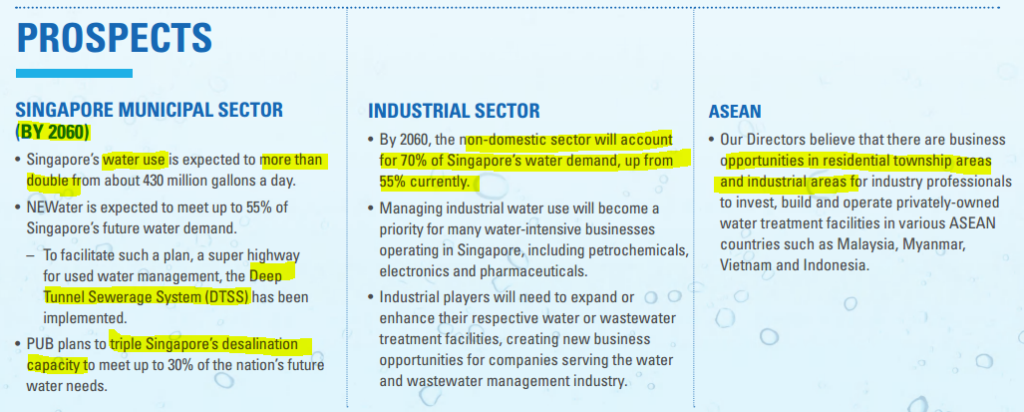 The growth prospects for Sanli look promising too. PUB will triple the desalination capacity by 2060 (thats a very far horizon though) and the industrial sectors are demanding more water treatment going forward. If the company can leverage on its expertise to build and operate similar projects in neighbouring bigger countries, its earnings potential is off to the sky.
5. Conclusion (including Risks)
All in all, Sanli has all the tailwinds going for it – Good Financials, Increasing Demand going forward, and possibly a strong moat ascertained by the repeated orders from PUB.
Furthermore, it is listing at a P/E of 10.9x based on the FY2016 EPS of 2.07 cents. With only a low public tranche of only 2.5 mil shares, I am expecting the stock to pop up much higher when it debuts on 8th June.
Given the skyrocketing share prices of the recent IPOs Aoxin & Kimly, i am not surprised if it can hit $0.45 (based on 22x P/E) on the 1st day of trading. Huat ah!
Looking for similar growth stocks? We've released our 3 HOT growth stock picks which could skyrocket >100% by the end of 2017. History has shown that getting in early on a good idea can often pay big bucks – so don't miss out on this moment.
Simply click here to receive your copy of our brand-new FREE report, "3 stocks poised for explosive growth".
Do Like us on Facebook too as we share the latest investing articles and stock ideas for you!