On 11 March 2022, Pappajack Bhd (Pappajack) released its IPO Prospectus (Part 1 and Part 2) on Bursa Malaysia.
Pappajack's IPO is launched at 30 sen a share and the offer is will end 5pm on 18 March 2022. The IPO listing date has been set on 1 April 2022. on the ACE Market.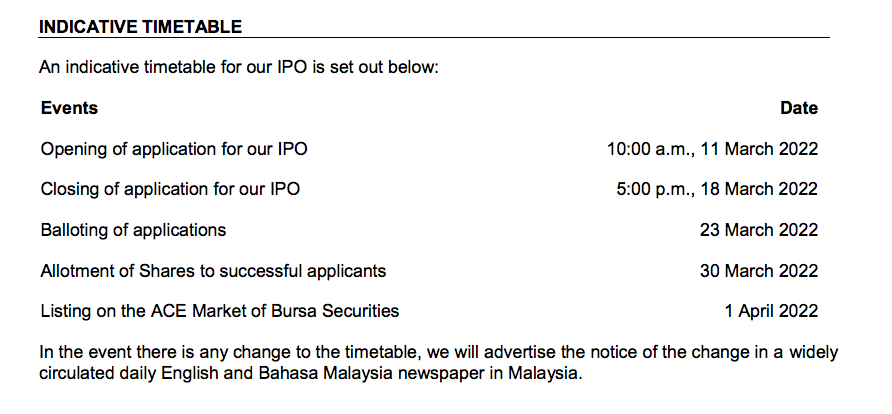 Upon its listing, Pappajack's market capitalisation shall be lifted up to RM 200.4 million.
Check out 9 things you need to take note of Pappajack IPO below: 
#1 Business Model 
Pappajack is a licensed pawnbroker in Malaysia. It charges a monthly interest of a maximum of 2% on the pawn loan disbursed to its customers.
The pawn loans disbursed are based on the value of customers' pledges given, which are mainly gold and luxury watches.
The sources to offer pawn loans are made up of either internally generated funds, advances and capital injections from shareholders. 
In addition, Pappajack sells unredeemed pledges to scrap collectors and also on an online luxury watch trading platform to watch purchasers. 
Source: Page 66 of Pappajack's IPO
#2 Retail Network 
Pappajack commenced its first outlet in Klang in February 2014. Since then, the company had expanded its number of outlets gradually to 8 outlets by 2018 via acquisition and organic growth.
Then in 2019 and 2020, Pappajack expanded its number of outlets rapidly to 25 pawnbroking outlets. Since then, it has kept the number of outlets at 25 presently.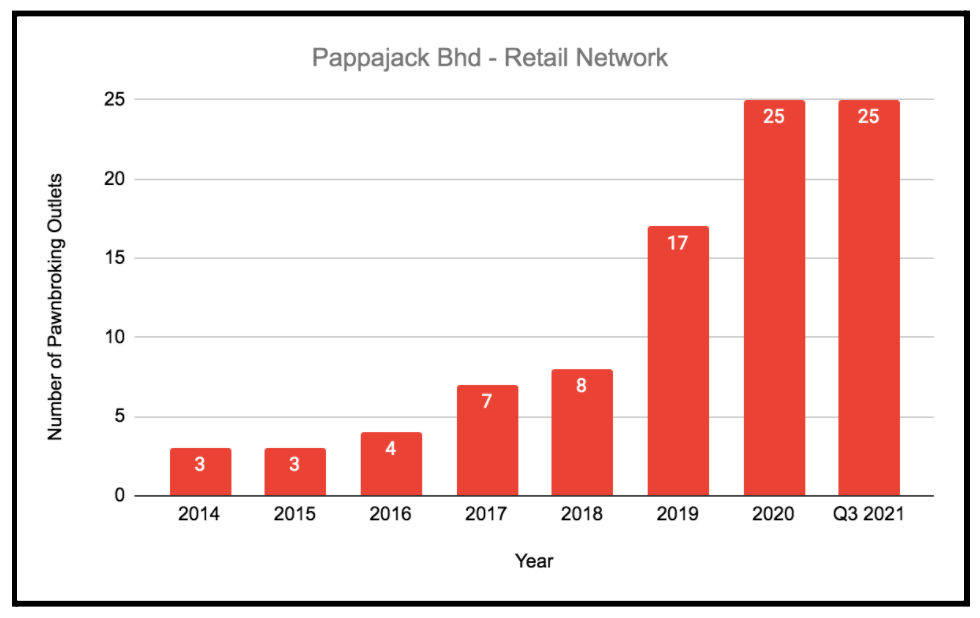 Source: Page 64 and 66 of Pappajack's IPO
#3 Key Operating Data 
In line with its retail expansion, Pappajack recorded a rise in pawn transactions. The amount of account receivables had increased from RM 26.6 million in 2018 to RM 114.4 million in September 2021.
Pappajack had experienced a fall in the rate of default from 15.19% in 2018 to 9.19% in 2020 before recording a hike to 15.97% in the 9-month period in 2021. 

Source: Page 66 of Pappajack's IPO
#4 Financial Results 
Hence, Pappajack has recorded an increase in revenues from RM 10.0 million in 2018 to RM 30.8 million in 2020.
In 2020, the company had recorded its highest earnings at RM 8.2 million. This is due to a rise in interest income and as well as higher sales of unredeemed pledges as a result of higher gold price in that year.
Its earnings per share (EPS) in 2020 is 1.23 sen, a whooping 5x jump from FY2018!

Source: Page 229 of Pappajack's IPO
#5 Balance Sheet 
During the period of 2018 to Q3 2021, Pappajack had recorded a rock solid financial position with 20-40x in current ratio and <10% in its gearing ratio.

Source: Page 278 of Pappajack's IPO
Source: Page 279 of Pappajack's IPO
#6 Utilization of IPO Proceeds 
Pappajack intends to raise RM 50.1 million in IPO Proceeds where it allocates as much as: 
1. Expansion of Pawnbroking Outlets (RM 19.22 million) 
This includes the set-up and working capital for 5 new pawnbroking outlets: 

Source: Page 22 of Pappajack's IPO
2. Capital for its Existing 20 Outlets (RM 27.08 million)
They are intended to be used to finance the deployment of pawn loans in its 20 outlets as follows: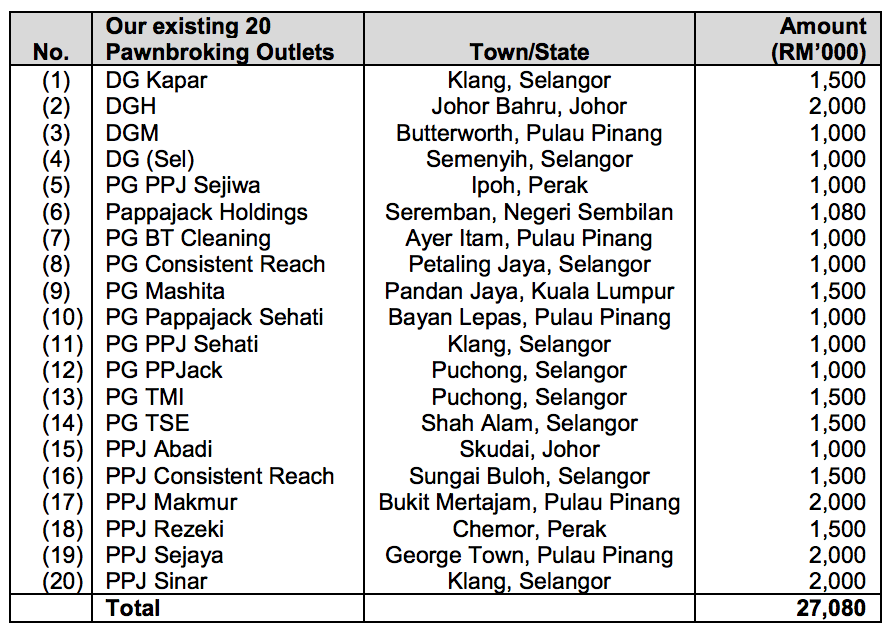 Source: Page 23 of Pappajack's IPO
3. Estimated Listing Expenses (RM 3.80 million) 
#7 Key Risks 
Pappajack has revealed that its business is subjected to the following risks:


1. Unlawful and Suspicious Pawn Transactions

This refers to disbursement of pawn loans based on stolen items by criminals.
It is vital for Pappajack to do due diligence and recordkeeping of its clients to limit or prevent its pawnbroking activities to be used for money laundering activities or terrorist activities by criminals. 
2. Liquidity Risk 
This may be due to a decrease in pawn loan repayment and a delay in the sales of unredeemed pledges.
Hence, it is important for Pappajack to maintain a high current ratio to minimize this risk. 
3. Physical Security Risk 
Typically, Pappajack accepts gold and luxury watches as pledges and hence, will be exposed to the risk of burglary, theft, fire, flood, and natural disasters.
As for Pappajack, it took up RM 135.63 million in block insurance to cover any losses if any of these events arose. 

Source: Page 64 and 66 of Pappajack's IPO
#8 Major Shareholders
TSE Sejahtera, an investment vehicle, is the main shareholder of Pappajack with 47.85% shareholdings.
With that, the people involved (Lim Boon Hua, Law Book Ching, Lim Siew Fang and Lee Kooi Lan) would remain as substantial shareholders of Pappajack.
Lim Boon Hua is appointed as the Managing Director and CEO of Pappajack. Whereas, Law Book Ching is now appointed as the Executive Director of Pappajack.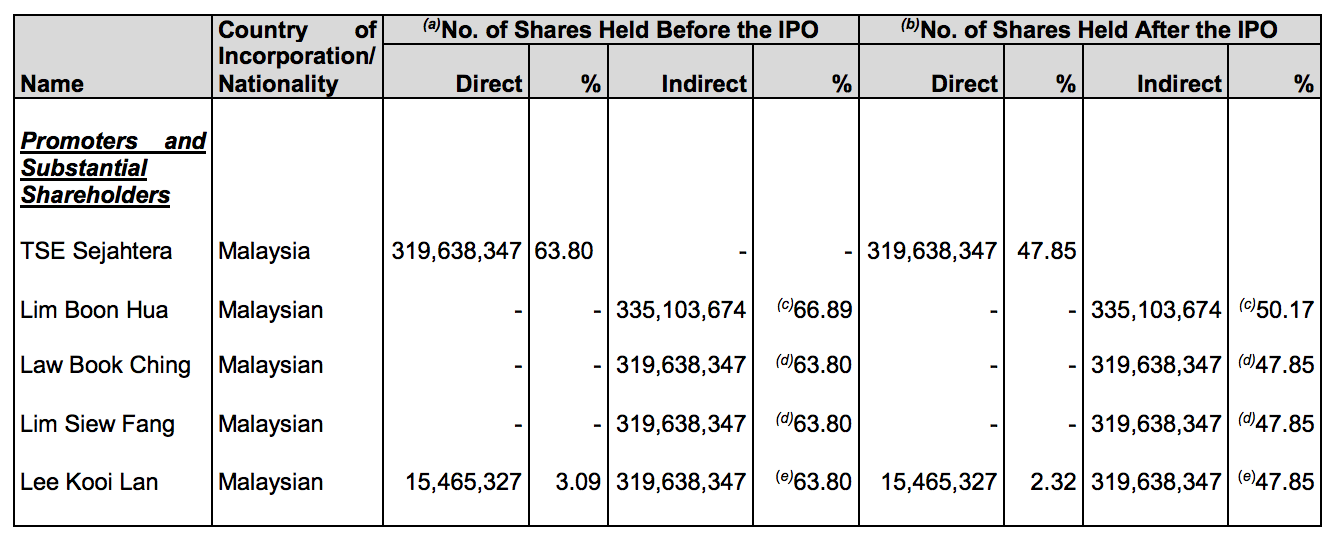 Source: Page 156 of Pappajack's IPO
#9 Valuation 
Based on 30 sen per share, the IPO offer is 1.25x its net assets (NA) per share of 24 sen and 24.4x its earnings per share (EPS) of 1.23 sen. 
Presently, Pappajack does not adopt any formal dividend policy. 
Conclusion
Since its inception in 2013, Pappajack had expanded its network of pawn shops to 25 presently.
This had contributed to its higher sales and earnings for the last 3¾ years from 2018 to Q3 2021.
From its IPO listing, Pappajack had revealed its intentions to open 5 new pawnbroking outlets and fund the disbursement of its pawn loans in 20 existing outlets.
Investors can also compare its valuation with other pawnbroking firms in Singapore such as ValueMax, MaxiCash, and MoneyMax before investing.