Home-grown property developer Oxley Holdings Limited (SGX: 5UX) has just released its FY2021 results on 27th August 2021.
At a quick glance, its revenue jumped 33% to S$1.4 billion on a year-to-year basis. Profit before tax from continuing operations also rebounded from a loss of S$251.3 million in FY2020 to S$109.1 million in FY2021.
Can the company continue to ride on its rebound?
To answer that question, we list down a few things that investors should know. But first, let's get started by this quick primer on Oxley Holdings.
About Oxley Holdings
Oxley Holdings Limited, a home-grown property developer with business presence in nine geographical markets.
Oxley Holdings Limited is a home-grown property developer with a diversified portfolio including property development, property investment and project management.
The Group currently has a business presence across 9 geographical markets including Singapore, the United Kingdom (the "UK"), Ireland, Cyprus, Cambodia, Malaysia, the People's Republic of China ("PRC"), Vietnam and Australia.
As seen from the above, Oxley Holdings is largely focused on the residential and hospitality space. Over the years, it has developed many renowned projects such as Riverfront Residences in Singapore, Royal Wharf in London and Oxley Towers in Kuala Lumpur and also owns investment properties such as The Rise @ Oxley in Singapore and Shangri-La Hotel in Cambodia.
Last but not least, Oxley also has a small equity stake in Aspen Group – another property development group based in Malaysia.
#1 Financial Performance
 As previously mentioned, Oxley registered a 33% jump in sales to S$1.4 billion in FY2021, underpinned by higher revenue from the projects in Cambodia, Singapore and Ireland, partially offset by lower revenue from the project in the United Kingdom.
Over the same period, the real estate firm reported profit before tax from continuing operations of S$109.1 million for FY2021 as compared to a loss of S$251.3 million in FY2020.
This is largely due to lower finance costs and a 70% drop in Other Losses amounting to S$208.9 million in the previous year (fair value losses and losses pertaining to property sales).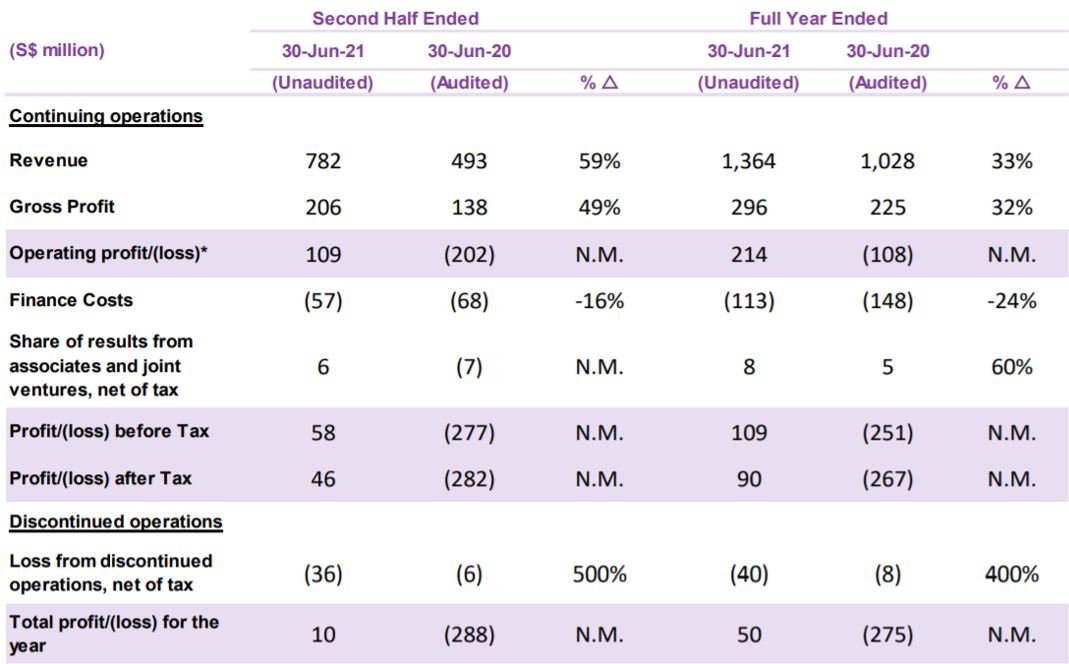 Source: Oxley's FY2021 earnings presentation
In terms of its leverage ratio, Oxley has also been making good progress.
During FY2021, the Group generated positive cash flows of $623.6 million from operating activities and utilized the bulk of it (~S$600 million) to pay back the debt load.
With that, its net gearing ratio has improved significantly to 2.18x as at 30 June 2021 compared to 2.48x as at 30 June 2020.
The company is also aiming to maintain as much unencumbered (free of debt) assets as possible for future funding flexibility.
In fact, Oxley Holdings has started paying dividends after the pandemic – 0.25 Singapore cents. If we assume another 1 S-cents dividend at the end of the year, the total 1.25 cents dividend would equate to an attractive 5.6% yield.
#2 Operational Review 
As at early August 2021, the Group had future progress billings of S$3.1 billion, of which approximately S$2.8 billion was attributable to the projects in Singapore and S$0.4 billion was attributable to overseas projects.
Source: Oxley's FY2021 earnings presentation
As seen from the table above, the Group's effective stake in the future progress billings was approximately S$1.9 billion between Singapore and Overseas segments.
We will now split the 2 segments and unravel in the details below:
(i) Operational Review – Singapore
Private home prices have been increasing for the fifth straight quarter since Q1 2021 in Singapore underpinned by the various reasons:
Housing delays and tightening supply due to construction workers' shortage
Strong demand from buyers looking to upgrade
Potential economic recovery after COVID-19 pandemic
Low mortgage interest rates
In fact, more than 91% of Oxley's Singapore development projects have been sold as of early August 2021, representing S$4.3 billion of gross development value.
The Group is targeting to achieve 100% sales of the Singapore development portfolio by end of 2021.
On the investment property front, the Group's Novotel and Mercure Hotels on Stevens have been registered as government quarantine and stay-home notice dedicated facilities from the onset of the virus outbreak and have been generating positive operating cash flows.
(ii) Operational Review – Overseas
In FY2021, the Group also achieved remarkable success for the Overseas property division. Here is a quick rundown of the projects:
Source: Oxley's FY2021 earnings presentation
In total, there is an effective future sales revenue of around S$2.2 billion with effective future progress billings of S$0.28bn and and remaining GDV of ~S$1.97bn (as seen from the red boxed up figures above).
During the year, the Group entered into a strategic partnership with Pavilion Group, one of Malaysia's leading property developers, for the development of Oxley Towers, Kuala Lumpur City Centre ("Oxley Towers KLCC"), the Group's flagship project in Malaysia.
Pavilion Group will drive project management, construction and sales and marketing activities of Oxley Towers KLCC. The Group believes that Pavilion Group's expertise in large scale retail mixed-use developments in prime city centre locations in Malaysia will take Oxley Towers KLCC to greater heights.
#3 Looking Ahead
By and large, property development sales usually hinge on the economic performance of a particular country and in turn, is dependent on the vaccination rates and efficacy of the vaccines against new virus strains, inflation risks and geopolitical developments.
That said, there seems to be a bright light at the end of the tunnel.
Singapore's vaccination rate is approaching 80% by early September 2021 and the United Kingdom, Ireland and Cambodia (countries with Oxley's properties) are also leaning towards easing of lockdown restrictions due to the relatively high vaccination rates.
Furthermore, the hospitality sector is positioned for certain form of business recovery with governments already proposing for exemption from quarantine for vaccinated visitors from Germany, Brunei, Hong Kong and Macau from September 2021.
Source: Oxley's FY2021 earnings presentation
Lastly, the Group is finalising the planning for the new development projects at Deanston Wharf and Connolly Station with a combined GDV of more than S$1.6 billion.
Together with the joint venture partner, the Group is looking to launch the sales of the Deanston Wharf project towards the end of 2021.
In addition to property development activities, the Group has also been reviewing potential asset divestment opportunities to strengthen the Group's cash flow position.