Excerpts from CGSCIMB report
Netlink NBN Trust (SGX: CJLU)
Netlink NBN Trust (NLT)'s 1H23 results were in line; core net profit/DPU at 52%/50% of our FY23F forecast. DPU growth reaccelerated to +2.3% yoy (1H23: 2.62 Scts).
Ancillary project revenue the key driver for 1H topline growth. NLT continued to see healthy connection growth across all three fibre connection segments.
ICO review likely to only be completed in 1HCY23.
Reiterate Add with lower TP of S$0.92 on higher cost of equity assumptions.
Netlink NBN Trust 1H23 results in line with expectations
Netlink NBN Trust's 1H23 core net profit of S$54.6m (+3.9% yoy) was in line with expectations, at 52%/54% of our/Bloomberg consensus FY23F estimates.
Topline grew 6.2% yoy to S$199.6m, driven by higher ancillary project revenue and connections revenue, though partially offset by lower central office revenue.
Core EBITDA grew 4.7% yoy, in tandem with the higher revenue, reflecting good cost control by NLT. DPU grew 2.3% yoy to 2.62 Scts, in line at 50% of our/Bloomberg consensus forecasts.
Stronger revenue growth aided by construction recovery
Boosted by a recovery in construction activities, ancillary project revenue surged 157% yoy to S$11.8m. Project pipeline remains healthy for 2H, mainly relating to infrastructure projects driven by Land Transport Authority (LTA).
NLT also continued to see growth across all three fibre connection segments in 2QFY23, with residential/nonresidential/NBAP and segment connections growing 1.6%/5.1%/35.9% yoy.
Interconnection offer (ICO) pricing review for the next review period (2023-2027) with Infocomm Media Development Authority (IMDA) is still ongoing.
NLT expects the review to only be completed in 1H23 (slightly delayed), mainly due to more time required for IMDA to complete the consultation process with various stakeholders on changes in certain non-price terms and conditions.
Management believes that adjustments to rates, if any, will only be implemented with a few months' lag once the final decision is announced.
Netlink NBN Trust robust balance sheet, with net gearing at 18.6%
Net gearing stood at 18.6% as at end-Sep, providing good debt headroom for inorganic growth opportunities; NLT continues to explore opportunities to invest in telecoms infrastructure businesses overseas that are likely to generate stable cashflows.
As of 1HFY23, NLT's effective average interest rate stood at 1.9%, with 74% of its debts hedged into fixed rates (till Mar 2026). We estimate that every 50bp increase in weighted average interest rate costs could negatively impact EPS by 2.9%.
Valuation/Recommendation
Reiterate Add with lower TP of S$0.92. We fine-tune our FY23-25F DPU estimates but tweak down our DDM-based TP to S$0.92 with a higher cost of equity assumption of 6.85% (vs. 6.10% previously).
We continue to like NLT as a defensive play amid the macro uncertainties, given its strong earnings visibility and stability.
Potential re-rating catalysts include earnings-accretive acquisitions and stronger-than-expected growth in NBAP connections as NLT benefits from telcos' 5G rollout.
Downside risks include lower-than-expected ICO pricing in the upcoming review.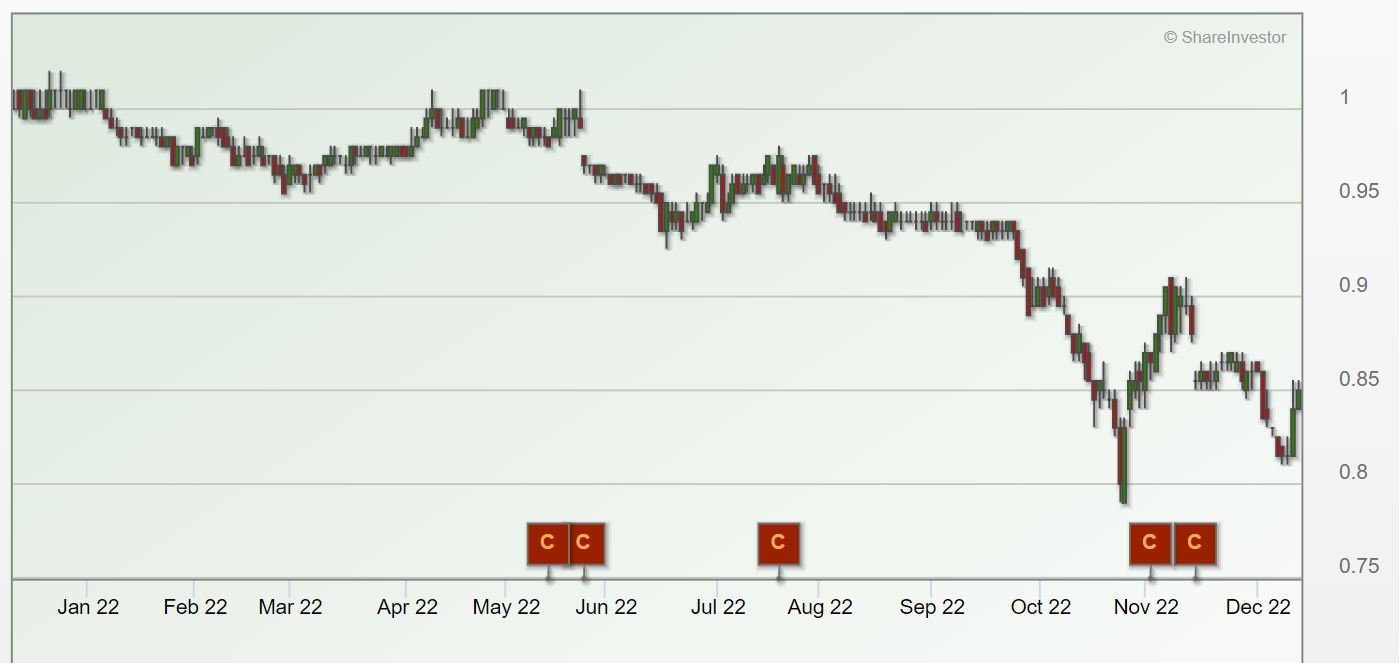 You can find the full report here and the company website here