On 6 October 2020, Mr. D.I.Y. Group (M) Bhd (DIY) had extended its invitation to the general public to subscribe its IPO shares at RM 1.60 a share for 8 days until 14 October 2020.
Upon completion of its IPO, DIY would list 6.277 billion shares and thus, bringing DIY's market capitalisation to RM 10 billion.
You can download Mr. DIY's IPO prospectus as attached below:
If you are looking for a quick 5 minute summary, you can also check out the Or, you could spend 5 minutes here where I had summarised 7 things that you may need to know before investing into DIY.
#1: About Mr. DIY
DIY is a fast growing retailer of home improvement products in Malaysia, where it currently operates 674 DIY outlets (670 in Malaysia: 4 in Brunei), up from 354 DIY outlets (351 in Malaysia: 3 in Brunei) in 2017.
Presently, 386 of DIY's outlets (57.3%) are retail mall-based stores where they are operated inside a retail mall or super or hypermarkets such as AEON, Tesco and Giant. The other 288 outlets (42.7%) are operated in standalone shopfront stores.
Presently, the retail stores are supported by a central distribution centre that consists of 11 closely knitted properties in Balakong, Selangor and 1 property in Port Klang.

#2: Financial Results 
DIY has achieved growth in sales, profits and cash flows from operations for the last 3 years. Sales had increased from RM 1.23 billion in 2017 to RM 2.28 billion in 2019. This is contributed by continuous expansion in its DIY outlets and same store sales growth during the 3-year period.
As a result, net profits increased to RM 317.6 million in 2019 from RM 210.0 million in 2017. DIY had also increased its operating cash flows from RM 204.1 million in 2017 to as much as RM 403.3 million in 2019. 
As of 30 June 2020, DIY has RM 608.9 million in total borrowings, thus, having a gearing ratio of 134%. DIY has RM 898.5 million in current assets and RM 848.5 million in current liabilities. Thus, its current ratio is 1.06.

#3: Mr. DIY's Growth Plans
DIY has revealed a number of plans to grow its businesses in the near future. Here are the 4 things as shown:
DIY plans to open 100 new DIY outlets per annum in 2020 and 2021 which would estimate to cost around RM 1.6 million per store. 
DIY has opened its first Mr. TOY store in May 2019 where it sells a wide range of products for babies and children in Malaysia. Presently, it expanded its network of Mr. TOY to 28 stores. Moving ahead, DIY intends to open another 33 stores in 2020 and 2021 which estimate to cost around RM 1 million per store. 
DIY opened its first Mr. DOLLAR store in August 2020. It offers a wide range of low-cost household products which are priced at RM 2 – 5 per item. As of now, DIY has two Mr. DOLLAR outlets and intends to open 58 outlets in 2020 and 2021 which are estimated to cost around RM 1.2 million per store. 
DIY had purchased two plots of land measuring 260,000 sq. ft., where it plans to develop a warehousing facility on it. It is scheduled to be completed by 2023.
In addition, DIY bought a plot of freehold land measuring 80,300 sq. ft. in August 2020 and a plot of leasehold land measuring 85,340 sq. ft. in September 2020 to expand its warehousing facilities to support its future business growth. 
#4: Usage of IPO Proceeds
DIY plans to raise RM 301.44 million in gross proceeds from its IPO listing. After paying off RM 25.30 million in IPO fees, DIY plans to use the remaining balance of RM 276.14 million to make a partial repayment of its bank borrowings.
Based on its effective interest rate of 3.8% per annum, DIY expects to generate an interest savings of RM 15.2 million per annum. 
#5: DIY's Major Shareholders
Upon completion of IPO listing, Bee Family Ltd will be DIY's biggest shareholder with 50.6% shareholdings and thus, the Tan Family remains as one of the major shareholders of DIY.
Tan Yu Yeh is appointed as its Executive Vice Chairman. Tan Yu Wei, his brother is the Executive Vice President of DIY. 
#6: Key Risks 
DIY had reported a slight fall in sales and net profits in 1H 2020 as compared to 1H 2019. Revenue had fallen from RM 1.10 billion in 1H 2019 to RM 1.05 billion in 1H 2020. Net profits declined from RM 154.4 million in 1H 2019 to RM 115.4 million in 1H 2020.
This is because DIY was impacted by the Movement Control Order (MCO) due to a mandatory closure of its stores during the period. Fortunately, sales for DIY had recovered in May and June 2020 as shown below: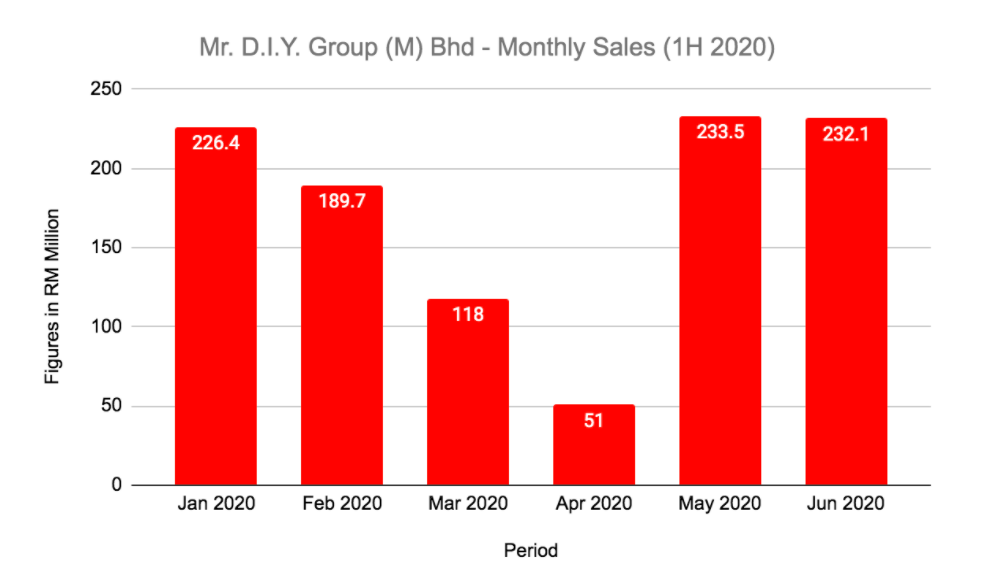 Apart from the COVID-19 pandemic, DIY is subjected to the risk arising from an adverse change in the domestic export policy and foreign exchange rates (RMB: MYR) as DIY imports 73.4% of its supplies from Mainland China presently.
As of now, DIY has not entered into any hedging transaction to reduce its exposure to its foreign exchange risk. 
#7: Valuation of Mr DIY Stock
The IPO shares of DIY are offered at RM 1.60 a share. Based on the prospectus, DIY has reported to make 5.06 sen in earnings per share (EPS) and is committed to pay out at least 40% of its EPS to its shareholders in dividends.
It also has as much as RM 0.12 in net assets per share. Thus, its offer is valued at a P/E Ratio of 31.62, a P/B Ratio of 13.33 and a minimum dividend yield of 1.26% per year.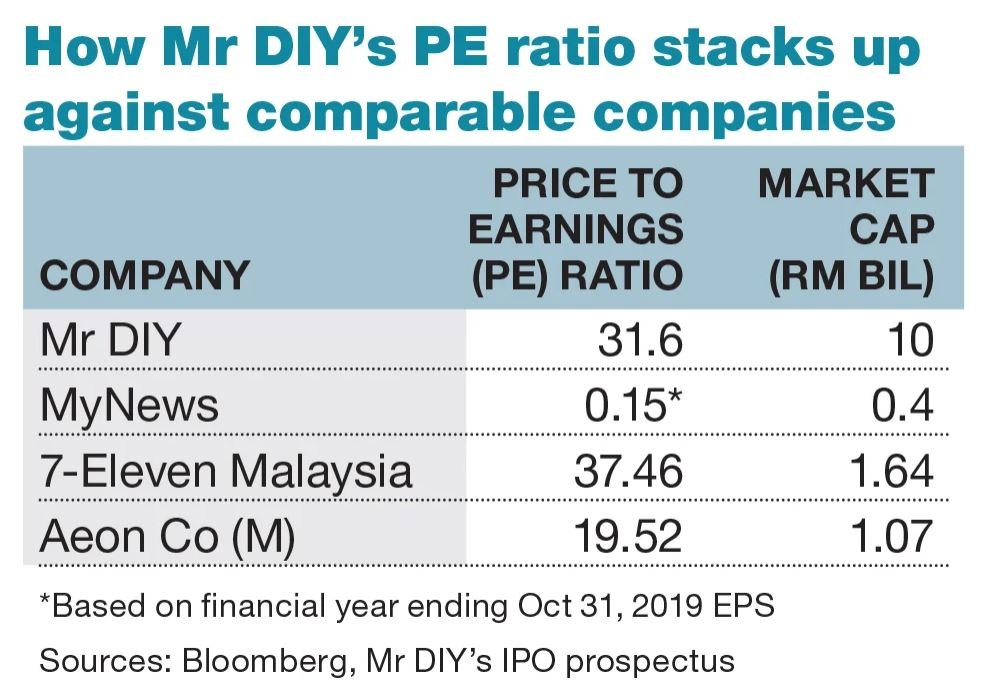 As a quick comparison to other Malaysia companies, Mr DIY is definitely not priced cheaply at 31x P/E from the onset.
In addition, the group also highlighted the impact of the Covid-19 pandemic on its operations.
This will result in lower revenue for March and April 2020 as it had to close all its stores by March 22. Its operations have fully resumed by May 31, amid the Conditional Movement Control Order (CMCO).
Investors should take note that the impact was not reflected in the IPO Prospectus because it was based on Financial Year ending Oct 31, 2019.
Conclusion
DIY has achieved stellar growth for the last 3 years; the compounded annual growth rate CAGR from FY2017 to FY2019 (2 years period):


Revenue – 36.06%
Net Profits – 22.98%
Store Openings – 29.43%
These are very impressive growth rates when it is even considering Mr Toy and Mr Dollar stores in future. Lets not forget its upcoming warehousing capacity which will support the store expansion and reduce costs as well.
All in all, Mr. DIY looks fairly valued at 31x P/E with ~23% profits annual growth. But that's another story if you believe in the long term growth story of Mr DIY and wants to get in at an early stage.
Nonetheless, its important to do your own due diligence and invest wisely!