Are you still using those traditional brokers that charge you $25 commission per trade?
Then you need to drop everything and read this review right now…
Because you can save lots of 'moolah' (pun intended) just through the commissions itself!
Without further ado, check out the quick review of the trading app, moomoo, below.
moomoo powered by FUTU's Profile
Despite only officially launched this March 2021, moomoo powered by FUTU is already taking Singapore by storm. Everywhere you go, you would probably have seen all its ads plastered islandwide – Bus stops, Mrt Stations, Taxis, Daily Apps, you name it.
And if you are wondering whether it is a legit trading app, rest assured on that.
The parent company, Futu Holdings is listed on the NASDAQ (NASDAQ: FUTU)
Furthermore, it is backed by Chinese internet giant Tencent Holdings (SEHK: 700), renowned U.S. venture capitalist firm Sequoia Capital and Matrix Partners.
Back in Singapore, capital markets products and services on moomoo are offered by Futu Singapore Pte. Ltd. (FUTU SG), a subsidiary of Futu Holdings,  licensed and regulated by the Monetary Authority of Singapore (MAS) (Licence No. CMS101000).
In addition to the above-mentioned safeguards,
Important info at your fingertips
The biggest draw for me is how I can find all the critical company analysis information, screen for popular stocks and discuss stocks with other users – all at one platform.
1. Stock Analysis features
Now you can do your research on the stocks with all these key features and more – all at your fingertips.
24/7 updated headlines and news
Earnings Calendar
Financial Ratios and analysis
Up to 29 chart patterns and drawing tools
Company introductions, announcements, financial reports, conference calls
Competitor research
Here's a quick screenshot of Pax Global Technology:
2. Filter for Stock Ideas
Meme stocks? Beaten-down China/HK stocks?
moomoo app got you covered when you want to filter for such "hot" stocks under the "Heat Lists" button based on trading volume, search volume and news volume.
You can also screen stocks based on your own criteria using the in-app "Stock Screener"!
3. Get in touch with the general public sentiment before you trade
With a million strong and growing community from across the globe, you can easily engage with other investors, express your views and gain new perspectives like never before.
Personally, I love the "Moo Humour" the most… made my day with the picture below:
Competitive Commission Fees
Adding to what I previously mentioned in the introduction, Futu SG offers some of the lowest fees and trading minimums in Singapore for investing in Hong Kong and U.S. securities, futures and options.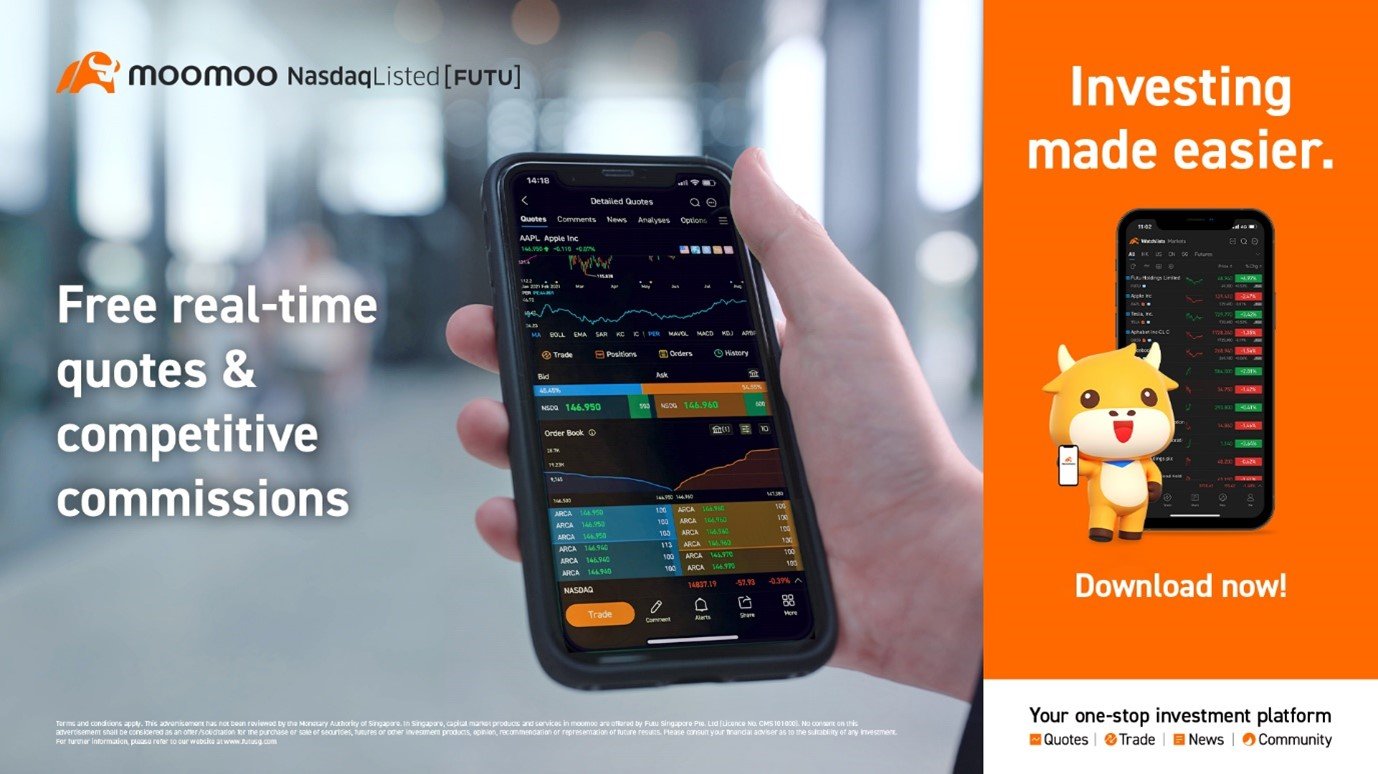 At the time of writing, with their current welcome promotion, you can enjoy 180-days of unlimited Commission-Free stock trading for US, HK & SG markets with no custodian fee (other fees apply).
Last but not least, moomoo app provides value-added complimentary access to:
Level 2 market data for the US market which displays real-time bids, asks and stock quotes
Level 1 real-time SGX Securities SG market data and 24/7 aggregated updates
Level 1 China A Shares market data which displays real-time bids, asks and stock quotes
Its truly captivating for a moomoo user when your whole investment process is made easier through the platform's vast market accessibility, data options on top of low commissions and user fees.
Learning On The Go
If I were to pick one thing that stands out for moomoo app, it would be that the app has our interests at heart by providing free trading guides and courses!
Quick Walkthrough – Under the "Moo" tab at the bottom of the app, click on the 'search' icon and type in "moomoo courses".

After that, click on the 'user' and there should be a moomoo Courses link there and you just click on it. Viola, you will see something like the below pic.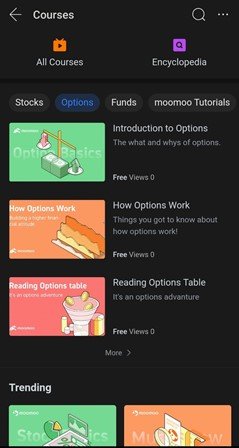 From absolute beginners to advanced traders wanting to learn a new financial product, moomoo app has something for you to upgrade your investing knowledge and skills.
In total, it comprises of more than 20 complete online courses and videos that covers across Stocks, IPOs, Options, ETFs for all users to upskill.
Unrivalled 24-Hour Customer Support
On top of all the above, moomoo powered by FUTU offers impeccable 24 hours customer service on trading days for a peace of mind.
The last time I opened a FUTU SG securities account via the moomoo app, it only took me 10 minutes to get it up and running!
Within the App itself, customers can use the in-app live chat function via "customer service" under the "Me" tab. That is where a customer service representative will attend to your questions.
On top of that, you can also tap on additional customer service support available via moomoo's in-app "Help Center", hotline, email and social media platforms. I listed them below for your reference.
"Help Center" via in-app
Email: clientservice@futusg.com
Social media: @moomoosingapore
Customer service line: +65 6321 8888 (working day:24 hours, Weekdays: 9am – 9:30pm)
Long story short, you are hand-held throughout your investing journey via moomoo.
Moomoo Promo
And now, after hearing so much good stuff about moomoo powered by FUTU, its time to take advantage of its attractive promotion…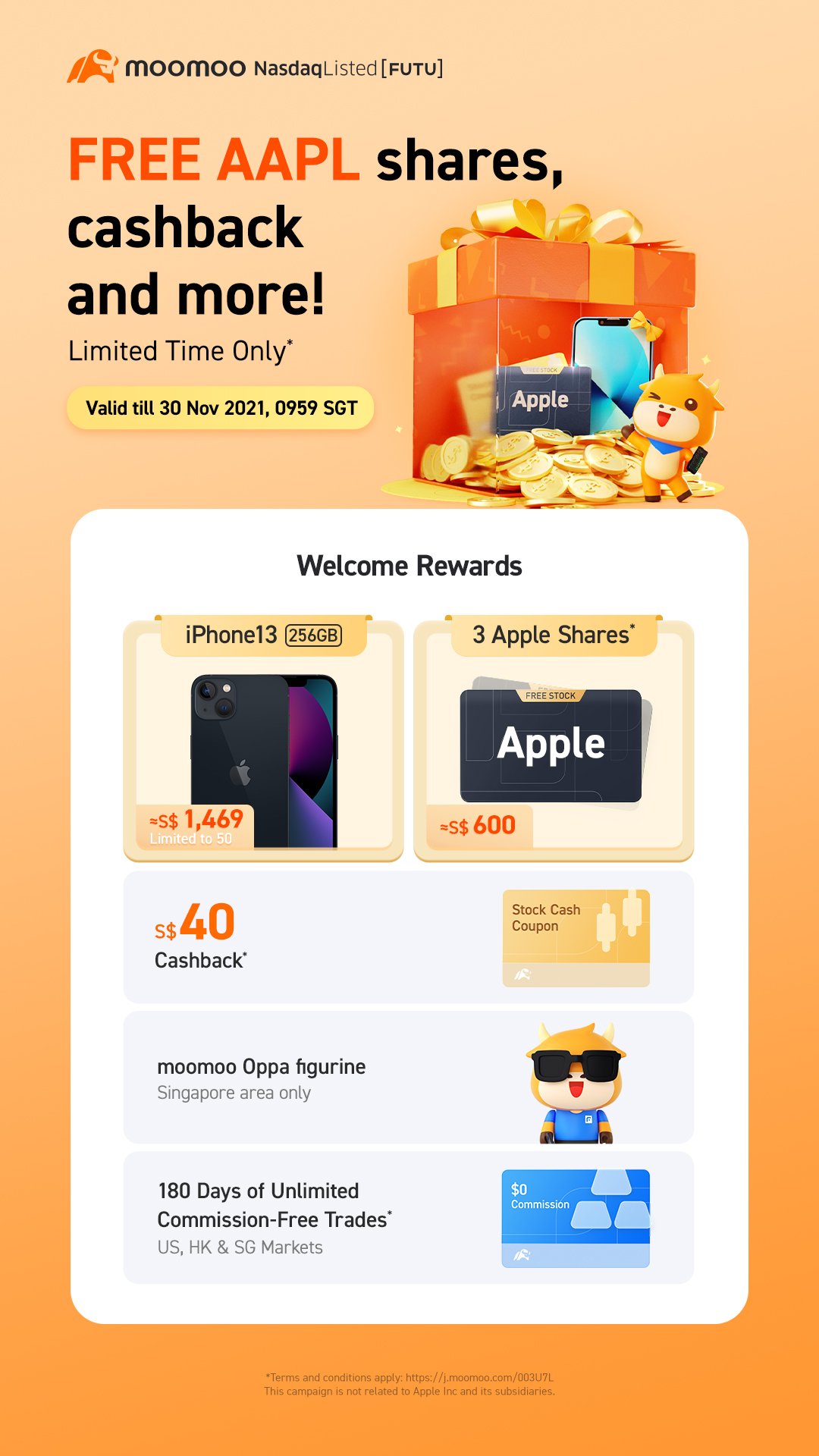 Campaign period: 8 November 2021, 10:00 SGT to 30 November 2021, 09:59 SGT 
Eligibility: New users who registered for a moomoo ID after 10:00 SGT on 8 November 2021
Sign-up: 180 days unlimited commission-free trading for the US, HK & SG stock market.
Successfully open a FUTU SG Securities Account
(i) Free access to Lvl 2 Market Data for the US stock market
(ii) Free access to Lvl 1 Market Data for the SG stock market
(iii) Free access to Lvl 1 Market Data for China A Shares market data
(iv) 1 limited edition "moomoo Oppa" moomoo figurine merchandise – capped at 1 per user, while stocks last!
First Deposit Reward:
New user will need to deposit of SGD 2,700 or USD 2,000 or HKD 16,000 & above to receive the following,
(i) 1 Apple (AAPL) share worth around SGD 200
(ii) SGD 40 Stock Cash Coupon Bundle
And if you have other brokerage accounts, check out the attractive Shares Transfer-in Reward:
Accumulated Share Value successfully transferred-In (SGD) within Campaign Period:
⁃        SGD 50,000 – SGD 99,999: rewarded 1 Apple (AAPL) share worth around SGD 200*
⁃        SGD 100,000 – SGD 199,999: rewarded 2 Apple (AAPL) shares worth around SGD 400*
⁃        ≥ SGD 200,000: rewarded 1 iPhone 13 (256GB) worth around SGD 1,469
Limited to 50 sets, first come first serve! Or 3 Free Apple (AAPL) shares worth around SGD 600*
For more details on the promotion, click on the link here.
Hurry! This promotion has started on 8 November 2021, 10:00 SGT and ends on 30 November 2021, 09:59 SGT. Click here if you want to ride the 'buuuuuull market' with mooomoo.
This article is written in collaboration with FUTU Singapore Pte. Ltd. but the views/opinions are of my own.