Excerpts from CGSCIMB report
We expect a significant return to profitability in FY9/23F on the back of rampup in Singapore outlet footfall and relaxation of China Covid-19 measures.
China outlets appear set for a steady recovery due to 1) easing domestic pandemic restrictions, and 2) ramp-up in Universal Beijing Resort outlet.
Jumbo Group is set for a year of earnings rebound in FY23F
Upgrade to Add at a higher TP of S$0.35, based on 20x CY24F P/E.
Jumbo Group FY23F should be a much stronger year
Following Jumbo Group's return to profitability in 2HFY22 (net profit of S$4.4m), we expect FY9/23F net profit to record a significant rebound to S$8.6m (vs. FY22: S$0.1m net loss).
Key positives from 2H22 financials include a strong rebound in Singapore revenue as outlet footfall gained traction, and an exceptionally strong GPM of 66.3% (vs. 2H21:61.9%).
FY22 revenue from China fell 12% yoy to S$28m on the back of stringent Covid19 measures imposed in the region. No dividends were proposed for the financial year.
Jumbo Group Singapore operations set for a stronger recovery
Management shared that revenue and footfall of some of its Singapore outlets were close to pre-Covid levels in 4QFY22. We expect FY23F Singapore revenue to ramp-up further from
Gradual return of North Asian tourists as the region reopens further,
Easing Covid-19 restrictions (removal of restaurant dine-in limit and resumption of corporate
meals), and
Higher contribution from new outlets opened in FY22.
While we see the possibility of further downtrading as consumers exercise financial prudency, we believe the impact should be cushioned by the return of tourists and resilient restaurant spend from middle-upper income consumers.
China operations likely to improve from here on
With China announcing nationwide relaxation of Covid -19 restrictions on 7 Dec 22, we believe that Jumbo Group's China operations are set for a steady recovery in FY23F as restaurant footfall improves.
Easing domestic restrictions and potential resumption of domestic travel could further drive up revenue contribution from the Universal Beijing Resort outlet, as the outlet only commenced operations in Sep 21 and was impacted by sporadic lockdowns throughout FY22.
Valuation/Recommendation
Upgrade to Add at a higher TP of S$0.35. We lower our FY23-24F EPS by 3-5% as we fine-tune our estimates post 2H22 results. We believe Jumbo Group appears set for a steady recovery in FY23F.
At current levels, Jumbo Group trades at 16.2x CY24F P/E, approximately 2.2 s.d. below its 3-year historical mean (FY16-18). We raise our TP to S$0.35 as we rollover to 20x CY24F P/E, based on 1.5 s.d. below its 3-year historical mean.
Re-rating catalysts includes quicker reopening of North Asia and easing of domestic restrictions in China.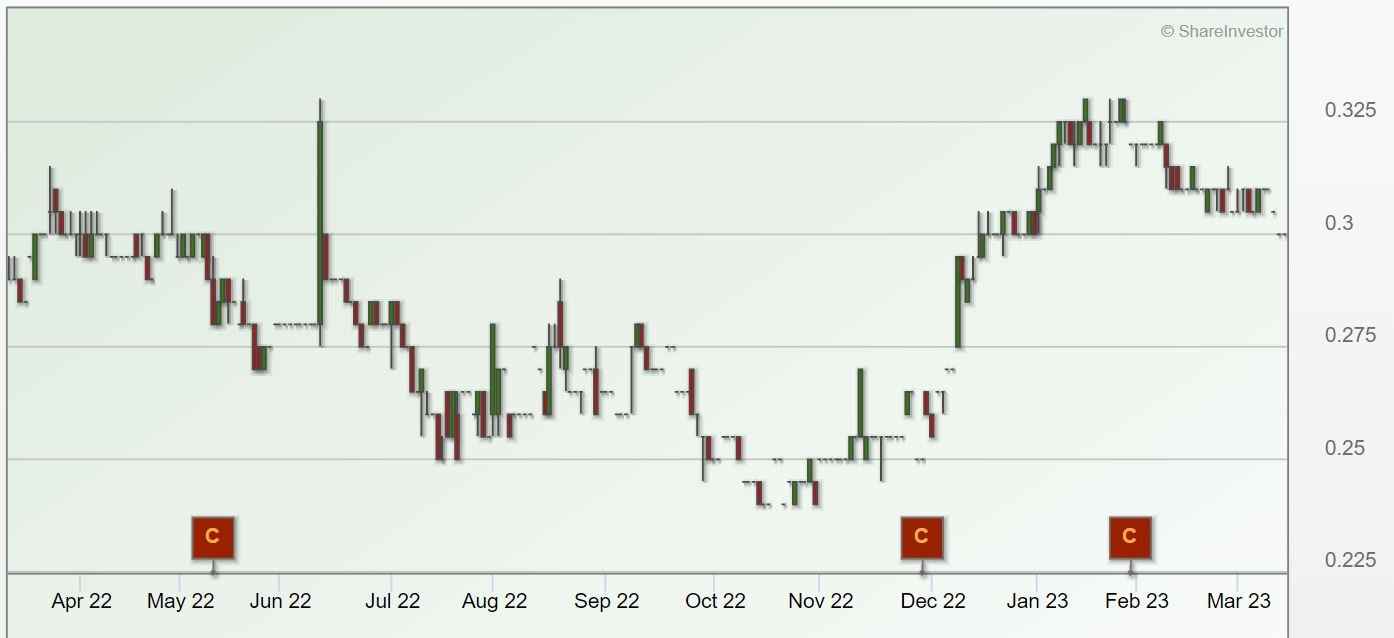 You can find the full report here and the company website here.