On 10 June 2021, IGB Commercial REIT released its IPO Prospectus and as such, is extending an invitation to subscribe its units at RM 1.00 per unit.
Based on its number of units to be issued of 2.307 billion, IGB Commercial REIT shall have as much as RM 2.307 billion in market capitalisation upon its IPO listing.
As I write, the offer remains open and it will be closed on 6 July 2021.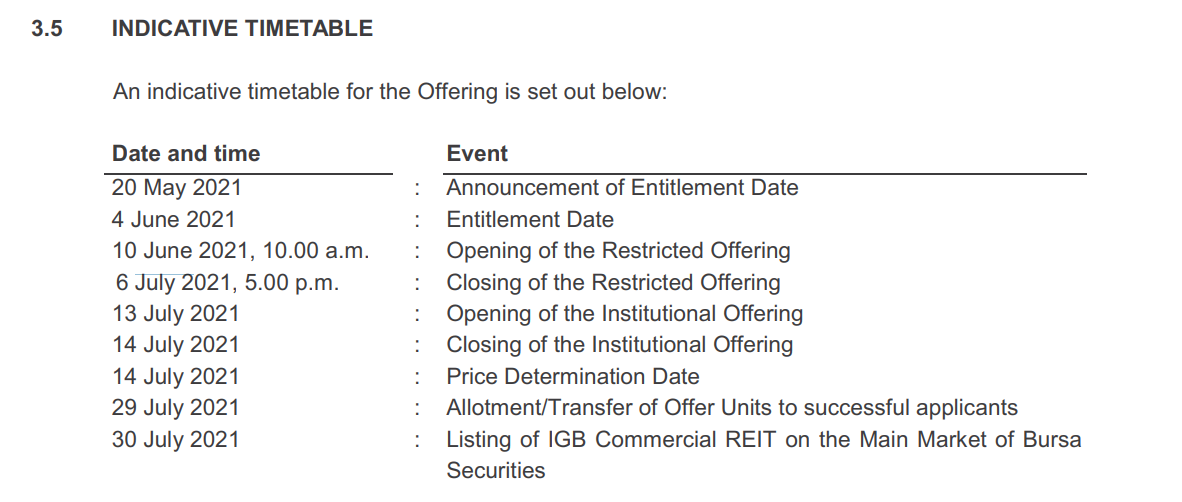 You may study its IPO Prospectus (Part 1 & Part 2). 
Otherwise, you may spend 5 minutes here as I had summarised 15 main points to know about IGB Commercial REIT before investing. 
#1: Property Portfolio 
IGB Commercial REIT shall be listed with 10 office buildings which are valued at RM 3.16 billion. Thus, it would be the largest standalone office REIT in Malaysia upon its listing. Of which, 7 of its properties are located within MidValley City. 3 of its remaining properties are located at the Golden Triangle of Kuala Lumpur. 
The names of its properties are as follow: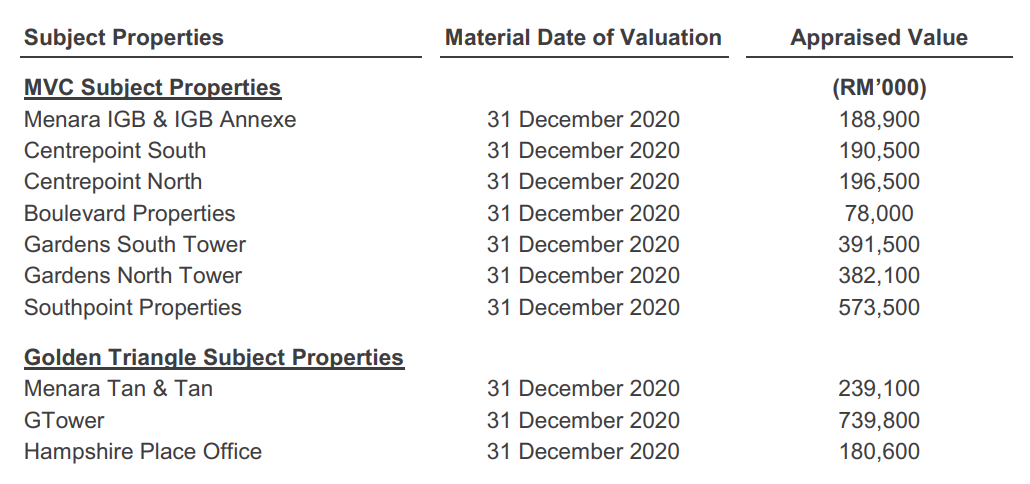 #2: Land Title 
The MidValley City properties carry leasehold land titles, with at least 80+ years remaining till their expiry dates. Meanwhile, the Golden Triangle properties are freehold real estates. 
#3: Occupancy Rates 
In 2020, IGB Commercial REIT recorded 90+% in occupancy rates for 2 buildings namely, Centrepoint North and Boulevard Properties. The other 8 buildings had recorded below 90% in occupancy rates in 2020 where theirs are as follow:

#4: Top 10 Tenants 
In 2020, IGB Commercial REIT derived income from a pool of 284 tenants.
From them, its top 10 tenants have occupied 23.0% of its net lettable area (NLA) and contributed 21.9% of its gross rental income.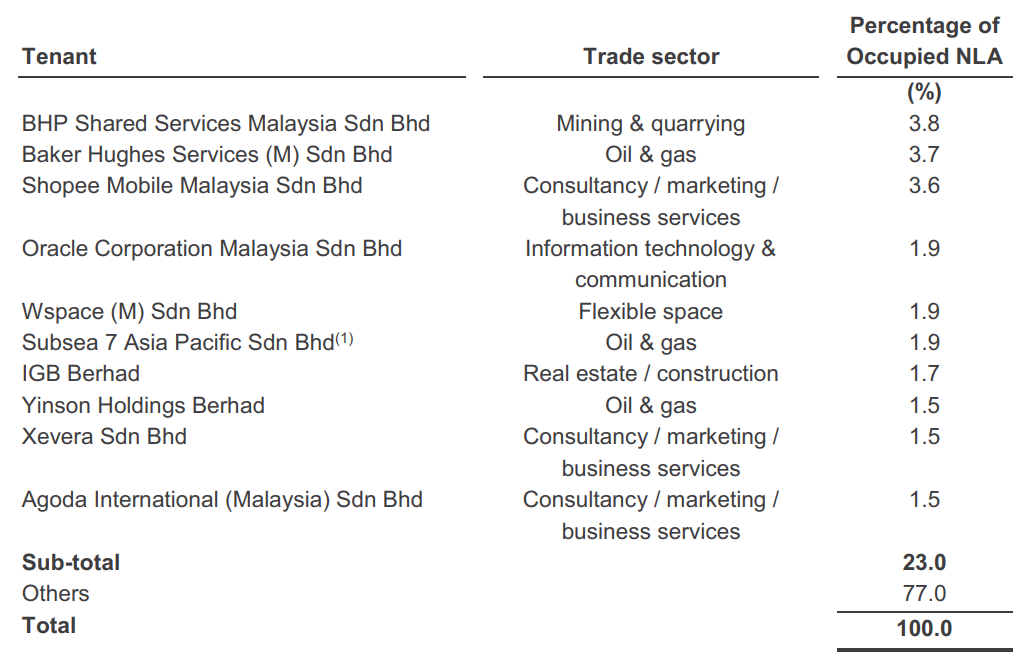 #5: Lease Expiry 
IGB Commercial REIT has a substantial amount of tenancies, whose tenures are 3 years.
Based on tenancies as of 31 December 2021, 31.6%, 32.8%, 23.1%, and 10.8% of them shall expire in 2021, 2022, 2023, and 2024 & beyond. 
Overall, its weighted average of lease expiry (WALE) in 2020 is 1.8 years. 
#6: Downsizing of a Major Oil & Gas Tenant
In 2020, tenants from the oil & gas sector accounted for 13.0% of its total gross rental income.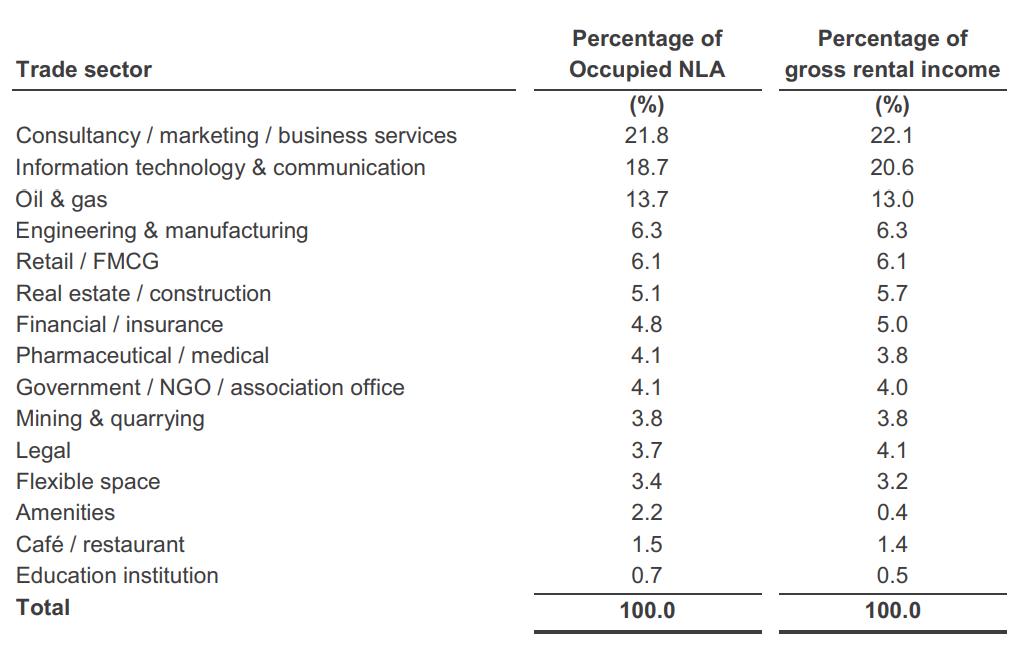 Subsea 7 Asia Pacific Sdn Bhd (Subsea) was among its top 10 tenants for Subsea occupied 46,900 sq. ft. of its NLA in 2020.
Ever since, it had downsized its space to approximately 32,000 sq. ft., thus, ceasing to be among its top 10 tenants. Instead, B&M Consultancy Services Sdn Bhd (B&M) would replace Subsea to be among the top 10 tenants of IGB Commercial REIT. 
#7: Breakdown of Net Property Income (NPI)
Among 10 properties, IGB Commercial REIT has derived as much as 59.4% of its Total Net Property Income (NPI) from 3 key properties namely, GTower (27.4%), Gardens South Tower (17.8%), and Gardens North Tower (18.9%). 
The following is a breakdown of its NPI in 2020: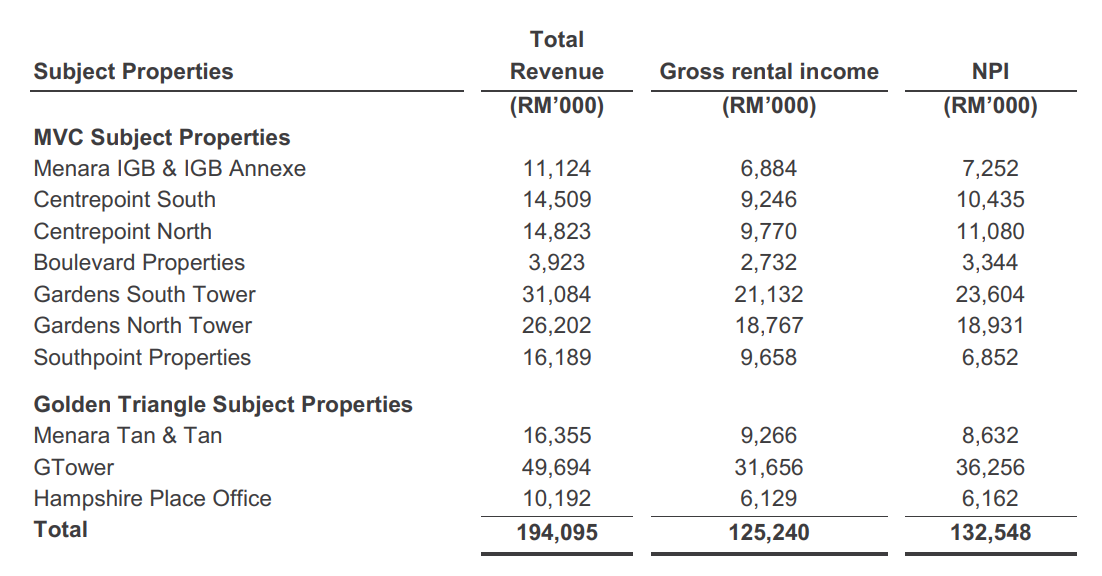 #8: Financial Results 
In 2018-2020, IGB Commercial REIT had maintained around RM 100 million per annum in distributable income.
Based on 2.307 billion units, its distribution per unit (DPU) would be 4.80 sen, 4.23 sen, and 4.34 sen in 2018, 2019, and 2020.
#9: Financial Strength 
Upon listing, IGB Commercial REIT shall have RM 850.9 million in borrowings. It works out to be a gearing ratio of 26.3% of its total assets of RM 3.23 billion.
As the limitation of gearing is set to be at 50% of a REIT's total assets, the REIT would have approximately up to RM 766.5 million in debt headroom to capitalise on other opportunities in the future.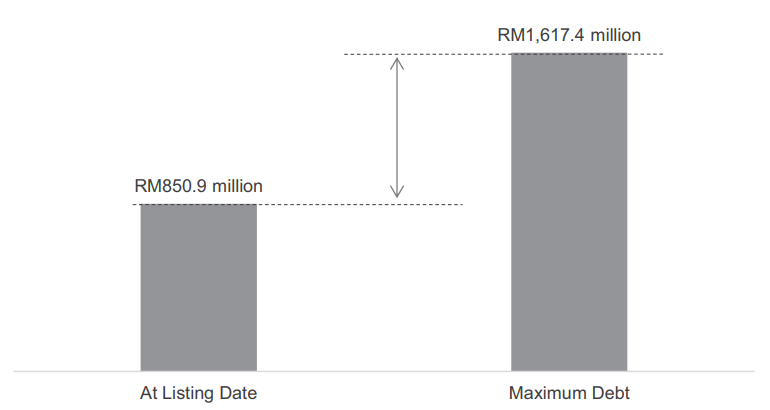 #10: Distribution Policy 
IGB Commercial REIT had revealed that it plans to distribute at least 90% of the REIT's distributable income on a half-yearly basis, where the intervals are:
1 January – 30 June
1 July – 31 December
#11: Use of Proceeds 
IGB Commercial REIT will not receive any cash from its IPO offering. 
Instead, IGB Commercial REIT estimated that it will incur RM 7.7 million in costs for listing units on Bursa Malaysia.

#12: Major Unitholder and Sponsor 
Upon its listing, IGB, its sponsor would continue to remain its largest unitholder of IGB Commercial REIT with 50% unitholdings in it.

Dato' Seri Robert Tan Chung Meng is designated as the Managing Director of its REIT. He is among the list of its substantial shareholders with his interests in IGB and Tan Kim Yeow Sendirian Berhad. 
#13: Impact by COVID-19 
In 2020, IGB Commercial REIT offered rental reliefs to about 150 tenants whose businesses were affected by the COVID-19 pandemic, totalling RM 4.4 million. 
#14: Office Supply in Kuala Lumpur 
Today, IGB Commercial REIT had identified that its real estate would compete in the office rental market with other buildings namely, Kuala Lumpur Sentral, Tun Razak Exchange, KL Eco City, Bangsar South City, Bukit Bintang City Centre, and as well as the Menara Warisan Merdeka 118. 
#15: Valuation 
IGB Commercial REIT's net asset value per unit is RM 1.00 and hence, its offer is at P/B Ratio of 1.0. 
Referring to note 8, its DPU is 4.34 sen. As such, its gross distribution yield is 4.34% per annum. 
Please do note that there is a 10% withholding tax on the taxable portion of the DPU declared. 
Conclusion
Thus, IGB Commercial REIT offers investors an opportunity to gain exposure in a portfolio of office buildings in Kuala Lumpur.
IGB is an experienced sponsor and has decades of experiences in the Malaysian property market.
It is important to consider the impact of COVID-19, upcoming supplies of office buildings in Kuala Lumpur, and key valuation metrics before investing into it.