Hong Fok (SGX: H30) was trading at $0.7 on February 28th­­­­­ and after that the stock skyrocketed a whopping 40% in under 4 weeks time to $0.975 on 22nd March.
The stock has witnessed very heavy trade volumes during the period as well, the 3-month average volume is 0.62 million while the latest trade volume stands at 6.59 million – that explains the price surge.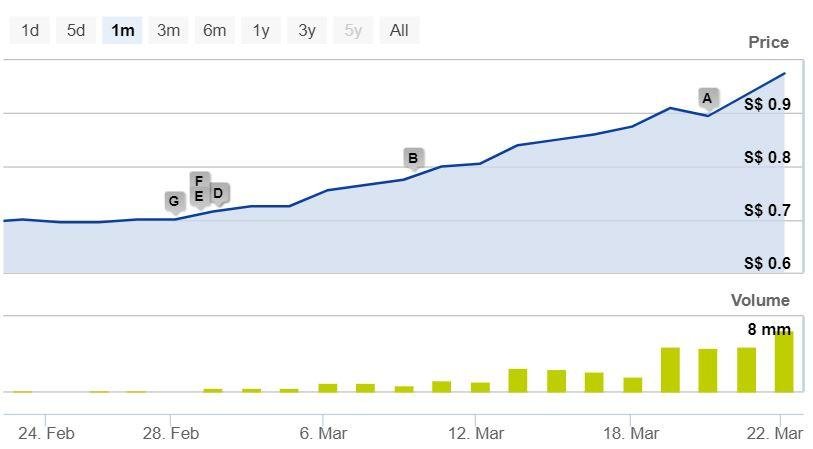 Source: Singapore exchange
About Hong Fok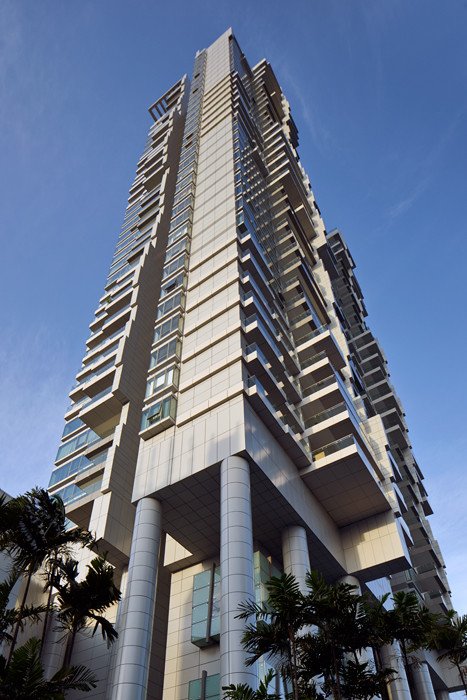 Founded in 1967, it is a real estate group with activities such as property development, property investment and management, investment trading and holding and allied businesses. As most of the company's business is in property development, it holds a good portfolio of assets under commercial, retail and restaurant space as well as residential and freehold high rise space.
Some meritorious properties of Hong Fok are:
The Concourse, Beach road: a 41-storey office/retail tower
International building, Orchard road: a 12-storey commercial freehold space
Jewel of Balmoral, Balmoral park: residential asset, 10-stories
Concourse skyline, Beach road: a mixed use development with 360 residential and 9 retail units with communal facilities. one of the towers shown in accompanying picture.
Why Hong Fok share price shot up?
In the event of a sudden price surge, many investors will begin to take notice of the company and see if there is any substantial news worth digging into.
However, in Hong Fok's case, the firm has responded to SGX's query that there is no such material event. Below is an excerpt of the announcement:
SGX Query: Are you aware of any other possible explanation for the trading? Such information may include public
circulation of information by rumours or reports.
Company's Response:
The Company is not aware of any possible explanation for the recent unusual price movements in the Shares,
other than the following:
1. The Company notes that the price of the Shares started trending upwards after the Company had
released its full year financial statement and dividend announcement for the year ended 31 December
2018 after the close of trading on 28 February 2019.
2. The Company made several purchases of its Shares by way of market acquisitions pursuant to its share
purchase mandate. These were announced by the Company on 8 March 2019, 12 March 2019, 13 March
2019, 14 March 2019, 18 March 2019, 19 March 2019, 20 March 2019 and 21 March 2019.
Our Analysis on Hong Fok
The way we see it, there were 3 main reasons for Hong Fok's price jump.
1. Hong Fok was deeply undervalued and it was time for a re-rating.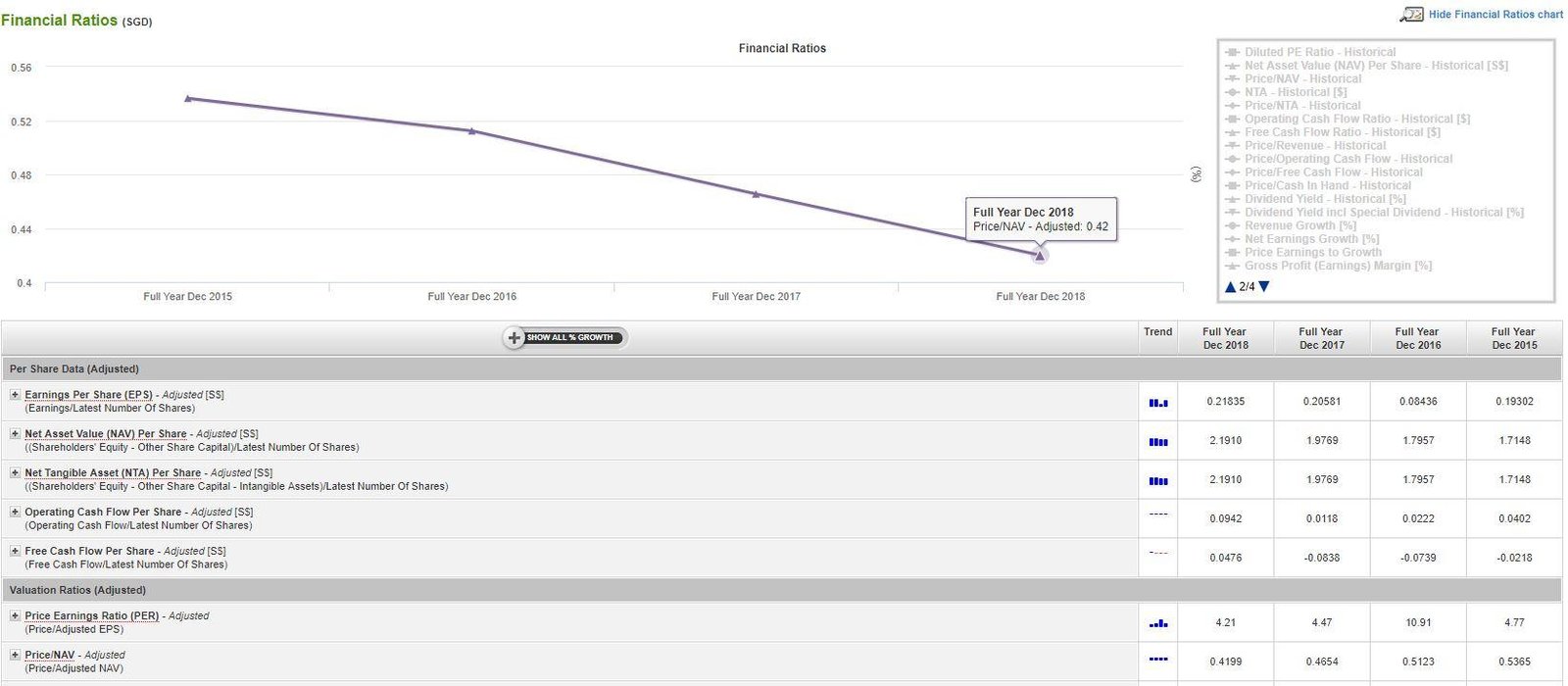 Sourced from Shareinvestor.com
If you look at the above picture, you would see that Hong Fok is trading at 0.42x NAV and 4.21 P/E ratio. And this is after the 40% price jump! It means that Hong Fok was only trading at 0.3x P/B ratio previously!
Moreover, I drill down into its debt/borrowings given that it should be heavily geared since it is a property developer. But Total Debt-to-Equity came out to be "only" 0.41x as of Dec 2018, a pretty manageable level for a property firm.
2. Impressive set of results for the year ending FY18.
Sourced from FY2018 results
On February 28, the company announced an impressive set of results. Revenue for the year 2018 was $131.13 million, up 87% y-o-y, driven by the contributions from YOTEL Singapore Orchard Road.
After accounting for the corresponding increase in cost of sales and a lack of gain on disposal of subsidiaries, net profits increased only 20% to $268.95 million (Gain on revaluation of investment properties amounted to $253.12 mil).
3. Recent Share Buybacks and Insider Purchases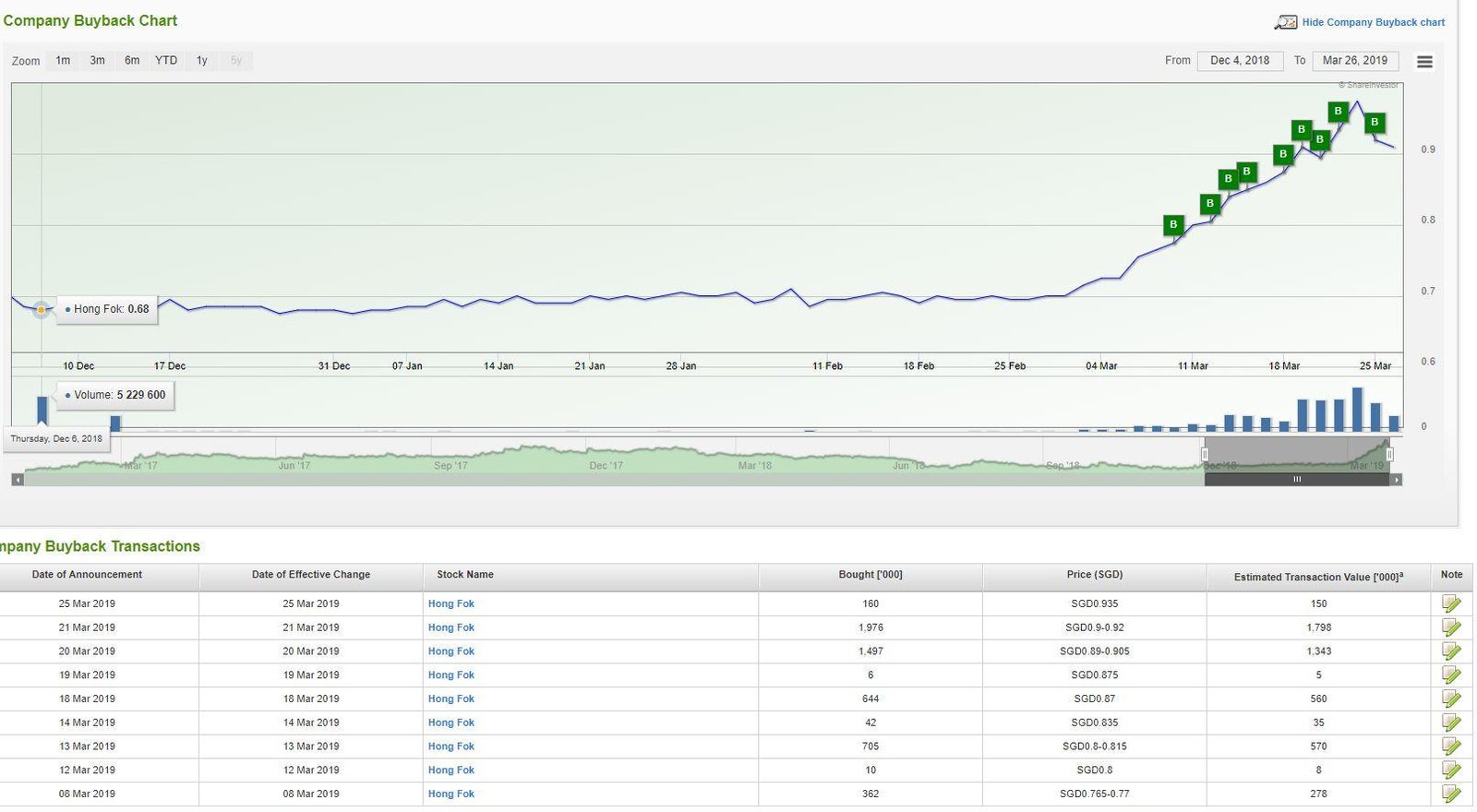 Sourced from Shareinvestor.com
The company announced a buyback plan for 870,250,040 shares i.e. 10% of total share capital on Feb 4.
In the following weeks, Hong Fok started to acquire shares from open market even as price shot up. The company has continued to buy shares even at price of $0.9 which strengthens the belief that the stock remains undervalued.

Sourced from Shareinvestor.com
In addition, Joint Chairman & Joint MD Mr Cheong Sim Eng is also stepping into the game by snapping up shares in the month of March. His last purchase was 350,000 shares at S$0.91 and it bumped his total holdings to 19.216%.
Conclusion on Hong Fok
All in all, we think that a combination of the 3 factors came into play and probably some big guns took notice of Hong Fok's deep value. As more buyers get into the stock, it led to a gain in momentum to push up the share price of Hong Fok.
As to whether Hong Fok can continue to climb greater heights, we look at what the management team mentioned for its outlook:
The Group is expected to recognise profit from the sales of the residential units of Concourse Skyline in 2019. The existing series of cooling measures on the property market will nevertheless have an impact on the pace of our sales. However, the Group will continue to actively market the sales and leases of its properties.

The contribution from YOTEL in 2018 has been positive and the Group expects stable contribution from YOTEL in 2019.
---
Disclaimer: The above article and stocks mentioned above are for information purposes only and does not constitute an offer, a solicitation, a recommendation or investment advice to enter or conclude any transactions.
Are you looking for other stocks with strong economic moats and compelling financials? Simply click here to download it right now!