Founded in 2012, Grand Venture Technology ("GVT") is a manufacturing solution and service provider for the semiconductor, analytical life sciences, electronics and other industries. It has operations in Singapore, Malaysia (Penang) and the People's Republic of China (Suzhou).
The company prides itself for serving some of the largest OEMs in these industries, by providing a range of engineering, assembly, testing and product lifecycle management services for the manufacture of complex precision machining and sheet metal components and modules.
You can find the GVT IPO prospectus here.
1. Grand Venture Technology GVT Profile
The company comprises 3 main business segments, namely content production and post-production. Despite that fact, more than 70% of the company's revenue was contributed under its semiconductor segment.
Semiconductor Industry
They are involved in the manufacture and supply of key and high-precision components, and assembly of key modules, for front and back-end processes. The company specialised in precision machining, complex sheet metal manufacturing, engineering plastics and quartz machining, vacuum parts manufacturing, assembly.  
Analytical Life Sciences Industry
Under this segment, the company manufacture and supply key and high-precision components, and assemble key modules, for single and hybrid mass spectrometers.
Some of their notable capabilities are such as sub-micron machining, vacuum parts manufacturing, ultra-high vacuum production processing, engineering plastics and ceramic machining and Class 10k cleanroom assembly.  
Electronics and Other Industries
Lastly, GVT manufactures and supplies key and high-precision components, assemble key modules, such as feeder systems in SMT machines. They are specialising in precision machining, complex sheet metal manufacturing, assembly and customised engineering solutions.
2. IPO Details
GVT IPO will close at 12 pm on  21 January 2019 (Monday) and expected to commence trading on  23 January 2019 (Wednesday).
The company is placing 42.9 million new shares and 5.1 million cornerstone shares at a price of S$0.275 each during the IPO period. Out of the 42.9 million new shares in the IPO, 800,000 shares will be offered to the public and 42.12 million shares to be placed out to selected investors.
Sunshine Power Pte Ltd, an investment vehicle held in trust for CLSF LLP, has entered into a cornerstone subscription agreement with GVT to subscribe for 5.1 million shares at the invitation price of S$0.275 each.
3. Use of Proceeds
GVT will raise gross proceeds of S$13.2 million upon listing. Around S$2.3 million of the proceeds will go towards listing expenses, which is roughly equivalent to 17.5%.
Minus off the listing expenses, the company will end up with S$10.8 million, in which
S$7.5 million will be allocated for investing and enhancing operational capabilities

S$1.5 million for business expansion

S$1.4 million for general working purposes

Last remaining S$0.5 million set aside for repayment of bank borrowings.

Sourced from GVT IPO Prospectus
4. Financial Highlights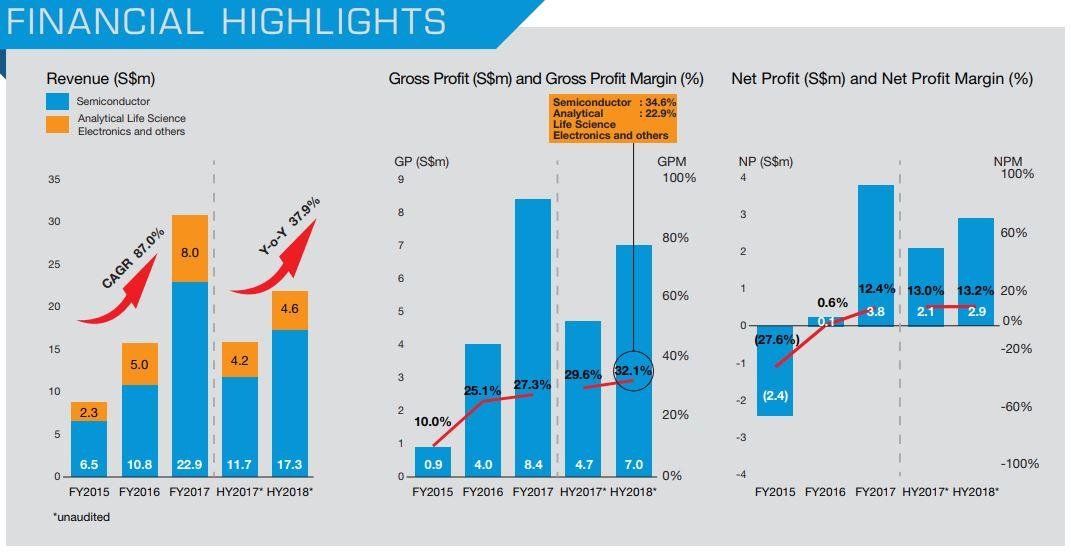 Sourced from GVT IPO Prospectus

The company recorded a CAGR of 87% in top line from S$8.8 million in FY2015 to S$30.8 million in FY2017. More than 73% of the revenue was contributed by the Semiconductor segment, whereas the other 27% was contributed by Analytical Life Science, Electronics and others.
GVT had continued its streak of revenue and profits' growth. In the first half of 2018, GVT recorded total revenue of S$21.9 million, up 37.9% as compared to 1H2017. During the same period, GVT also saw net profit of S$2.9 million soared 38% versus a year ago.
For investors who are taken aback by the losses of S$2.4 million in FY2015, fret not. I zoomed into the prospectus and highlighted the reasons as shown below: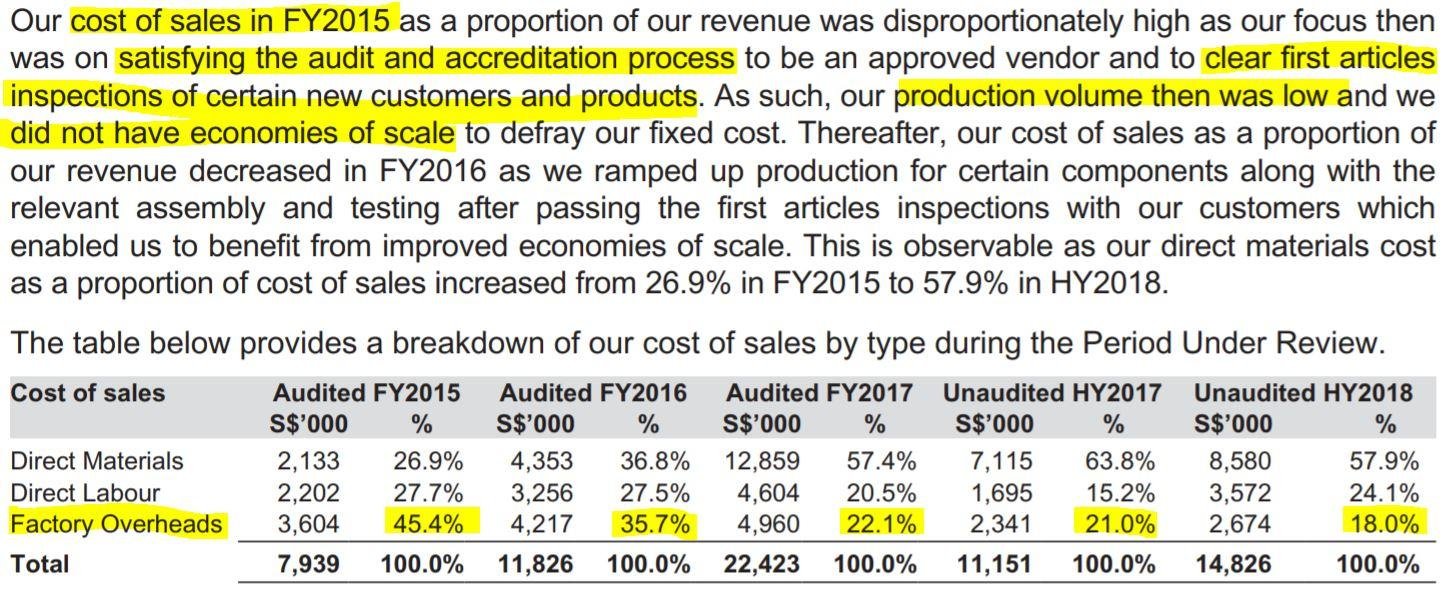 Sourced from GVT IPO Prospectus
Financial Position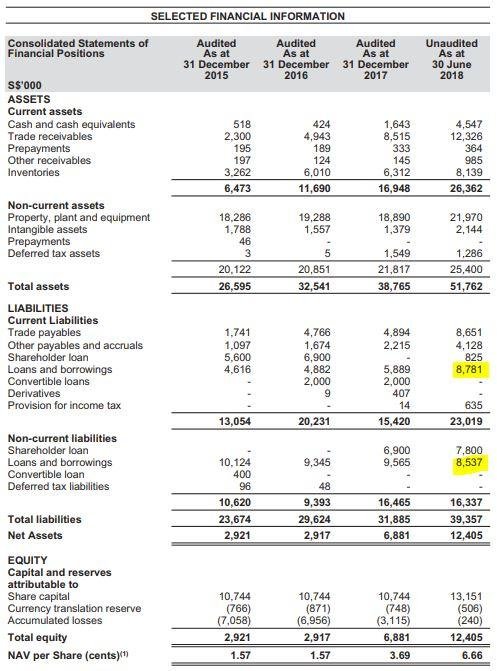 Sourced from GVT IPO Prospectus

GVT recorded short-term borrowings and long-term borrowings of approximately S$8.8 and S$8.5 million respectively as at 30 June 2018. With total equity of merely S$12 million, this translates to a total-debt-to-equity of 139%; albeit too high for our liking.
In our opinion, the intention to repay bank borrowings of S$0.5 million from IPO proceeds is pretty insignificant to pay off the debt. The financing costs amount to S$0.92 mil in FY2017, roughly 24% of its net profits.
5. Growth Prospects
The company have laid out future plans for its different geographical areas:
Singapore
The company will continue to invest in their machining of advanced materials as well as sub-micron machining capabilities to enhance the capabilities.
Other than that, GVT will build additional Class 10k cleanrooms and explore alternative manufacturing methods including but not limited to additive manufacturing such as "3D printing" and laser sintering. 
Malaysia
GVT plan to scale up their operations by acquiring more equipment and hiring more workers to allow them to take on high volume orders, and to enjoy greater cost savings to maintain competitiveness.
China
GVT intend to expand on factory (and its equipment), as well as our capabilities such as sheet manufacturing and assembly capabilities to target both existing and new market segments such as the medical imaging and diagnostics market.
6. Key Risks
Heavy Dependence on the relationship with major customers
Their six (6) major customers accounted for an aggregate of 94.8% of the sales in HY2018.
As stated in the prospectus, the company did not have any long-term supply agreements with their customers. As such, there is no assurance that the company will be able to retain their major customers or maintain or increase their current level of business activities with them.
Subject to fluctuation of raw material prices
Their main raw materials are aluminium and stainless steel. The aggregate cost of such raw materials constituted an average of approximately 43.9% for the latest period.
The company occasionally enter into a fixed-price arrangement for aluminium for a period of six (6) and twelve (12) months. They do not enter into long-term arrangements with suppliers in respect of pricing.
Conclusion
With a market capitalization of S$64.4 million upon listing and a net profit of S$4.6 million in 2HY2017 and 1H2018 combined, this translates to a trailing PE of 14 times. The company currently do not has a formal dividend policy and i doubt that there will be any given their high borrowings.  
So the question here is – is Grand Venture Technology (GVT) IPO worth subscribing for? I took a look at the semiconductor peers and found out that many of them are trading at much lower multiples and have no borrowings and a decent dividend yield to bout too.
Sourced from Shareinvestor
As such, I would probably give it a miss since it is a relatively young company with only a few years of track record since established in 2012. The only comfort investors can take is the accelerating growth they have exhibited over the past few years as they embark on their aggressive growth plans.
---
Looking to lead a comfortable retirement? You need to learn how to save and put those into work by investing well. Right here, You can develop your own Unique Investing System via a simple 10-Step Checklist.
Simply click here to find out more today!