Excerpts from Maybank report
First Resources (SGX: EB5)
Government achieved its target to bring down CPO price
We cut First Resources TP to SGD1.62 on lowered 10x FY23 PER, its -1.5SD 5Y mean (previously SGD1.94 on 12x FY23 PER, its -1SD 5Y mean) due to Indonesia's regulatory risk.
Nonetheless, we believe FR's recent share price sell-off has largely priced in the regulatory risk relating to continuing uncertainty with regards to its export policy.
As the government has achieved its target, this should limit further downside risk from hereon.
With current stock price in line with revised TP, we upgrade FR to a HOLD (from SELL).
CPO price has given up all gains for the year
BMD's 1M FCPO price is down to just MYR4,897/t on 1 July, which is 40% below the peak price on 1 March. The correction came earlier than we expected due to the following factors:
Indonesia lifted its export ban on 23 May leading to anticipation of a sudden gush in available global palm oil supplies as oil tanks are reportedly "overflowing" now;
to top that, there is also expectation of a seasonal pick up in CPO output in 2H22;
Northern Hemisphere crop planting has progressed well due to conducive weather, fuelling concern over potentially strong YoY rebound in crops; and
recent aggressive interest rate hike by the US Fed (with potentially more to come) has also dampened overall market sentiment.
Weak domestic CPO price likely to be temporary for First Resources
The situation in Indonesia appears even more dire judging from the recent sharp decline in domestic CPO price that hit record ~2-year low.
Last quoted price of MYR2,507/t (on 28 June) is 38% below the price at the start of the year in Indonesia, and at MYR2,652/t discount to Malaysian CPO price.
But we reckon this is just temporary as Indonesia's domestic price should recover when domestic stockpile normalizes or as soon as end-July/ early Aug when Indonesia's export taxes (which are revised monthly) are cut to reflect the present lower global CPO prices.
Keeping our earnings forecasts
We make no changes to earnings forecasts as we keep our industry-wide 2022E and 2023E CPO ASP forecasts of MYR5,000/t (1H22 CPO ASP: ~MYR6,300/t) and MYR3,400/t respectively.
Nonetheless, we do not discount the possibility of its 2Q22's sales and profit recognitions being deferred to 3Q22 due to export restrictions/ban imposed in 2Q22.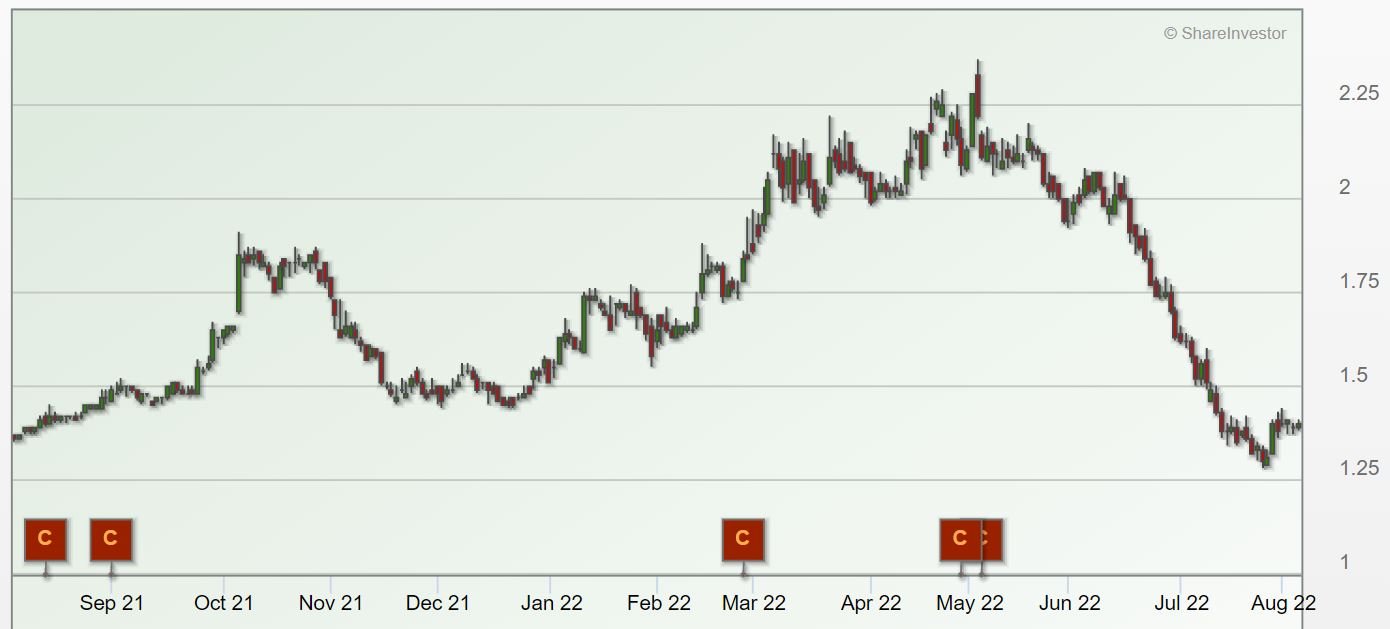 You can find the full report here and the company website here