On 10 April 2021, Econ Healthcare (Asia) Ltd had launched its IPO shares at 28 cents a share until 12pm on 15 April 2021.
Hence, upon listing of 257.0 million shares, Econ Healthcare shall lift its market capitalization of S$ 72.0 million.
You may download its IPO prospectus to study it or you may spend 5-10 minutes here, where I'll summarise 8 things to know before subscribing its IPO shares. 
1. Business Model
Today, Econ Healthcare operates 10 medicare centres and nursing homes in Singapore and Malaysia with a combined bed capacity of 1,376. They include:
In 1H 2021, Econ Healthcare had achieved an occupancy rate of 88.4% and houses as much as 1,094 residents. Every resident would be required to enter into an admission contract with Econ Healthcare. Econ Healthcare would charge a fee based on its location of its centres, duration of stay, the condition of its residents and its choices of room. Typically, its fees in Singapore range between S$ 2,260-S$ 6,215 per month and its fees in Malaysia range between RM 1,950-RM 6,600 per month. 
A portion of these fees were currently paid for by the Ministry of Health (MOH) of Singapore. Econ would record these fees under 'operating subvention grants' in its financial statements.  
In addition, Econ Healthcare offers a couple of ancillary services such as healthcare training services and traditional Chinese medication services.
2. Financial Results
For the last 3½ years, Econ Healthcare's total revenues have remained at S$ 35-40 million a year.
Of which, operating subvention grants have increased marginally and they have offsett the slight decline in fees collected from its medicare centres and nursing homes fees.
Econ Healthcare had derived 85%-90% of its group revenues from Singapore in the past 3½ years.

Econ Healthcare has recorded a dip in shareholders' earnings from S$ 5.5 million in 2018 to S$ 4.0 million in 2020. Its adjusted earnings per share (EPS) has fallen slightly to 1.57 cents in 2020 from 2.13 cents in 2018.
The fall is due to Econ Healthcare incurring a much higher cost of supplies and consumables, staff costs, depreciation, and utilities. 
In 1H 2021, Econ Healthcare had recorded higher earnings as compared to 1H 2020. This is because Econ Healthcare had received S$ 2.2 million in multiple grants as stated below and S$ 0.5 million in rent concessions.
3. Secured Expansion Pipeline
From 10 medicare centres and nursing homes with bed capacity of 1,376 today, Econ Healthcare has three upcoming projects which shall increase its bed capacity to 2,388 beds.
They include:
The Chongqing Nursing Home is a joint venture partnership (JVP) with Guangda Bailingbang Eldercare Co. Ltd (GEB), where Econ Healthcare has 60% interest in the JVP. 
Meanwhile, both the medicare centres and nursing homes in Henderson and as well as Jurong East would be operated by Econ Healthcare under the BOL scheme.
In short, the BOL scheme is introduced by the Singapore Government to build new aged care facilities and would appoint operators (like Econ Healthcare) to operate them through an open tender. Econ Healthcare would receive operating grants for setting aside a number of beds for subsidized residents.
4. Two More Agreements in China
Also, Econ Healthcare is working on two more additional nursing home projects. 
First, Econ Healthcare owns 20% stake in Sichuan Guangda Bailingbang Yikang Eldercare Co Ltd, a company incorporated on 3 March 2021. This company is intended to run a nursing home in Sichuan, China. 
Second, Econ Healthcare intends to invest in 20% interests in Chongqing Changshou Yikang Bailingbang Eldercare Co Ltd, a company that has yet to be incorporated. This is intended to profit from a proposed nursing home project in Changshou, China. 
5. Use of Proceeds 
Econ Healthcare intends to raise S$ 14.0 million in gross proceeds from this IPO exercise. In its IPO prospectus, Econ Healthcare reveals that it would spend S$ 7.5 million to finance its expansion and investment initiatives in Singapore and overseas.
In addition, the company intends to fund S$ 2.0 million in medicare centres and nursing homes upgrades.
Another S$2.0 million would be spent on general working capital, and a total of S$ 2.5 million in payment of underwriting and placement commissions.
6. Gearing Ratio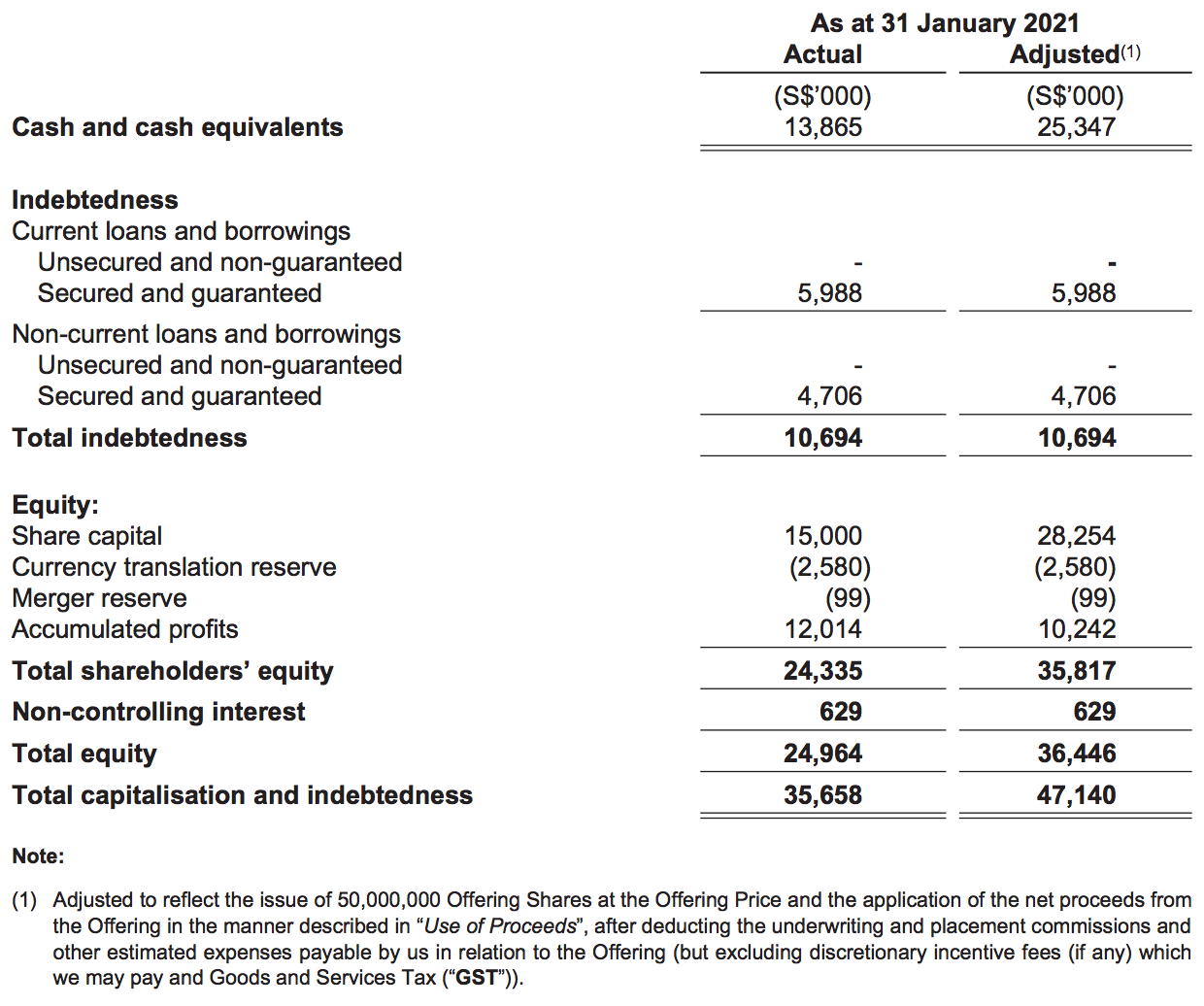 On 31 January 2021, Econ Healthcare reported S$ 10.7 million in total debt.
Upon listing of its IPO shares, Econ Healthcare shall increase its shareholders' equity to S$ 35.8 million. As such, its gearing ratio would be 29.86%.
7. Major Shareholders

Upon its listing, Mr. Ong Chu Poh will remain as the largest shareholder of Econ Healthcare with 80.5% shareholdings. He would serve as its Executive Chairman and Group CEO of the company.
His children, Ms. Ong Hui Ming and Dr. Ong Xin De, will be serving as Deputy CEO and Head of Development of the company.
8. Valuation Ratios and Dividend Policy 
At 28 cents per share, Econ Healthcare's IPO shares are offered at P/E Ratio of 17.83 based on adjusted EPS 2020 of 1.57 cents and P/B Ratio of 2.15 based on adjusted net asset value (NAV) per share of S$ 0.13.
Econ Healthcare plans to adopt a dividend policy to maintain a dividend payout of 35% of its shareholders' earnings for 2021, 2022, and 2023.
Based on the EPS of 1.57 cents, that would equate to a DPS of around 0.55 cents and equivalent to a dividend yield of 1.96%.
Conclusion
Econ Healthcare is an experienced medicare centres and nursing homes operator, which is now working on expanding its healthcare assets in mainly Singapore and China.
Investors may also be interested in the IPO given that it is trading at a palatable P/E of 18x for a healthcare stock and potential increase in bed capacity. However, one needs to be mindful of its tight ownership post-IPO and declining revenue over the years too.