Unless you are not a REIT lover or living under the rock, you would have seen the crazy 50% plunge of Eagle HTrust USD (SGX: LIW)'s share price in the past 2 weeks.
At US$0.46, Eagle HT is trading at close to 0.5x P/B (NAV is US$0.89 as per IPO prospectus).
And its giving a mouth-watering 14% yield at this price!
Wide Coverage on Eagle HT
This plunge has caught the attention of many renowned financial bloggers (by date sequence):
The consensus is that the sell-down is unwarranted because EHT is still trading at dirt cheap valuation even if we take out the Queen Mary ship.
However, the share price plunge continued with everyone running away due to the HUGE overhang from substantial shareholders' selloff + many lingering doubts.
But all that changed for the better when the CEO of EHT came out with a clarification on 6th Nov 7+am. View it here.
And below are the important things to take note:
#1 About the Sponsors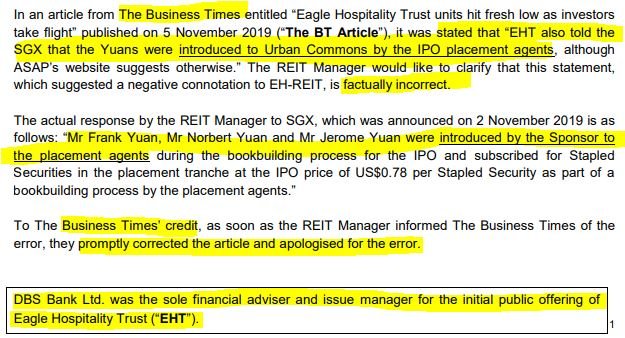 #2 Valuations of the 3 Assets from ASAP Intl Holdings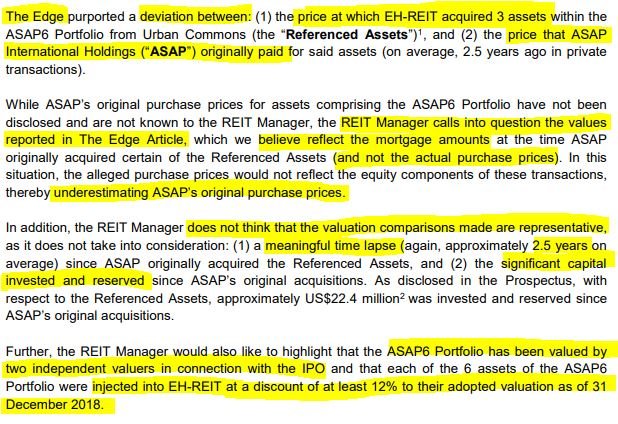 #3 About The Ship – Queen Mary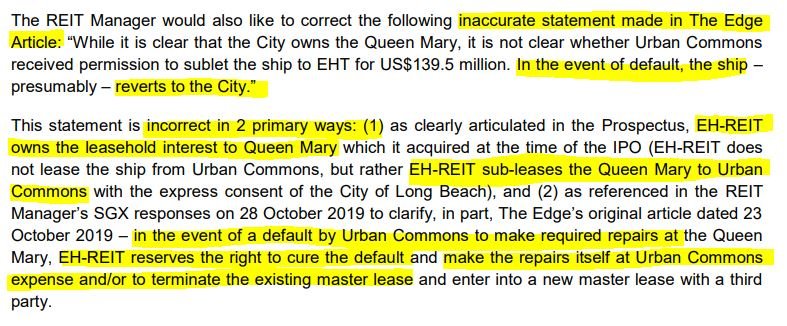 #4 Volume Distribution of EHT over past 5 days
As of 6th Nov 2019 | Sourced from WebPro
Based on the above 5 days chart, the immense selling pressure has been coming from the big players (see the SD "SellDown") for the >150K per transaction value.
The volume for the above particular segment is close to 15,000,000 shares (150 * 100 * 1,000) for the past 5 days.
However, when i look at the '1 day' vol. distribution chart, it has actually dwindled down a lot (no selling for 3 – 5pm on 6th Nov!) although the selling pressure is still there.
Conclusion
Eagle HT IPO is on 24th May 2019; and listed for less than 6 months on the Main Board of SGX.
<My own opinion> It is weird that we can see so many problems when it should have undergone substantial due diligence conducted by competent and experienced professionals, including DBS Bank Ltd.
Furthermore, i have channels that say that the CEO has gotten good praise from fellow peers in the REIT community. I also like how he has came out with a clear clarification and not leave us in the lurch during this crucial period.
Anyway, Eagle HT will be releasing its 3Q FY2019 results on 13 November 2019 after market close. Given its earnings beat in the past qtr results, i am positive of this upcoming results and it may bring a silver lining to the dark clouds.
Disclaimer: I have nibbled some shares of Eagle HT at US$0.46. But please do your own due diligence.
We are launching something new with a huge discount on 11/11/2019 Singles' Day. Simply click ">here to receive a 10-Step investing checklist + be notified of the BIG sale!