On 16 February 2023, Cape EMS Bhd issued its IPO Prospectus and extended an invitation to subscribe its IPO shares at RM 0.90 per share.
Cape EMS Bhd could lift its market capitalisation to RM 830.7 million upon listing.
You can check out the IPO schedule below or just remember 2 important dates: the IPO closing date is on 24 February 2023 and its shares is set to be listed on 10 March 2023.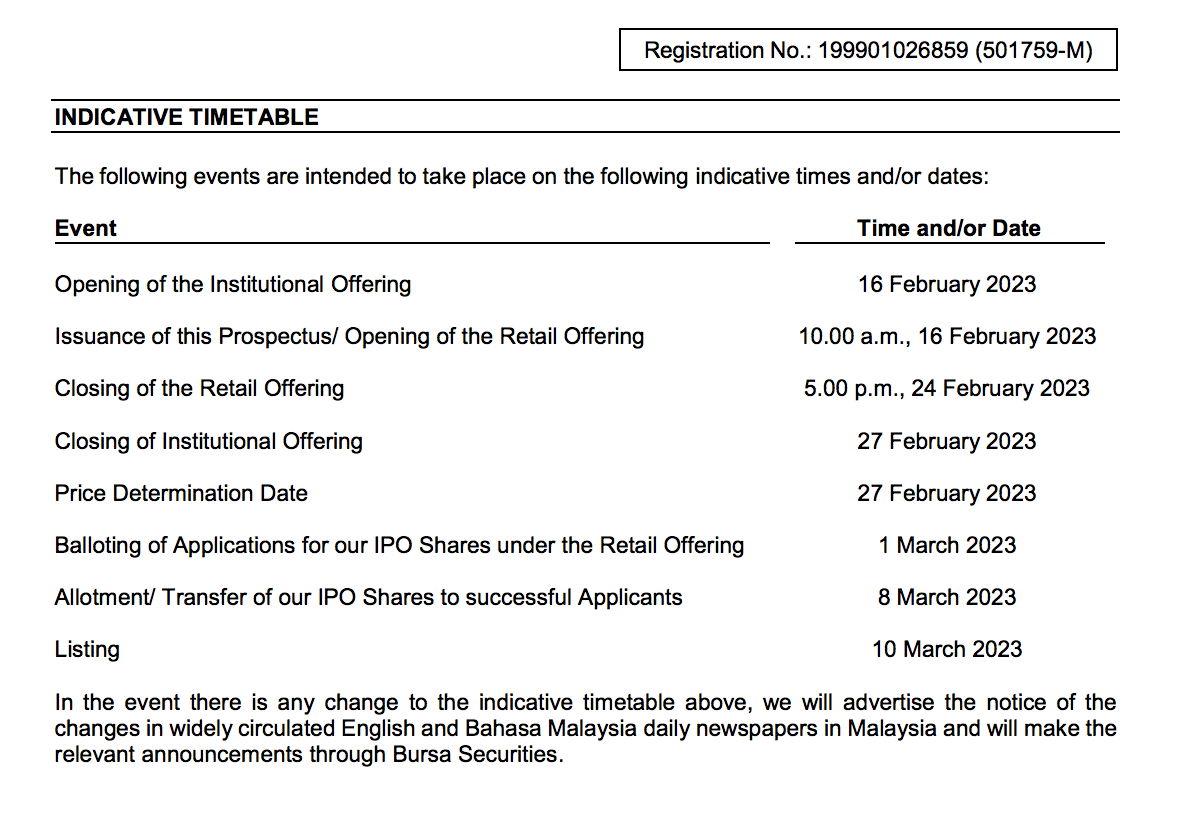 You can read and study its IPO Prospectus here (Part 1, Part 2, Part 3, and Part 4) or spend 5-10 minutes here, where I list down 7 key things you need to know about Cape EMS Bhd.
#1 Profitability


Source: Page 242 of Cape EMS Bhd's IPO Prospectus
In a glance, Cape EMS Bhd's sales and earnings has skyrocketed by 800% and 700% over the last 2 years (2019-2021)!
The growth was attributed to Cape EMS Bhd's initiatives in developing new products for its key customers during the period, which I would elaborate in the next point as follows: 
#2 Key Customers
In 2019, Cape EMS Bhd served 2 key customers: Changhuat and Airspan.
In that year, it offered plastic & metal parts, electrical parts & components, and lithium batteries to Changhuat and wireless communication equipment to Airspan.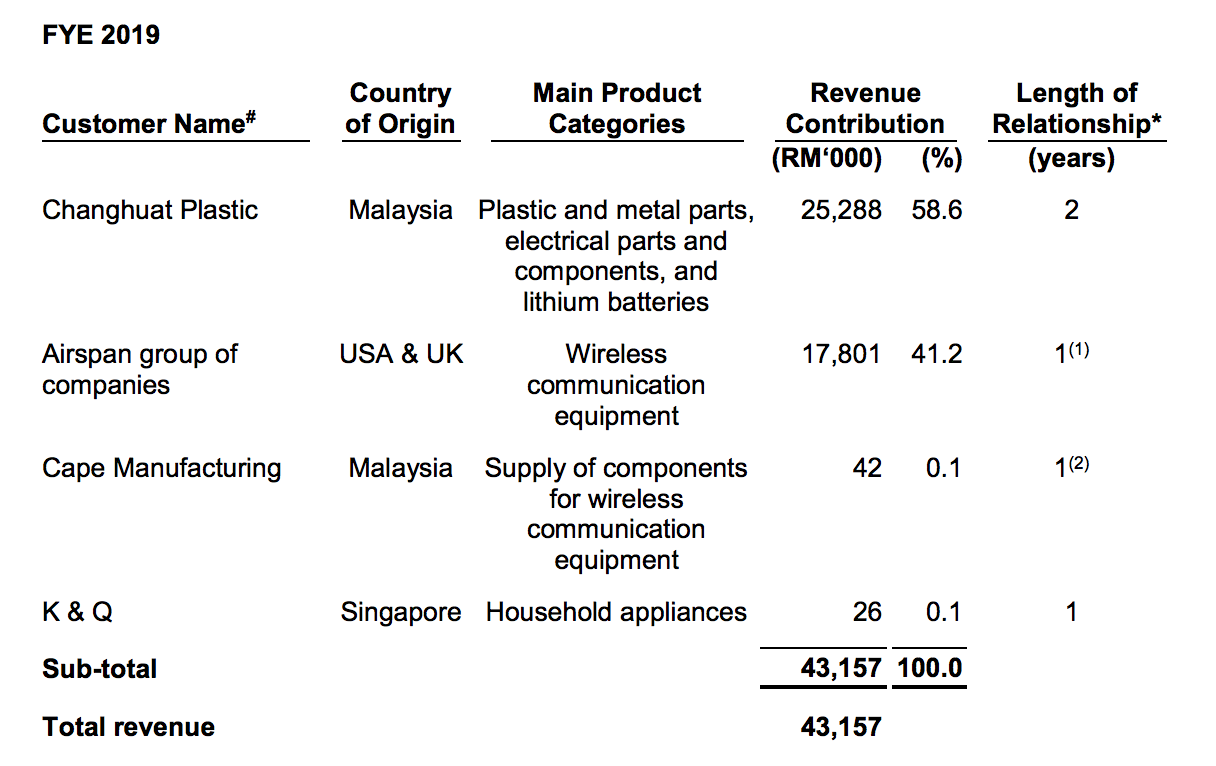 Source: Page 166 of Cape EMS Bhd's IPO Prospectus
At the tail end of 2019, Cape EMS Bhd had started to provide box build wireless equipment communication to Mimosa Networks and had expanded its range of products, where it provides POS Terminals, vacuum cleaners and also electronic cigarettes to main customers such as Tastar Electronics, K&Q, and 'Customer A'.  
In 2020, Cape EMS Bhd had started to supply EMS of box-built smart utility data collection equipment to NextCentury. As a result, Cape EMS Bhd had increased its number of major customers to 5 presently, up from 2 in 2019. Changhuat is no longer a key sales contributor in 2021.
Presently, the top 5 revenue contributors to Cape EMS Bhd are Customer A, Tastar Electronics, Airspan, NextCentury, and K&Q respectively.
They account for 88.8% of Cape EMS Bhd's total revenues in 9M 2022 which means that undeniably, this company has a big concentration risk for the customers' side.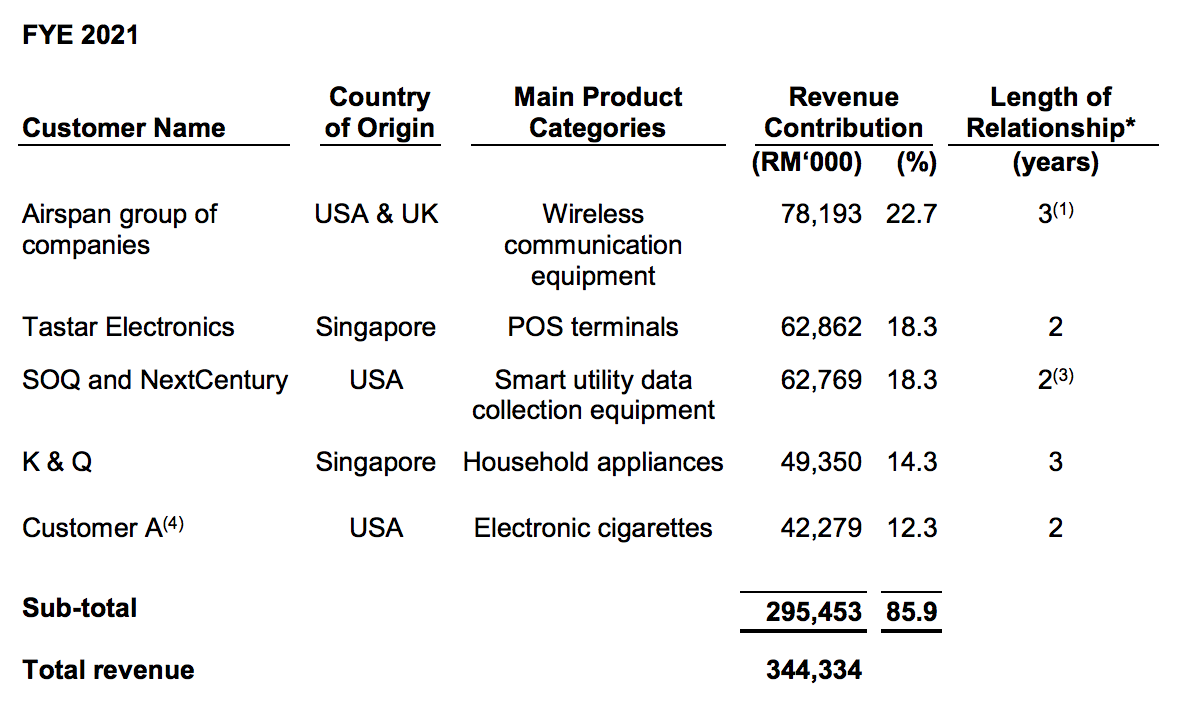 Source: Page 167 of Cape EMS Bhd's IPO Prospectus
Source: Page 167 of Cape EMS Bhd's IPO Prospectus
#3 Existing Production Capacity and Future Direction
On 4 January 2023, Cape EMS Bhd is operating the Senai 227 Factory, Kempas 6 Factory and Temenggong 22 Factory in Johor. 
At its Senai 227 Factory, it has 8 automated production lines (APL) for electronic cigarettes, with a combined capacity of 3.3 million pieces a month. For all these APL, its production capacity is around 0.4 million a month.
Moving forward, this company intends to add 4 new APL. Each APL can produce 1.1 million pieces on a monthly basis. Thus, it shall lift its total APL to 12 producing 7.7 million pieces a month by end 2024. 

Source: Page 191 of Cape EMS Bhd's IPO Prospectus
At its Kempas 6 Factory, it manufactures smart utility data collection equipment starting in September 2022. 
At the Temenggong 22 Factory, it manufactures aluminium die cast. Currently, it has a production capacity of 2.0 million pieces a year. Cape EMS Bhd revealed it will add 10 production lines to lift its production capacity to 3.8 million pieces a year by 2023. 
In addition to its 3 factories, Cape EMS Bhd intends to construct a warehouse in a plot of land close to its Senai 227 Factory. The built-up area of this warehouse is 166,917 sq. ft. and it is intended to free-up EMS spaces for Senai 227 Factory. The warehouse is known as the Senai 226 Warehouse and it is expected to start operations in 2027. 
#4 IPO Proceeds
To finance the above growth initiatives, Cape EMS Bhd intends to raise as much as RM 155.7 million in gross IPO proceeds and allocate them as follows: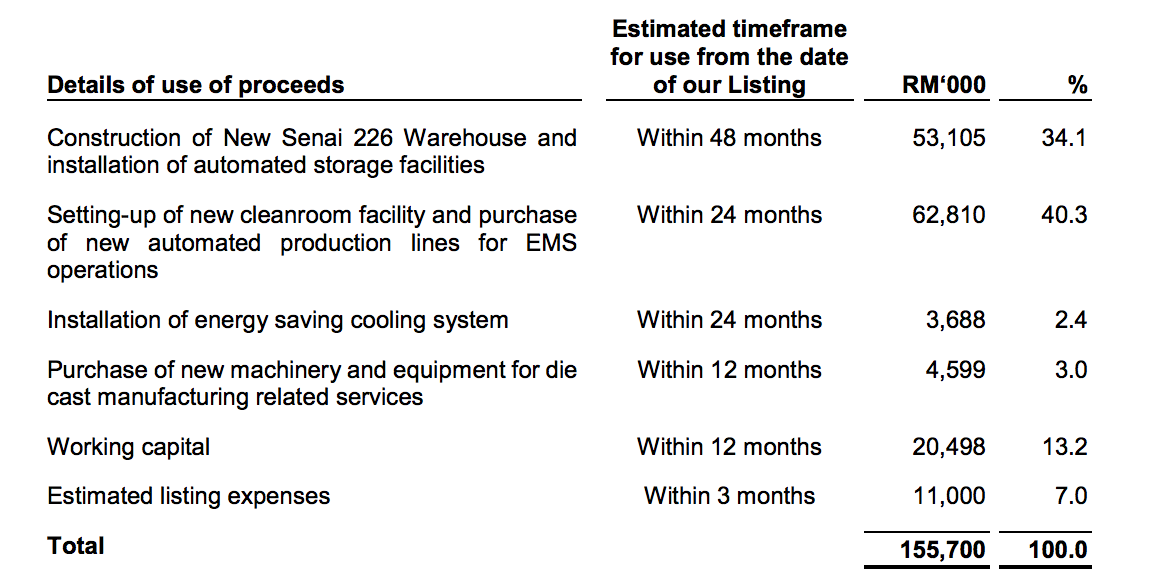 Source: Page 31 of Cape EMS Bhd's IPO Prospectus
#5 Major Shareholders
Upon successful listing, Tee Kim Chin, Tee Kim Yok, and Fortress would retain its status as major shareholders of Cape EMS Bhd with 40.5%, 13.8%, and 16.6% in direct shareholdings respectively.
Tee Kim Chin and Tee Kim Yok are siblings and Tee Kim Chin is appointed as the CEO while Tee Kim Yok is an Executive Director of the company.
Datuk Yong Peng Tak and Loo Kok Yuen are also major shareholders in the company via their interests in Fortress Capital Management Sdn Bhd.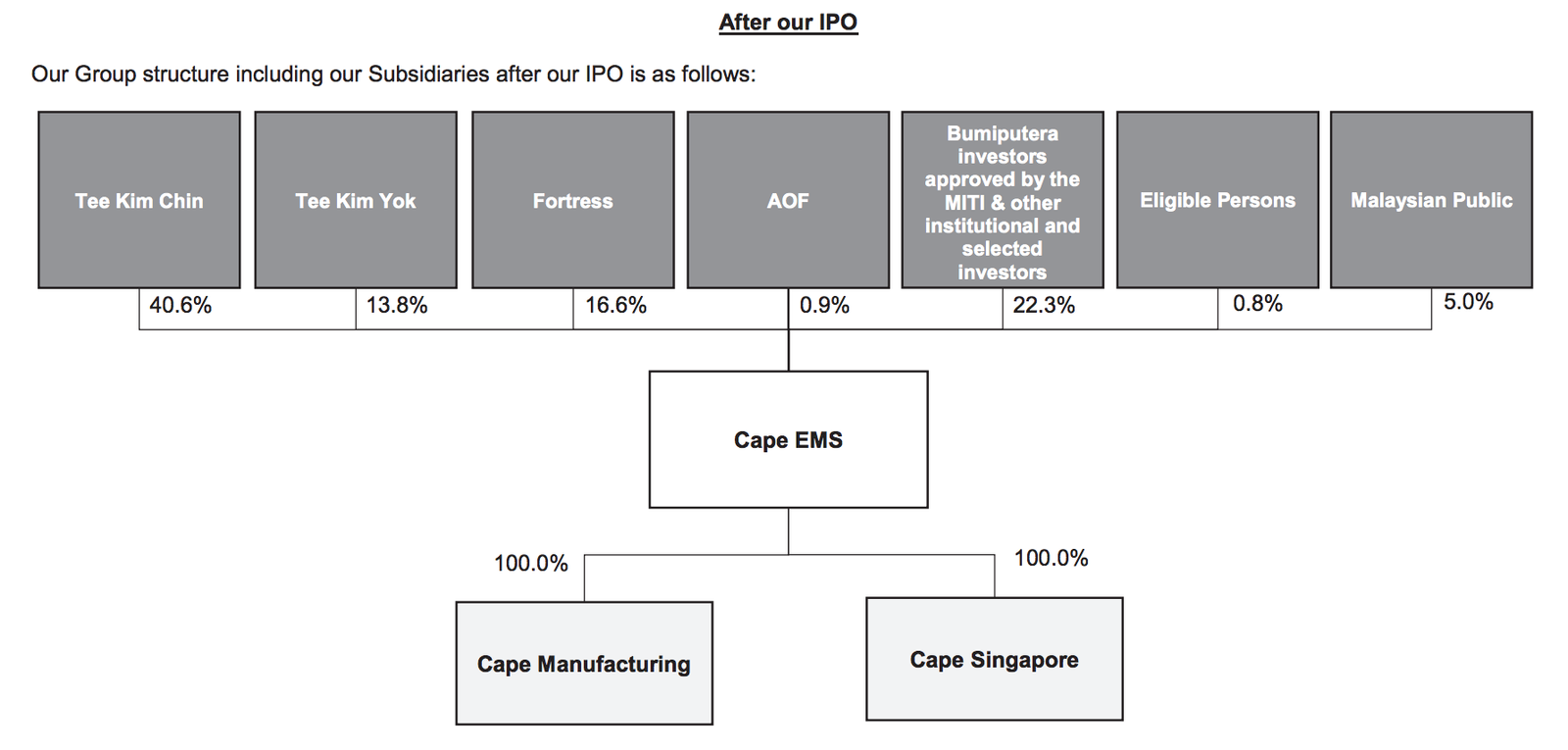 Source: Page 31 of Cape EMS Bhd's IPO Prospectus
#6 Dividend Policy
Cape EMS Bhd intends to distribute at least 30% of its shareholders' earnings to its shareholders.
Based on 2.85 sen in 2021 EPS, its dividends per share (DPS) amounts to 0.855 sen and translates to a minimum dividend yield of 0.95% a year
#7: Valuation
P/E Ratio
= RM 0.90 / RM 0.0285
= 31.6x
Based on its IPO offering of RM 0.90 per share, its offer is valued at a lofty P/E Ratio of 31.6x. It seems that a lot of growth is priced into this high valuation upon IPO.
Conclusion on Cape EMS IPO
Cape EMS Bhd had reported tremendous growth in multiples of sales and earnings in the last 2 years, mainly attributed to new products supplied to 3-4 key customers.
Moving ahead, Cape EMS Bhd intends to increase its production capacity for its electronic cigarettes to Customer A and 'free-up' spaces at its Senai 227 Factory by constructing a new warehouse known as Senai 226 Warehouse.
While the future looks bright for Cape EMS, we slightly wary of the risks involved i..e. customer concentration risk and high IPO valuation from the get-go.