AME Real Estate Investment Trust (AME REIT) issued its IPO Prospectus on 17 August 2022 (Part 1, Part 2, Part 3, and Part 4) at RM 1.15 per unit.
Upon listing on Bursa Malaysia, the REIT would have a market capitalization of RM 598.0 million. The time schedule for this IPO listing is as follows: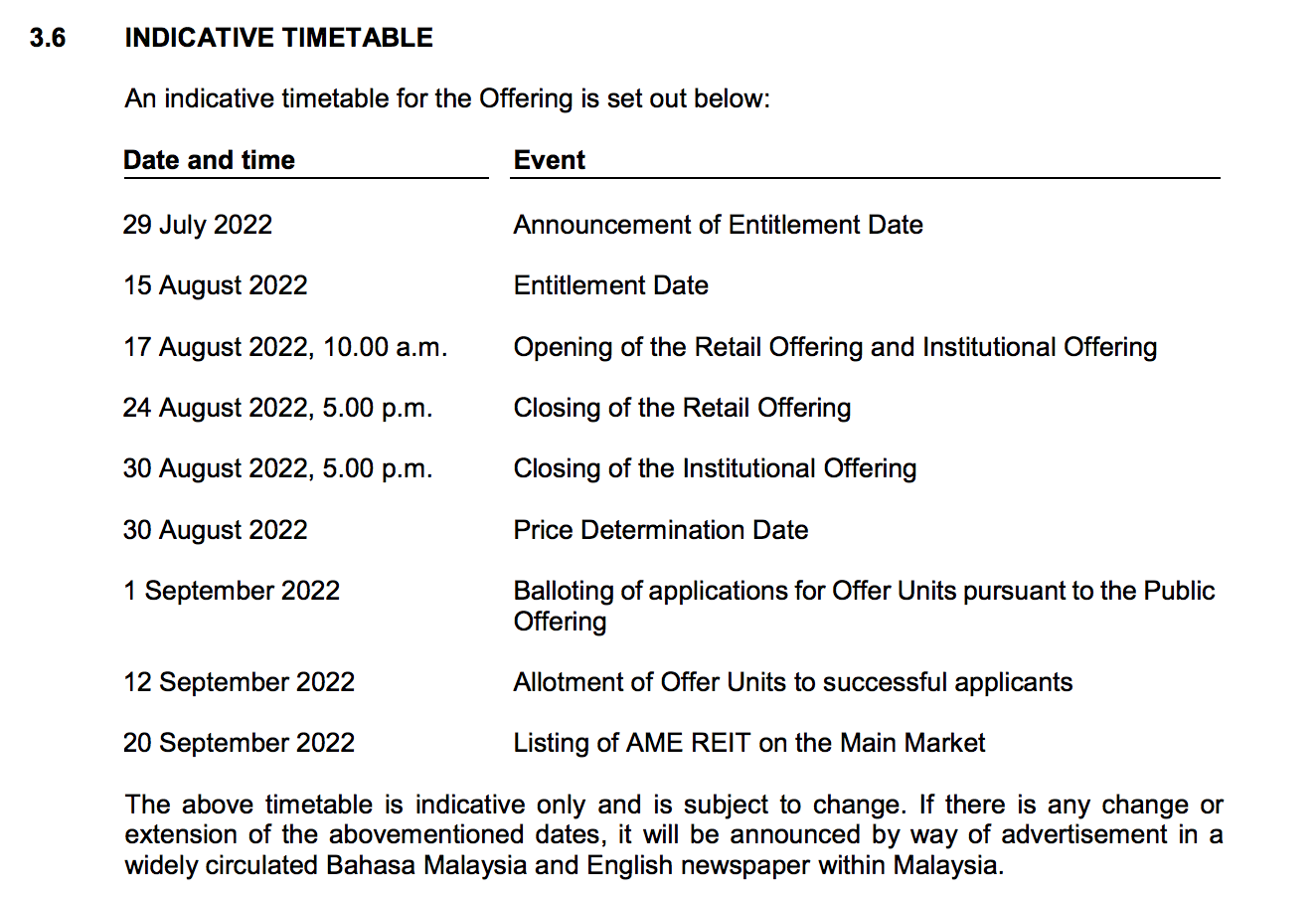 Source: Page 140 of AME REIT's IPO Prospectus
Here, I have summarized 7 things that you need to know before investing in the REIT.
They are as follows: 
#1 Property Portfolio
AME REIT would be listed with 31 industrial properties and 3 dormitories which are freehold, fully-occupied and located within Iskandar Malaysia, Johor.
The 34 properties are situated at 3 key clusters namely, i-Park@SAC, i-Park@Indahpura and i-park@SILC. They are worth RM 557 million in market valuation.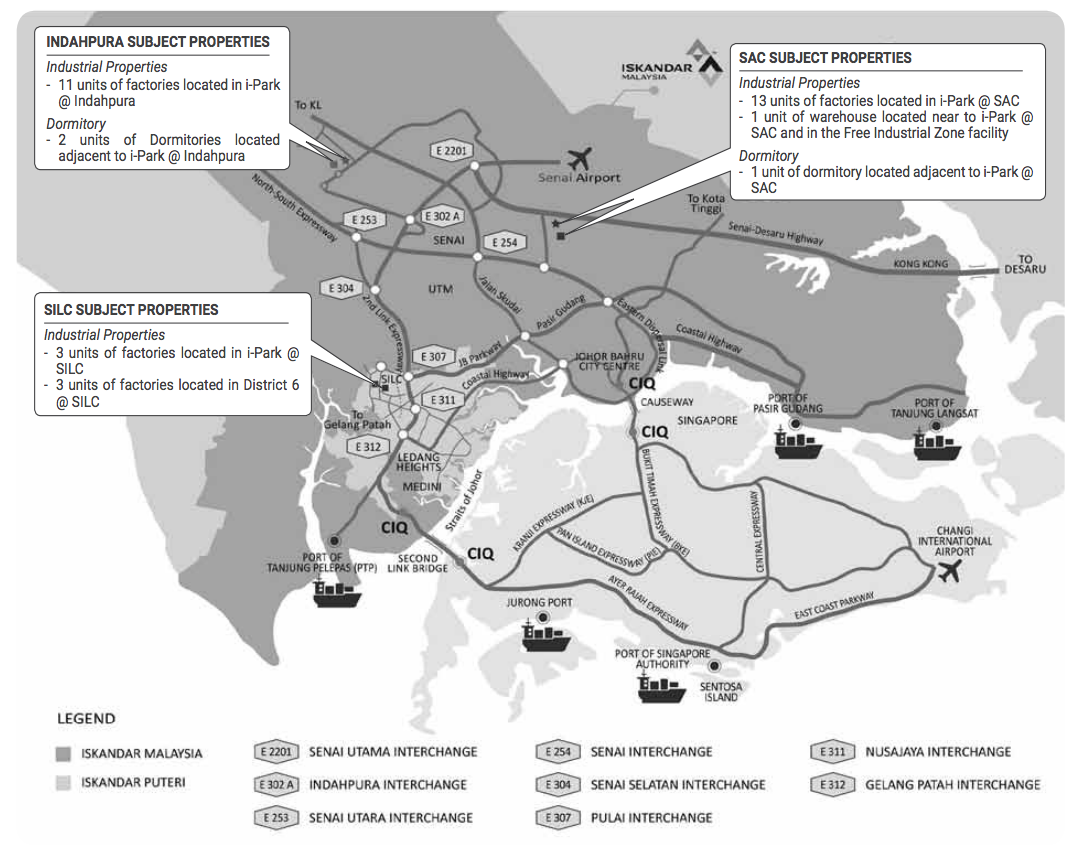 Source: Page 8 of AME REIT's IPO Prospectus
These properties enjoy close proximity to various transportation infrastructures such as the
Senai International Airport,

Port of Tanjung Pelepas,

Port of Tanjung Langsat,

Port of Pasir Gudang

3 Key Highways namely, the North-South Expressway, Malaysia-Singapore Second Link Expressway, and the Senai-Desaru Expressway. 
#2 Age of Properties
Overall, AME REIT's properties are below 10 years old as of 2022 and were built with the modern concept of green landscaping, high-speed broadband and also multiple security features such as being fully gated and guarded, having parking & visitor management system, security access card system, patrolling and CCTV. 
Based on clusters, the properties at i-Park@SAC are relatively newer, where the age of buildings range between 1-4 years old.
Meanwhile, its properties located at i-Park@Indahpura and i-Park@SILC are majoratily between 4-10 years old. 
#3 Profile of Tenants
AME REIT has secured 28 tenants for its properties where its top 10 tenants are accounting for 57.4% of occupied net lettable area (NLA) presently.
From its IPO Prospectus, as of 15 June 2022, its weighted average lease expiry (WALE) would be 3.7 years of its occupied NLA. 
Source: Page 14 of AME REIT's IPO Prospectus
Source: Page 72 of AME REIT's IPO Prospectus
#4: Actual & Pro Forma Financial Results 

Source: Page 152 & 182 of AME REIT's IPO Prospectus
AME REIT has recorded higher distributable income from FYE 2020 to FYE 2022.
This is due to it attaining 90+% in occupancy rates for its existing properties and inclusion of 5 brand new properties in this period.
The pro forma results for FYE 2023 would include the commencement of two new tenancy agreements for its properties namely, Plot A FZW SCA and Plot 13 Dorm Indahpura in FYE 2023. 
Based on 522.3 million units (inclusive of the management fees payable in units in FYE 2023), its pro forma distribution per unit (DPU) is 6.52 sen in FYE 2023.
It works out to be a gross distribution yield of 5.67% per annum based on the IPO offer of RM 1.15 per unit.
Its yield is exclusive of the 10% withholding tax which is imposed on its taxable portion of the DPU. 
#5 Gearing Ratio
Upon listing, AME REIT would have RM 46.5 million in total indebtedness which works out to be a gearing ratio of 8.1%.
Thus, it has a total debt headroom of as much as RM 240.8 million before hitting the 50% maximum gearing ratio that is allowable under the Securities Commission in Malaysia.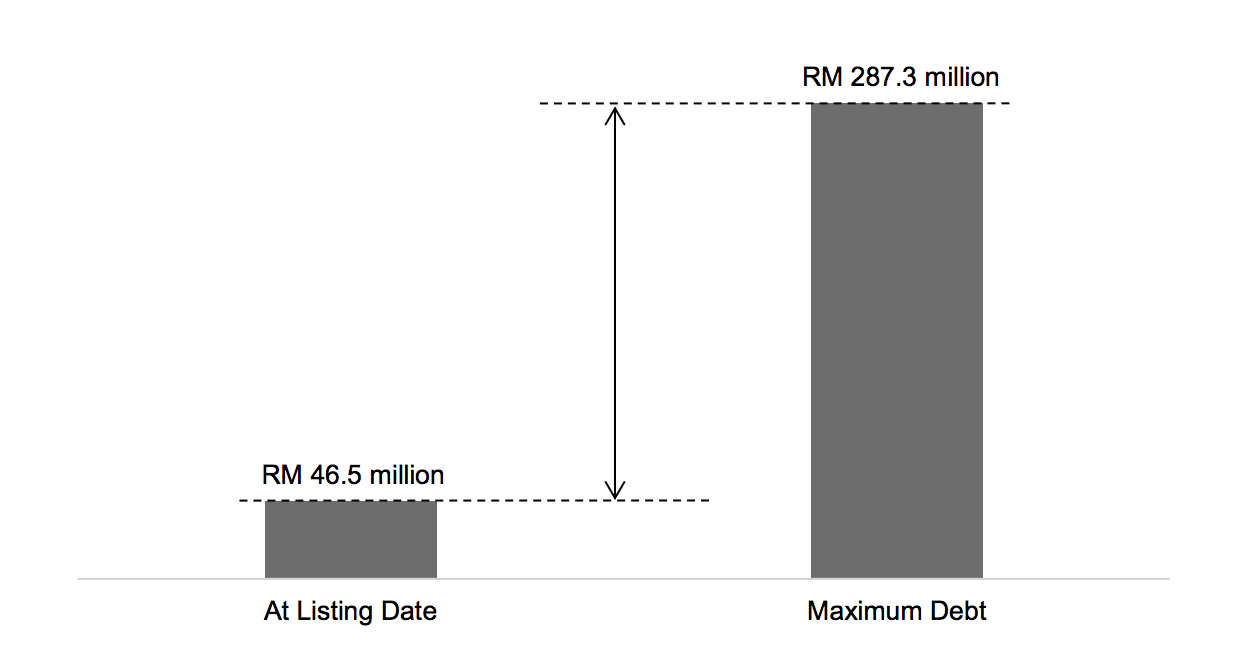 Source: Page 102 of AME REIT's IPO Prospectus
#6 Sponsor's Profile & ROFR
AME Elite Consortium Bhd (AME Group) is the sponsor and the main unitholder of AME REIT with 51% direct unitholdings in the REIT post IPO.
Presently, AME Group is a property development and construction company listed on Bursa Malaysia. The company is now worth RM 1.06 billion in market capitalisation. 
Presently, AME Group had offered AME REIT the Rights of First Refusal (ROFR) to acquire any industrial real estates and dormitories which are developed by AME Group or its subsidiaries.
This ROFR is valid for five years and it can be renewed for another five years upon mutual agreement with AME Group. 
As of 15 June 2022, AME REIT had identified a handful of properties, which may be acquired by the REIT under ROFR initiatives in the next 12 months. 
They are as follows: 

Source: Page 42 of AME REIT's IPO Prospectus
In addition, AME Group had acquired 72 plots of freehold industrial land, which measures 169.8 acres in Iskandar Malaysia where it would develop an industrial park.
In March 2022, AME Group soft-launched i-TechValley which comprises of 1½-storey detached factories with land sizes between 1-3 acres each. Thus, this would add to the property pipeline under the current ROFR arrangement.
#7 Valuation
From Note 4, AME REIT's gross distribution yield is 5.67% per year.
According to its IPO Prospectus, its net asset value (NAV) is RM 0.99 per unit. Hence, this IPO offer is valued at 1.16x its NAV per unit.
Conclusion
: 
In short, AME REIT is an Islamic REIT that has 34 properties in Iskandar Malaysia which are freehold, relatively new, located close to infrastructures, and are fully occupied presently.
The sponsor has 51% stake in AME REIT and has offered the REIT a pipeline of properties for future acquisitions.
We compared the valuation (1.16x P/NAV) and 5.67% yield of AME REIT with other industrial REITs listed in Malaysia and Singapore and this is what we got.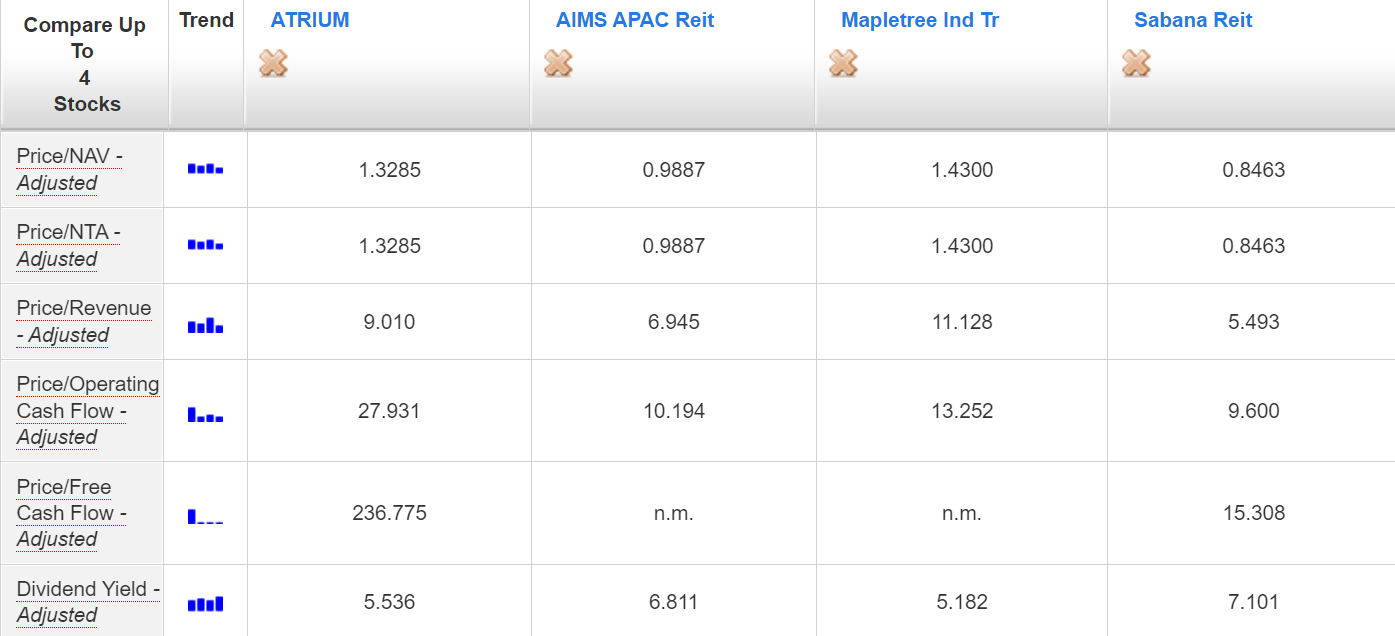 Its distribution yield of 5.67% is higher than Atrium REIT and Mapletree Industrial Trust but much lower than AIMs Apac REIT and Sabana REIT.
The story is the same where AIMs Apac REIT and Sabana REIT offer a cheaper P/NAV ratio (<1x) vs AME Reit of 1.16x.
That said, it has an extremely low initial gearing of ~8.1% (unheard of in SG) which provides ample debt headroom for future acquisitions. Judging from the double-digit growth of its net property income in the past 3 years, AME REIT's slightly higher valuation may well be justified too.
Would you subscribe for the IPO or buy the shares later on? Leave your comment below!