If you haven't yet noticed, we have embedded a survey form to show at the right bottom screen whenever you come to our site. In it, readers can choose a company that they are interested in knowing more and we will try to cover it if possible.
We are pleased to say that we have received several survey responses and one of it is for Asia File Corp Berhad (KLSE: ASIAFLE). Without further ado, we will zoom in straightaway to this company's fundamentals.
Company Info
For those of you who have not heard of this company before, here is some quick background of the firm.
AsiaFile is a Malaysian company which engages in the manufacturing and trading of stationery products. Their products include plastic folders, sheet protectors, filing boxes, envelopes and other office accessories.
Despite its conventional business model, its business operations have transcended across the globe in more than 80 countries such as Europe, United States, Middle East and Singapore. Asia File Corp Bhd has a market capitalisation of MYR680 million.
Financial Health of the Company
Firstly, let us zoom into the company's profitability ratios.
Over the past 5 years, its revenue has experienced an average of 8.22% annual growth. The figures are graphed below for your easy reference.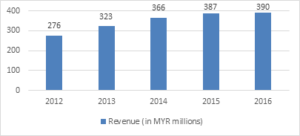 This growth can be attributed to its business expansion in Europe, taking advantage of its economies of scale and operational efficiency. You can read up more on it here. However, from 2014 onwards, its revenue growth has started to stagnate.
In terms of net income, it tends to undergo some fluctuations over the years but on average, it has clocked an annual growth of 11.45%. Despite the slight fluctuations in growth, its net income is stable, reaching far beyond into the positive domain.
The company has also been accumulating cash (and short-term investments) at a impressive rate over the past 3 years (annual increase of 59%!). This fact is reflected in its current ratio which grew from 2.82 in 2012 to 3.65 in 2016. As such, the company definitely has the financial power to venture into growth projects or even acquire new businesses.
Based on this report in August 2016 here, CEO Mr Lim Soon Huat said the group planned to diversify into new areas and strongly asserted that the company is "the number one player in lever arch files, ring binders, box files, and dividers, occupying a 60% market share" in the UK.
Conclusion
Despite all the good notes above, Investors should note that the company seems to be slipping in revenue growth in 2016. As such, the year 2016 seems to have been a not-so-good year for the company as compared to the previous years. Considering that the next earnings report will be released on 6 March 2017 (Based on WSJ), it is advisable to hold and assess the upcoming report before making a decision.
At the time of writing, Asia File Corp Bhd has a P/E ratio of 11.7 and earnings per share of 0.40. Its dividend yield stands at 4.53%.
We've released our 3 HOT growth stock picks which could skyrocket >100% by the end of 2017.
History has shown that getting in early on a good idea can often pay big bucks – so don't miss out on this moment.
Simply click here to receive your copy of our brand-new FREE report, 3 stocks poised for explosive growth.
Do Like us on Facebook too as we share the latest investing articles and stock ideas for you!
Once again, we wish to thank you for all survey responses. If you wish to drop us a company's name to analyze or just want to know more about it, feel free to email us at contact@smallcapasia.com.