Clearbridge Health Limited, a medical technology investor formerly known as Clearbridge Accelerator, is launching its IPO on the Catalist board.
Unfortunately,no shares are offered to the public; but the shares are up for trading on 18 Dec 2017.
Here are 5 quick things that you should know about the company:
1. Clearbridge Health Limited Profile & IPO Details
The Company is a healthcare company with a focus on delivery of precision medicine in Asia and its vision is to empower clinicians and healthcare professionals to make more reliable and accurate diagnoses. Its business comprises of:
provision of laboratory testing services
ownership and operation of medical clinics/ centres; and
strategic equity participation in precision medical technology firms.
And as for what is precision medicine, the company has given a description in the picture below:
A total of 88 million shares are offered at a price of S$0.28 a piece. All the shares are for placements to certain investors.
You can find the IPO prospectus
here
.
2. Use of Proceeds
A big part (56.8%) of the net proceeds will be earmarked for expansion of medical clinics and laboratory testing services.
What kinda worries me is that 30.3% is catered for working capital purposes – which means the company is expecting to continue making losses, at least in the short term.
The proportion is depicted below for your easy reference.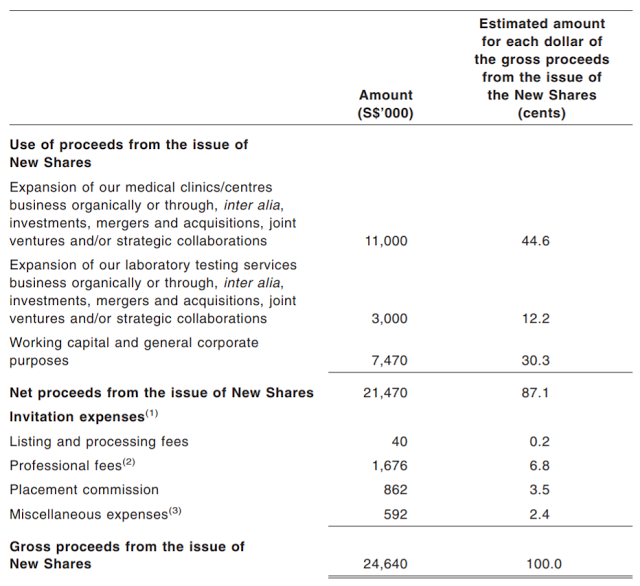 3. Financial Health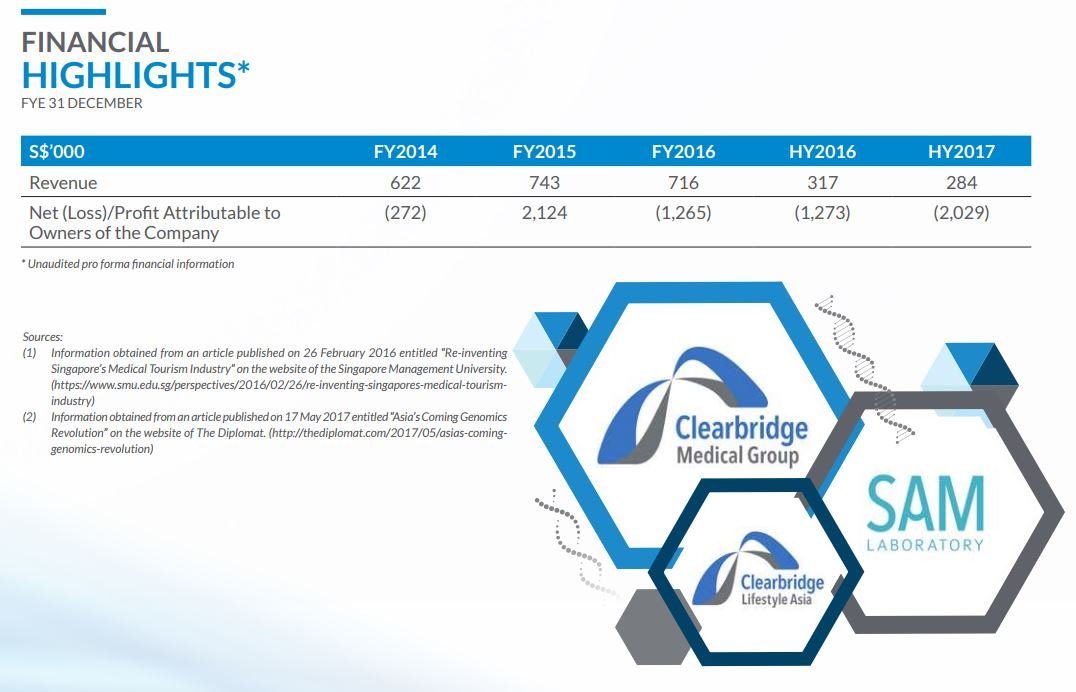 I got quite a rude shock looking at its financials. The revenue has never crossed the magical $1mil mark in the past few years (maybe since inception).
The company has been nursing losses for majority of its years too.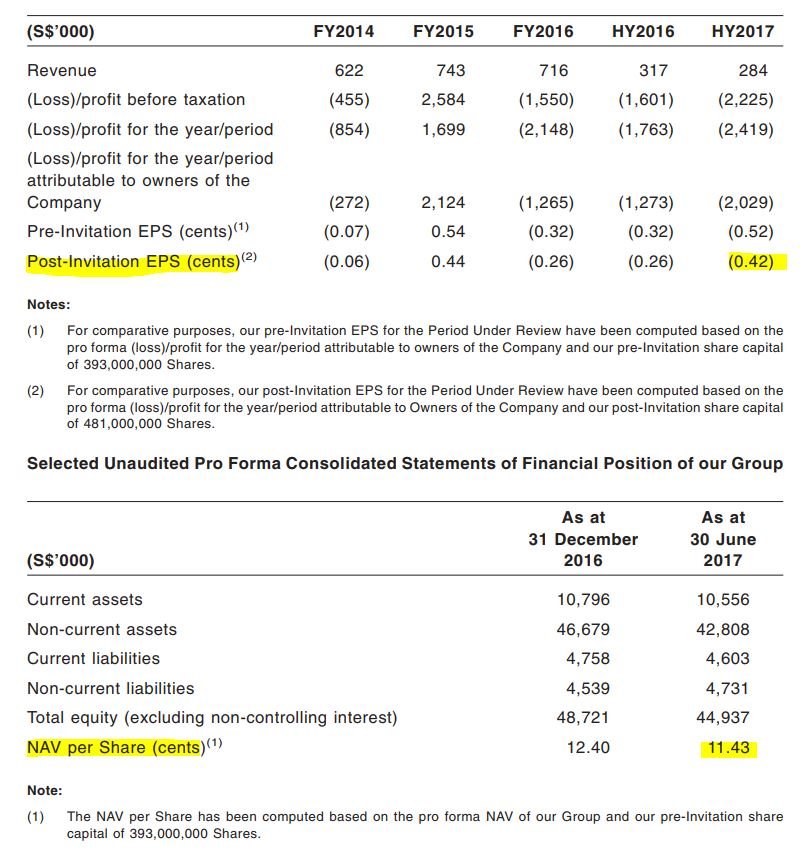 The IPO price of $0.28 is even 2.45x of the NAV/share of 11.43 cents!
4. Dividend Policy & Future Plans
The company do not have a fixed dividend policy and unlikely to give dividends given the negative earnings.
In terms of growth prospects, the company aims to do the following (check pic for more details):
Acquire medical centre in Phillipines
Collaborate with partners in Asia such as Indonesia, Myanmar, India etc. to open more medical clinics
Expansion of Laboratory testing services
Build up logistics capabilities in line with business growth
5. Mgmt Team
Clearbridge Health is helmed by Jeremy Yee, the former CEO of Singapore-listed Cordlife Group. He joined Clearbridge in May, and set up two clinics in Singapore and Hong Kong.
He said, "More than 2,000 specimens have flowed through Sam Lab since it was set up in 2009".
He also added, "These are all patients that we can get back to them and talk about further health screenings. Among other tests, Sam Lab offers a circulating tumour cells (CTC) CellSearch test for the prognosis of breast, prostate and colorectal cancer patients."
Mr Yee emphasised that Clearbridge has low debt and a S$9.8 million cash pile as at June 30, before the IPO fees.
Conclusion
To sum up, Clearbridge Health Limited is somewhat similar to Singapore O&G (SGX: 1D8) and SingMedical (SGX: 5OT) where they aim to beef up their businesses through opening of clinics.
However, Clearbridge health has not proved its earnings capability and i am also not sure whether this 'precision medicine' will gain traction going forward.
In my opinion, i am not familar with the medtech space and will likely go for something else within my circle of competence. Maybe health professionals can give a comment on this stock and its prospects? Cheers!
Fancy an Ebook that teaches you the hallmarks of multi-bagger stocks and how to find them? Simply click here to receive your copy of a brand-new FREE Ebook titled – "100 BAGGERS" by Christopher W. Mayer here today!
Last but not least, do remember to Like us on Facebook too as we share the latest investing articles and stock case studies for you!