The Singapore stock exchange is awash with stocks trading for under a dollar.
Most are companies struggling to make ends meet because they are operating in shrinking markets or selling weak brands or products.
However some of them are fine companies going through a rough patch, waiting to takeoff.
Here are five promising ones with relatively high trading volumes.
1. Geo Energy Resources Limited (SGX: RE4)
Geo Energy is a coal mining and trading company. It exploits its own mines in Indonesia through specialized contractors to reduce capital expenditure.
The company is acquiring new mines to augment production volumes and expanding vertically by investing in coal power plants. As a fully integrated electricity producer, it would be less exposed to the coal price fluctuations.
After a few ups and downs during year 2012 to 2015, the company has skyrocketed its revenue from S$31.58 mil to S$437.6 mil trailing 12mFY2017 (june 2016 to june 2017).
Similarly, it has recorded a multifold jump in profits during the past 2 years. For the 6 months ended 30.6.2017, its profits zoomed past the roof from S$0.03 mil to S$24.6 mil on a y-o-y basis. Check it out here.
At the time of writing, the stock is at trading at S$0.295, well above the year's low of S$0.10 and at a P/E ratio of 12.
2. Japfa (SGX: UD2)
Japfa is an integrated agri-food business producing animal food, livestock and human food such as dairy, meat and other processed food. The company is present in Indonesia, China, Vietnam, India and Myanmar. See more of its business segments here.
Its share price has been on a roller-coaster ride due to the huge swings in its financials. When net profits jumped by almost 3.5x from FY2014 to FY2016, the share price followed suit and rebounded from S$0.285 to more than S$1 in a matter of months.
However, it registered a 94% drop in net profit to US$3 million for its 3rd quarter ended Sept 30, 2017, from US$48 million a year ago due to the reasons below:
Despite a pick-up in swine prices, Vietnam operations continued to make losses as continued China import restrictions bit.
The dairy business made losses due to a fair value loss from lower market price of raw milk, heifers and calves.
Meanwhile, the core Indonesia business suffered a sharp drop in net profit as poultry and beef margins shrank.
Japfa closed at S$0.58 and offers a 1.7% dividend yield.
3. Sheng Siong Group (SGX: OV8)
Sheng Siong needs no introduction being the third largest supermarket operator in Singapore with 40+ stores.
Just when we thought that the company is reaching its saturation point in Singapore, Sheng Siong Group's net profit grew 25.3% yoy to $19.6 million for 3Q2017 due to new store openings.
On the future outlook of the Group, Mr Lim Hock Chee, the Group's CEO, added,
"We have successfully opened a new store of 4,000 sq feet in Fajar 446 this quarter, expanding the Group's total retail square footage to 431,000 sq feet. Our store expansion plans are on track as we have successfully bid for three new HDB shops at Woodlands Street 12, Edgedale Plains Block 660A and Anchorvale Crescent Block 338.

Moving ahead, we will remain focused on our store expansion plans in Singapore, particularly in areas where our potential customers are residing. Concurrently, we will continue to drive growth of our new and existing stores. Besides this, we remain committed to improve cost efficiencies through lowering input costs and operating overheads. Such initiatives include increasing direct purchasing, bulk handling, changing the sales mix to a higher proportion of fresh produce and reducing operating expenses by improving productivity."
Sheng Siong currently closed at S$0.96 at 23x P/E ratio and alluring 3.9% dividend yield.
4. MM2 Asia (SGX: 1BO)
MM2 is a burgeoning media company; it produces film, television and online content and provides motion picture production and distribution services.
If you still have no faint idea what it does, it produces movies like Ah Boys to Men (see below!). After its botched attempt to buy over Golden Village, it is looking to snap up Cathay Cineplexes.
Its financial results have been spectacular where the revenue and profits have been growing at double digits since IPO.
In its latest quarterly, MM2 profits more than doubled to S$4.6 mil in Q2 FY2017 on a y-o-y basis.
It last closed at S$0.555 at a relatively high P/E ratio of 34x and no dividends to speak of.
5. SIIC Environment (SGX: BHK)
SIIC is a water and solid waste treatment company with a strong operational presence in China.
It is a subsidiary of Shanghai Industrial Holdings a conglomerate with a large panel of activities including pharmaceutical, real estate and consumer products.
Despite announcing a few new deals, its share price has been on a downward trend, falling almost 50% from a high of S$1.17 in Apr 2015.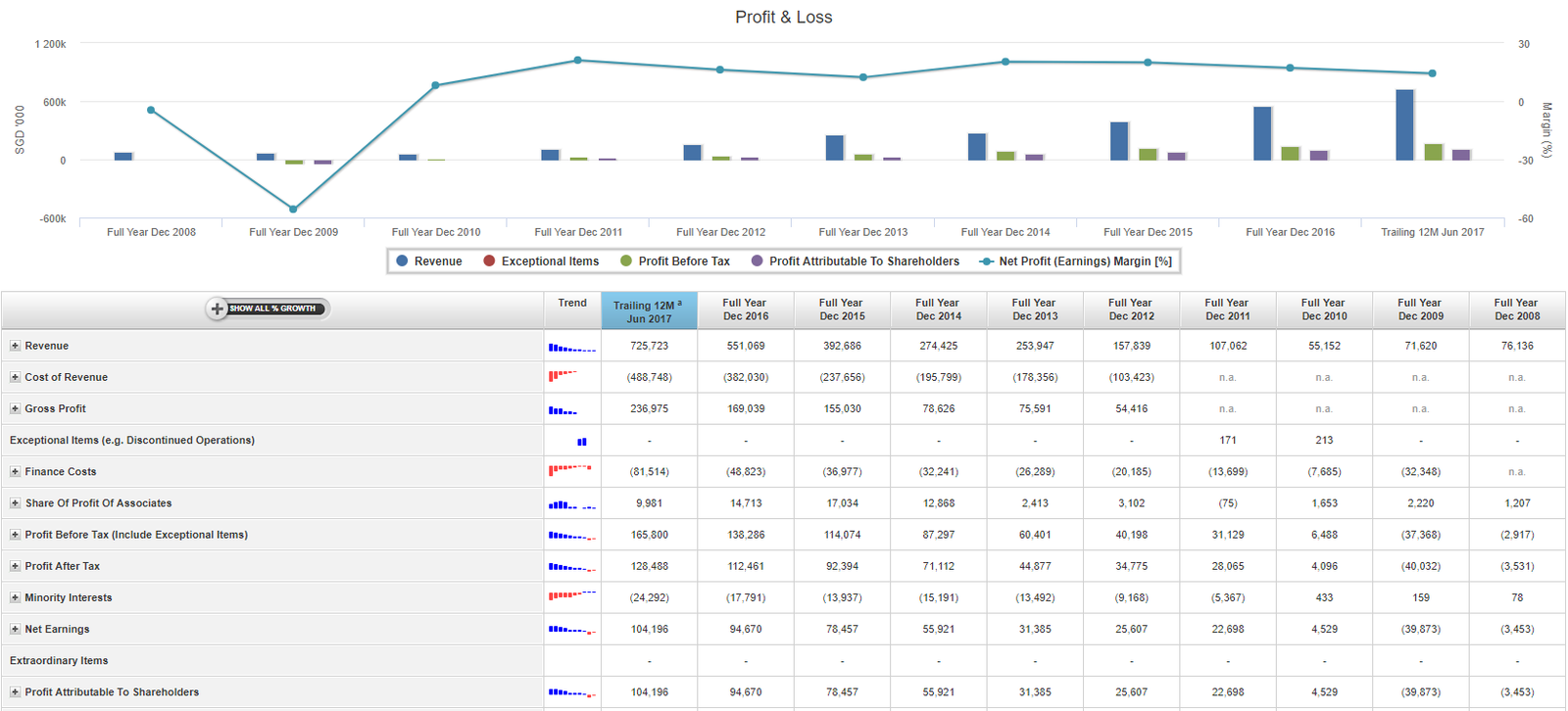 Despite that, investors can find comfort in their long term track record. Stretching out to a 10 years period, revenue and net earnings have been steadily increasing to >1000% (10x) from FY2010!
SIIC Environment last changed hands at S$0.525 and gives a 14.4x P/E ratio.
Conclusion
A company like Sheng Siong has a relatively secure market positioning and should continue to offer significant and increasing dividend payouts. SIIC, which is backed by a larger holding company, is operating in China, a fast growing market, which should aid in its development.
Geo Energy, MM2 and Japfa have ambitious plans to expand to other markets and should see their revenue flourish.
SmallCapAsia.com is a website focused primarily on undervalued gems that can generate Big, Fat Returns for investors.
Our Slogan is simple: Start Small, Win Big!  Subscribe to our FREE e-newsletter to get a regular dose of investing insights not found elsewhere!