Income-seeking investors is pleased to know that REITs continue to offer a dependable source of passive income for the first quarter of 2023.
Despite the twin challenges of high inflation and high interest rates and the allure of Singapore Savings Bond and T-Bill, well-managed REITs with quality assets can hold their own and continue to churn out regular dividends.
Of course, the trick is to stick with REITs that are more resilient in times of recession and with a diverse pool of tenants. In search of both consistent DPU and high yields, here are 4 Singapore REITs that offer distribution yields of 6% or higher…
1. AIMS APAC REIT

AIMS APAC REIT (AA REIT) is one of the few REITs that deliver a set of excellent results. Net property income is up an impressive 23% for 9M FY 2023. DPU is up 2.7% to 7.29 cents for 9M FY2023, giving a yield of more than 7.1%!
AA REIT is also one of the few REITs that gives quarterly dividend which will appeal to investors who prefer more regular cash flow.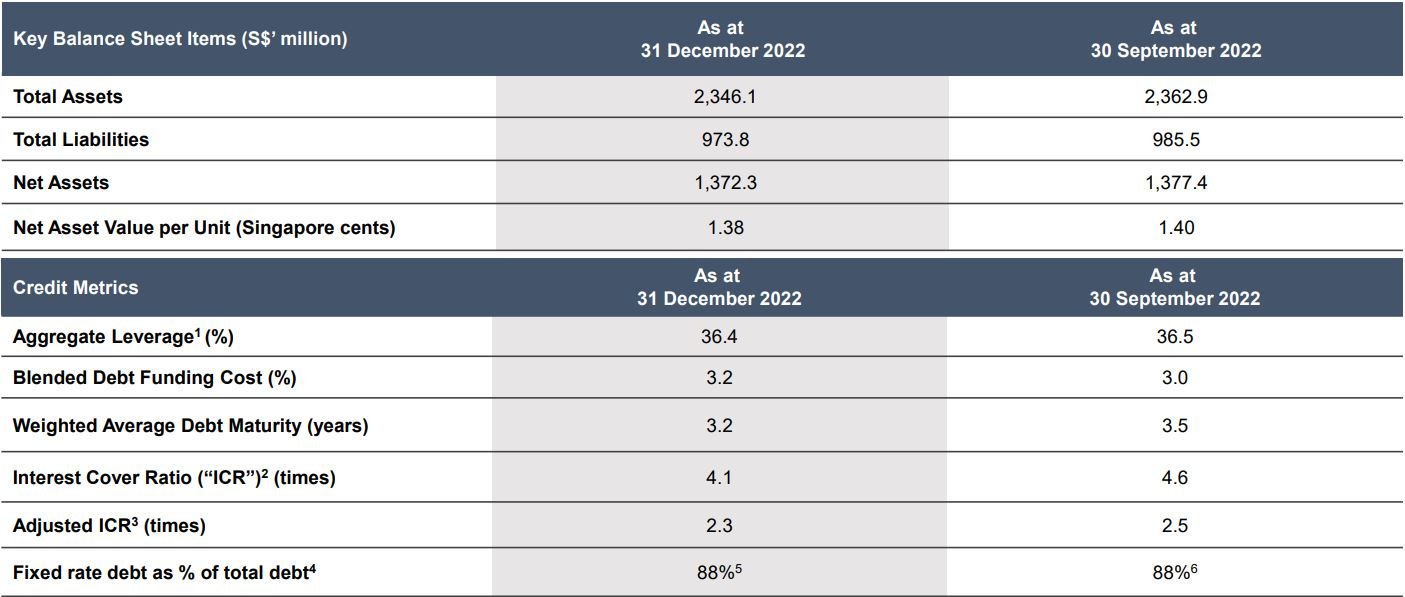 AA REIT gearing ratio is at a relatively comfortable level of 36.4% and 88% of its debt is fixed which will mean the need for fund raising is lesser.
It also has no debt re-financing in FY 2023 and only 3.7% of its debt expire in FY 2024.  You can view the REIT website here.
2. ESR-Logos REIT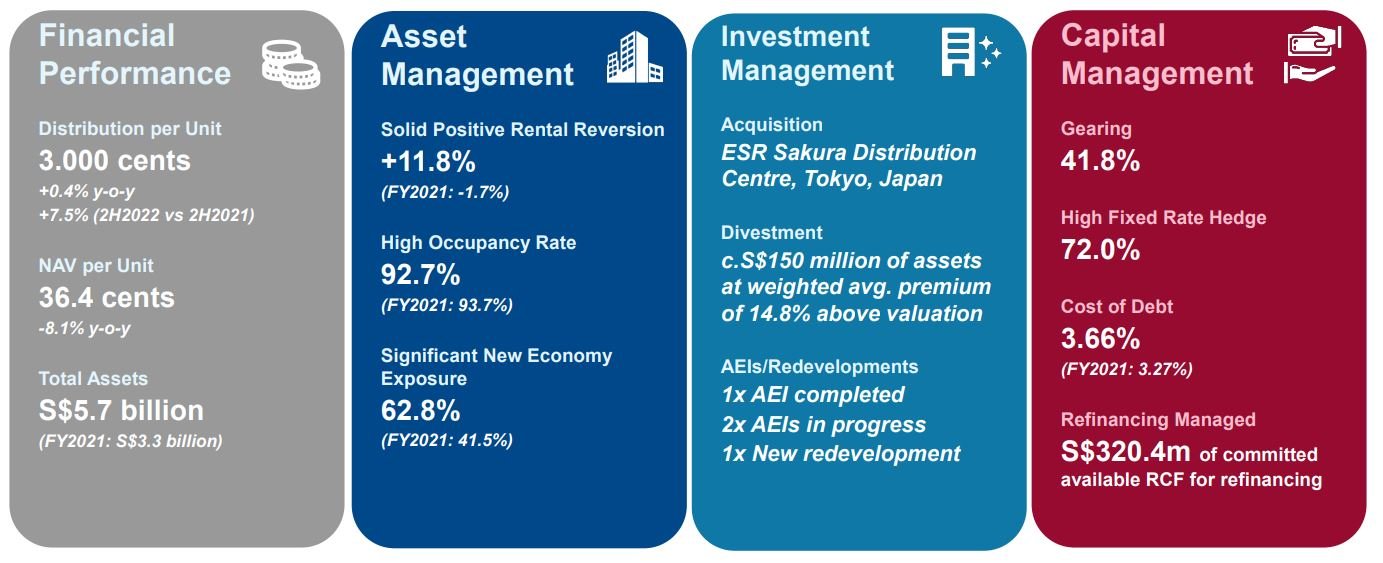 ESR-Logos net property income is up 41% for FY 2022 mainly due to the contributions from ALOG Trust after the Merger in April 2022. The REIT achieved a decent positive rental reversion of 11.8% while occupancy rate is relatively high at 92.7%.
DPU is up 0.4% for FY 2022 to 3.00 cents which will translate to 9.2% yield based on current price of 32.5 cents!
In addition, with the recent fund raising exercise by ESR-Logos, the gearing has gone down from 41.8% as at 31 Dec 2022 to the current 'safe' level of 32.3%.
With the lowered gearing and the full year integration of the Merger, could it be a turning point for ESR-Logos going forward in terms of DPU growth and share price?
Find out more from the REIT website here.
3. CapitaLand China Trust
In our previous article on CapitaLand China Trust (CLCT) here, it was mentioned that CLCT could benefit from China re-opening.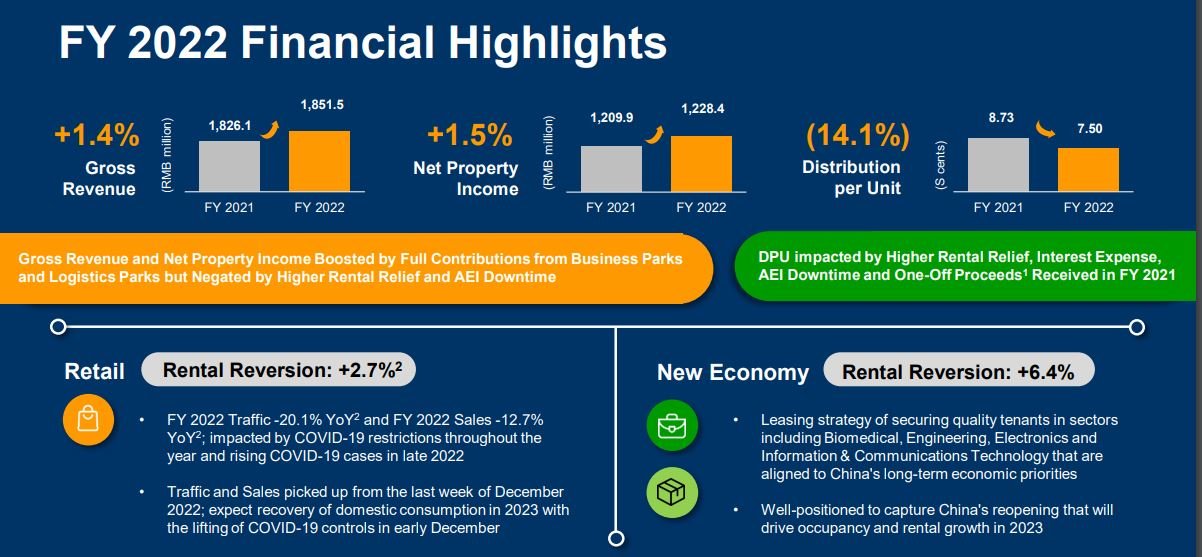 CLCT delivered a mixed bag of results for FY 2022. Net property income is up by 1.5% to RMB 1,228.4M.
The retail properties rental reversion increased by 2.7% while the new economy assets rental reversion increased by 5.4%.
However, DPU dropped 14.1% for FY 2022 mainly due to higher rental relief and interest expense; but with a DPU of 7.5 cents, the REIT still offers a decent yield of 6.6%.

CLCT gearing is relatively high at 39.6% and the percentage of debt in fixed rates is quite low at 71%.
This may result in the REIT being more prone to changes in interest rates. On a brighte note, the average cost of debt is below 3%.
Check out CLCT website here.
4. Sabana Industrial REIT

Sabana Industrial REIT delivers a decent set of results for FY 2022. Net property income is up 2.6% while DPU is unchanged at 3.05 cents giving a juicy yield of 7.01%.
Sabana REIT also achieve a positive rental reversion of 12.9% while overall portfolio occupancy rate is at a high of 91.2%.

Sabana REIT gearing ratio is even lowered to 32.4% in FY 2022 compared to 35.0% in FY 2021. In addition there is no refinancing requirements in 2023 and this will lessen the probability of the need for fund raising.
Sabana REIT share price is up 1.16% YTD. With the recent partial offer by Volare Group and couple with a decent set of results, could Sabana REIT surprise investors with positive share price performance this year despite its fiasco in the past?
You can view the REIT website here.
Conclusion
To sum up, the 4 Singapore REITs above currently dish out distributions yield of above 6% with decent interest coverage ratios.
On a side note, with a slowing economy and interest rates expected to remain high, it could still be a challenging year for REITs so investors will need to tread with caution.