SATS Ltd is a Singapore-based provider of ground-handling and in-flight catering services for air transportation in Asia and Australia. SATS controls about 80% of Changi Airport's ground handling and catering business.
Additionally, it offers food distribution and logistics, industrial catering, and other amenities for hospitality and government agencies.
The company has 3 reportable segments:
Food solutions (the largest segment by revenue),
Gateway services and
Others.
It has partnerships with multiple airlines to provide catering during flights and offers various allied services. Gateway services cover the gamut of like Baggage and ramp handling, passenger services, and terminal management etc.
#1 Air Travel restrictions easing
We are in a gradual transition to post-COVID era. This is where the main point of generating 'alpha' comes in: Air Travel is reopening and SATS can go into the pre-pandemic era again.
Source: https://singaporeairport.net/statistics/
The above chart signifies that although flights are coming back, there is still a long way of rebound for monthly commercial flights to Singapore.
In additional, here's a quick look at the 3QFY21 (ended Dec 2021) results:

Source: 3QFY21 Presentation
The operating statistics show evidence of air travel reopening with 75% y-o-y increase in passengers.
On this note, the Group revenue also grew 22.6% YoY, and the share of earnings from associates and joint ventures increased S$8.6 million YoY to S$12.1 million in 3Q.
#2 A New School Monopoly Expansion
Now we have seen the presence of SATS as the virtually sole provider of mentioned service at the Changi airport but that's not all.
The vertical and horizontal integration provides a special place to SATS as a new age monopoly in a very niche field.
Let's look at its recent integration efforts.
Just in April 2022, SATS invested S$150 million in food production automation. The company says the Food Hub will synergize its capabilities in meal production and introduce automation to enhance efficiency and strengthen operational resilience.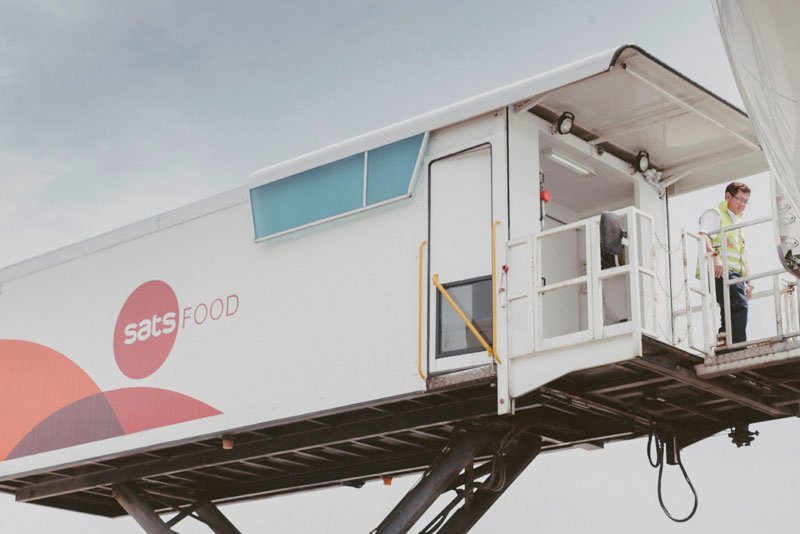 The Company has also announced the completion of major 65.4% stake acquisition in Asia Airfreight Terminal (AAT).
CIMB also shared how SATS' net cash of S$122 million will back its mergers and acquisitions (M&A) ambition to ride the central-kitchen trend in China and India, as well as in air cargo.
SATS also intends to accelerate its capital spending over the next three years, with proposed capital expenditure and investments of S$1 billion.
Last but not least, SATS also benefits over the long term from the expansion of Singapore's Changi Airport, which is expected to open Terminal 5 around 2030.
#3 Still 'Out of Favor'
Initial optimism and analyst re-ratings pushed the stock up about 17% in the last year (YTD).
Based on the share price chart above, the share price pre-COVID has hovered around $5 but it has rebounded quite strongly to S$4.55.
The main reason is the current lack of profitability and major dependence on the government support as far as the mentioned Q3FY21.
For us, it means the stock recovery is not full yet and the SATS "plane" is still positively going up with all the ongoing new developments. The story is affirmed by multiple analysts giving 'ADD' rating.
#4 Risks to Take Note
It is a known fact that SATS depend heavily on the rebound of the tourism/aviation sector.
The government grants have been the pillar behind SATS so far as the 3QFY21 profits after tax without government reliefs would become a loss of S$33.0 million (2Q loss: S$30.1M).
COVID is still an inherent downside if you look at Chinese cities like Shanghai. Things can go sour still with minor waves.
Furthermore, higher oil prices may have an impact on the aviation's profitability too.
Conclusion
SATS stock currently sits at the crossroads of an uncertain COVID world but also presents a scenario of tremendous growth after that.
While the bulk of SATS' revenue comes from the aviation industry, it has worked on diversifying its business to redact this concentration over the years.
Now over 40% of the revenue is from the 'non-travel' reported segment. This was still about a quarter in FY20 when aviation was doing well.
Therefore, SATS has not only shown resilience but planning for the future in the worst of times. And this may well be the key step to regain its past glory.