The Malaysian government and the Sustainable Energy Development Authority (SEDA) have revealed its long-term goal to generate 24% of the country's electricity from renewable sources by 2050.
They are targeting a solar energy production capacity of 1000 MW by 2020 then to over 17 GW by 2050 from 338 MW currently.
The recent launch of the NetMetering program will enable homeowners as well as industrial and commercial sites to sell surplus solar energy to utilities.
If successful, the move will drive demand for solar panels, giving renewable energy companies a beachhead into a new market.
1. Cypark Resources Berhad (KLSE: 5184)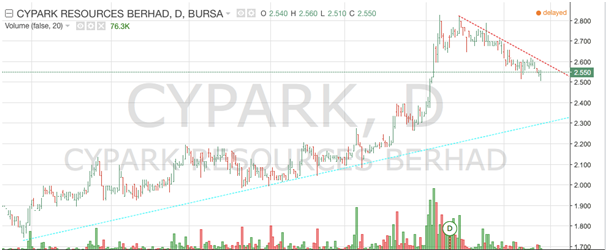 Cypark is already a contender in the solar space with an electricity production capacity of 30.6 MW.
The company offers construction, power production, environmental engineering and energy storage services, all of which are increasingly indispensable to its viability in the solar energy industry.
The company is planning to develop its solar capacity further. It distributed 25% of its benefits as dividends maintaining its ability to invest and keep up with the increasing market size.
Cypark's stock price is near its 52 weeks high at RM2.55, up 25% from RM2.038 at the start of the year. Its price-to-earnings (P/E) ratio also rose from 9.8 to 12.34.
The company has strong financials and may have the potential to rebound after a technical correction.
2. PUC Founder Berhad (KLSE: 0007)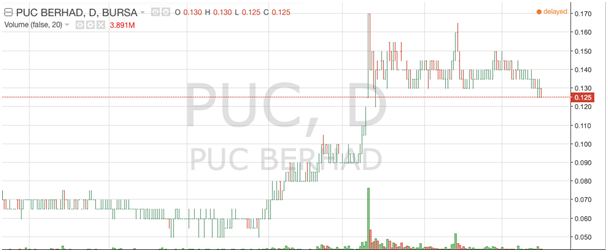 Our 2nd stock is on a smaller scale named PUC Founder and its listed on the ACE market. It has registered 31% growth in net income even when revenue decreased by 6% to around RM25 million in revenue.
One should take note that aggressive capital expenditure have resulted in a low RoE of 1.71% compared to 11.71% for Cypark.
PUC's stock has doubled in price since the start of the year sending its P/E to a lofty ratio of 50+. Due to its small market capitalization, the share price seems to be rather choppy relative to more established companies so investors need to be aware.
3. Malakoff Corporation Berhad (KLSE: 5364)
Despite being the largest out of the three (in size), Malakoff is not really a direct player in this solar race. This is because of of its diverse business model based on coal-based power generation and water treatment services.
It is adequately financed with a long-term debt structure and decreasing leverage levels. However, it is still trying to enter the solar market now and might totally miss out on the bold government led bandwagon.
Malakoff's share price is near its 52 weeks low as earnings have dropped from the previous year. If the trend continues, the dividend payout ratio can give way because it currently stands at >95% of net income. A As a result the current 6.80% dividend yield, while enticing, will shrink.
Conclusion
Cypark looks like the safest choice to invest in the solar industry with its established experience and solid finances. It is on the right track to establish itself as a reference in the field.
On the other hand PUC offers more promising potential for capital gains with a smaller base. Thanks to its small size, it is far from saturation and is nimble enough to grow at a faster pace. It is more risky however, as its share price can deflate at any moment following bad news.