Huobi Pro, one of the leading digital exchanges globally, announced on 23rd May 2018 that they are launching a Crypto Market Index called Huobi 10 Index.
It is uniquely designed to track the 10 most promising digital assets based on trading volume, market value and technological superiority.
1. Introduction of Huobi 10 Index (H10 Index)
Starting with a base of 1,000 points, the Huobi 10 Index is currently in Beta version and investors can already check out how it is performing here. For your convenience, I have attached a screenshot shown below.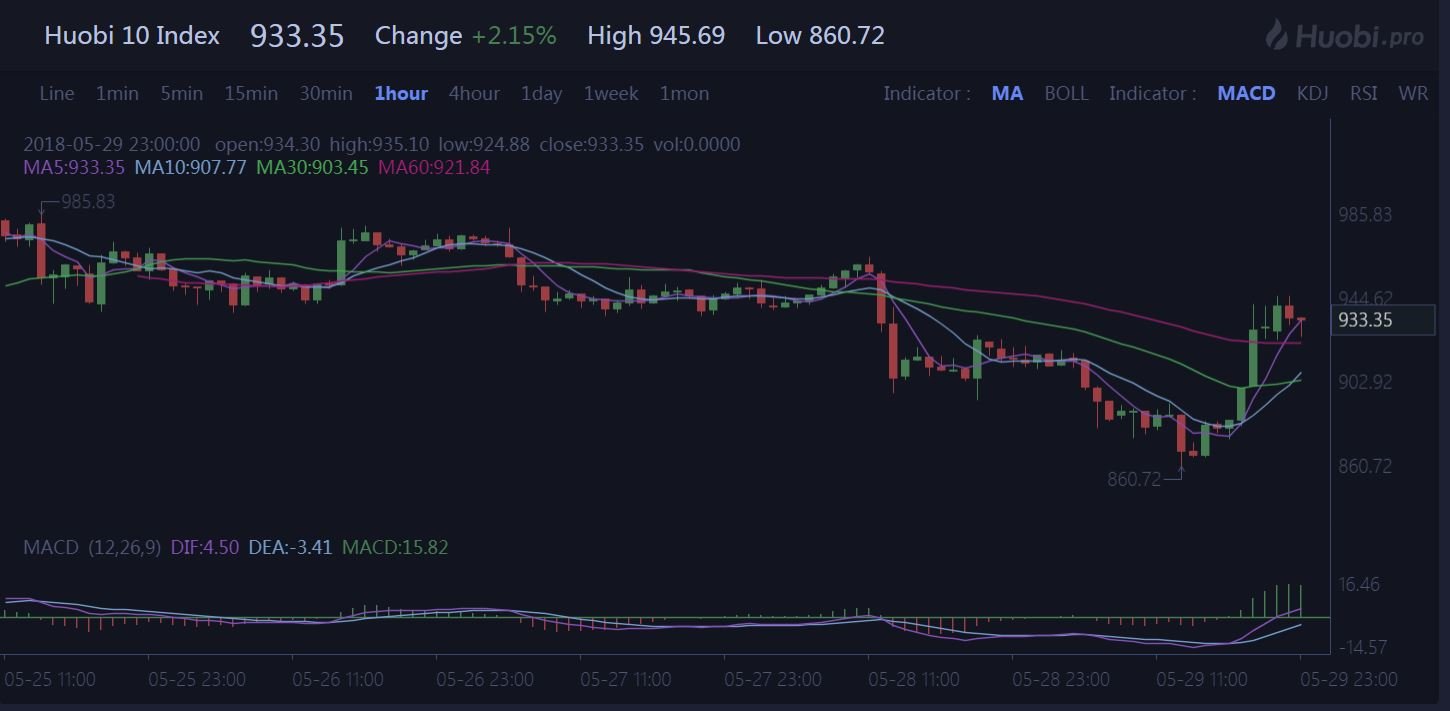 A financial product named 'HB10' derived from the Huobi 10 Index will be launched as soon as early June.
During the subscription period, traders can exchange HB10 product with USDT, BTC, ETH, and HT. 3 days after the subscription period is over, HB10 can be traded in USDT on Huobi Pro. More associated financial derivatives are also in the pipeline.
Investors have always lamented about creating a Bitcoin Index when Bitcoin was the dominant coin in the past. However, given the turn of tides, this new crypto ETF will better reflect the overall market performance of U.S. Dollar Tether (USDT) pairs on Huobi Pro.
Moreover, the crypto index allows investors to see a single aggregated feed rather than having to check on individual assets one at a time.
With that, let's check out how the 10 promising digital assets are chosen for the Huobi 10 Index.
2. Selection Criteria of the H10 Digital Assets
Huobi 10 selects 10 top-traded digital assets with high market value and strong volume turnover. Following which, they are classified into 4 categories: "coin", "platform", "application" and "utility asset token".
Below is an excerpt from Huobi Pro:
"Coin" refers to an asset developed on the basis of blockchain technology that does not correspond to a specific use case and whose main function is only the subject of the transaction, the value of which is mainly reflected through liquidity;
"Platform" coin refers to the asset associated with development of the underlying blockchain technology and supported by the right to use or to participate in the platform;
"Application" coin refers to the asset associated with a specific application scenario and supported by a certain right to use, participation or dividend;
"Utility asset token" refers to digital currencies that are linked with gold, US dollar and other actual assets.
Consequently, the weightage of the each constituent in the Huobi 10 Index will be calculated based on the average daily trading volume in the previous quarter.
Huobi 10 Index is calculated by the formula of Pasche weighted composite price index.
In addition, the sample constituents are regularly monitored and being replaced by other assets on the next adjustment date if they do not meet the criteria any longer.
If you wish to find out more details, you can scroll down this webpage and click on "Download the principles of Huobi 10 Index".
3. Components of the H10 Index
To check out the components of the Huobi 10 Index, you would need to login first. The current list of the H10 Index can be found on the right sidebar below the chart. I have also done a screenshot as shown below.
If we zoom into the crypto-currencies above, we can see that the weightage of the crypto Index is skewed heavily towards the top 5 coins – BTC, HT, EOS, ETH and BCH. This is because other than HT, they garnered the highest volume consistently versus USDT; see picture below from coinmarketcap.com:
As for "HT" (Huobi Token), it is natural to see it occupying a large percentage given that it is the native token of the Huobi Pro exchange. That said, it has shot up more than 200% to US$5.39 in the past month before paring the gains to end at US$3.68 as of 30th May 2018.
The incredible rise is primarily driven by the popularity of Huobi Pro's platform as it continues to secure a larger market share of the crypto exchanges.
Lastly, we also can see that a smaller 3% is allocated to "IOST" (Internet of Services Token), a relatively new name to the crypto world. That said, it was the first project to be incubated by Huobi labs. Taken from its website:
"Designed to be highly scalable, stable and secure, the IOST Blockchain will be a top infrastructure for developing and deploying large-scale decentralized applications, capable of top-notch performance under even the highest throughput requirements."
Besides having backing from Huobi and renowned funds like Sequoia China and Zhenfund, the token is also tradable at all the major exchanges like Binance, OKEX, Bitfinex, Huobi and more.
Conclusion: Why Invest in Huobi 10 Index (aka. HB10)
As previously mentioned, HB10 will be released by early June and allows investors to diversify their portfolios, track their trading performance and the market more efficiently.
Personally, I feel that the HB10 couldn't have come at a better time. As compared to the stock markets where there are plenty of indices or ETFs available, there is no such similar offering in the crypto sphere.
For one, it can act as a good starting point for new crypto investors who want to get into the space but are confused by the intricacies of each coin. On top of that, I believe that it will provide institutional traders and asset management funds an efficient way of managing their large trading portfolios and rough gauge of the crypto market.