Upon the RTO of Catalist-listed Artivision Technologies Ltd., MC Payment is set to become the first digital payments service provider listed on SGX.
With digital payments all the rage these days, it pays (pun intended) to take a deep look at this company.
Here are 10 quick things investors should know about MC Payment Limited.
1) RTO Details
According to this notice, the RTO has already gone underway with a 50 to 1 share consolidation  and Artivision Tech will be renamed to MC Payment Limited.
The exercise closed at 5.00 p.m. on 15 February 2021 and shall be effective from 9.00 a.m. on the Market Day immediately following the Record Date, being 16 February 2021.
Taking the 'delisting' price of S$0.009 into account, the starting post-RTO price of MC Payment should be around S$0.45.
2) About MC Payment
Established in 2005 and regulated by the Monetary Authority of Singapore (MAS) under the Payment Services Act 2019, MC Payment holds a major payment institution licence.
It is a Singapore-based, online-to-offline (O2O) financial services technology company with a fully integrated platform and with a focus on servicing merchants in the retail, transportation and food and beverage industries.
Currently, MC Payment has a presence in 4 countries – Singapore, Malaysia, Indonesia and Thailand – with ambitions to become a regional player.
With digital payments in ASEAN expected to triple to US$1.5 trillion (S$2 trillion) by 2030, the Group is well-placed to capitalise on this significant and growing market opportunity, given its established infrastructure and expanding geographical footprint.
3) MC Payment Business Model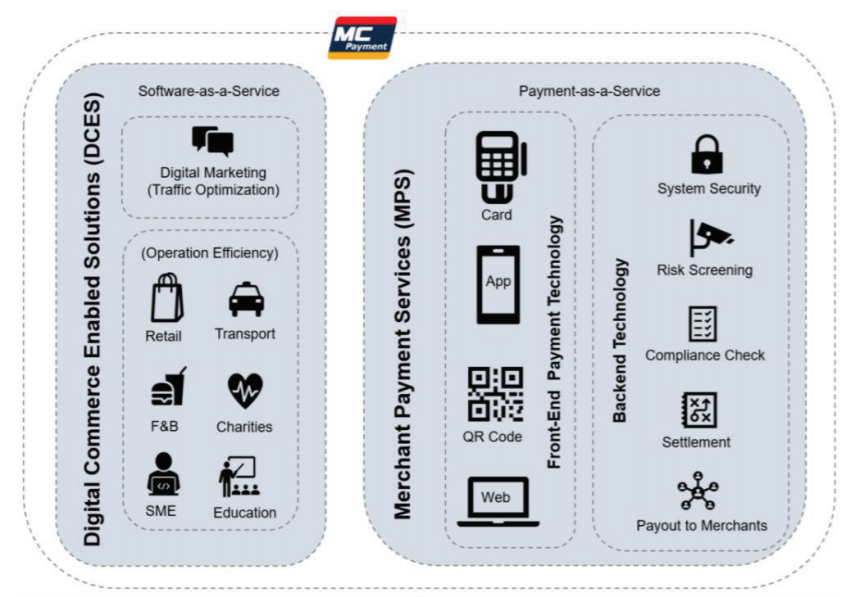 As shown above, MC Payment offers 2 types of services.
#1 Merchant Payment Services (MPS)
This is the provision of payment processing services through its unified platform and smart software, which can be installed onto or integrated with any smart devices (including mobile phones, tablest, and smart POS terminals) for merchants with physical stores, or integrated into online merchants' websites and applications.
MC Payment collects a nominal fee for each transaction for its payment processing services.
#2 Digital Commerce Enabling Solutions (DCES)
The company also provide ancillary services, such as the sale and lease of Smart POS terminals as well as both proprietary and licensed software-as-a-service which can be white-labelled.
This segment also develops bespoke software solutions for its merchants.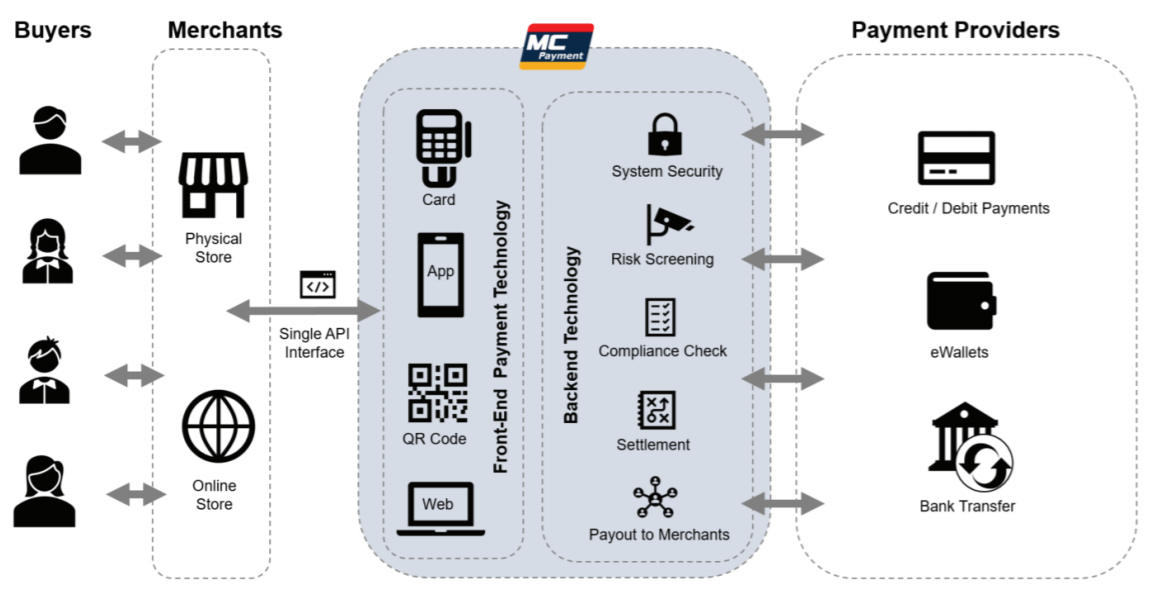 In addition, the picture above shows how MC Payment is able to tap on its 'middle-man' status to integrate various payment providers to offer payment modes to the merchants.
4) Financials of MC Payment Limited
A quick look at the above shows that revenue has been surging from S$2.99 million in FY2017 to S$8.65 million in FY2019. Although it is loss-making in the past few years, the losses have been declining over time.
On that note, here's one important thing – MC Payment's profits have turned positive in 1H2020. It posted a S$0.66 million profit for 1H2020 compared to S$1.3 million loss in the previous year.
5) MC Payment Management Team
Knowing the management team behind MC Payment is vital as they are the key personnel driving the company's growth forward.
The co-founders and executive directors of MC Payment are Mr. Anthony Koh and Mr. Kim, are also the Chief Executive Officer and Chief Operating Officer respectively. They have extensive experience in the FinTech industry, and have been fundamental to the Target Group's growth and the regional expansion of its business operations.
Upon completion of the RTO, CEO Anthony Koh is expected to own a 6.11% stake while COO Mr. Kim will be having a 1.46% interest in the firm.
6) Rationale for MC Payment listing
According to Deloitte and Inclusion Fintech Conference, they did a recent study of emerging digital life in South and South-east Asia.
The report noted that this trend of digital payments is still at a nascent stage in this region. Singapore is the only exception, as the Republic has a fairly mature digital payment landscape.
Hence, MC Payment's listing comes at an opportune time, with digital payments surging in Southeast Asia and in light of safe-distancing measures imposed by respective government and general public's concerns over the COVID-19 outbreak.
7) Riding on the tailwinds of a Digital Payments Boom
According to the Circular, MC Payment is well positioned to capitalize on Singapore's recent push towards cashless payments, and there is strong and increasing demand for such e-payment systems.
There is huge growth potential to be tapped too – c.75% of consumer payments in SEA's 6 largest economies are currently made in cash.
The digitalization secular trend to shift cash payments to e-payments will take place at a rapid pace in  the years ahead.
Furthermore, the Southeast Asian region also possesses many of the key characteristics that fuelled the take-off and rapid evolution of digital payments in China:
Rise in online and e-commerce transactions
High digital penetration and digital engagement
Extensive friction between consumers and commercial banks
Investments by start-ups and digital platforms
Steady expansion of e-payment use cases and
Strong government support/push
MC Payment Chief Executive Officer, Anthony Koh has this to say:
"We're expecting a robust growth trajectory for the Southeast Asian payments industry, following a surge in digitisation, spurred by increased access to 5G mobile technology, blockchain and AI, coupled with the rapid rise of e-commerce.
We look forward to an exciting future in the digital payments industry, one that is filled with immense possibilities and opportunities".
8) Risks to Take Note of
Although MC Payment has a sexy story behind it, investors would need to take note of the risks involved too.
One of them is the huge Trade and other Receivables of S$11.6 million as at 31 Dec 2019. It is pretty significant when you see from the income statement (point 4) that it is in fact more than FY2019's revenue!

Upon a closer look (see above pic), it pertains to the monies receivables from payment providers – the credit card, e-wallet and bank institutions.
As such, I would think that the risks is pretty low here.
One other risk to take note is probably the competitive nature of the E-payments landscape. One direct competitor I can think of is Square, but it is more entrenched in the U.S. instead.
Hence, MC Payment may grab the opportunity to be a first mover in SEA by aggregating all the different type of payment methods in 1 platform for merchants.
For instance, if you visit some shops, they may have various Point-of-sale (POS) systems (the one you tap for credit card payment) for either Visa or other vendors like Ali-pay etc. MC Payment will help to provide all these payment under 1 platform.
9) Oxley CEO a substantial shareholder
Here's a quick trivia – Mr. Ching Chiat Kwong, CEO of property developer Oxley Holdings, is also a controlling shareholder of MC Payment Limited.
According to the SGX announcement, he now owns 24.59% of the firm.
10) Conclusion
To conclude, the Group retains a competitive edge by being one of the few licensed payment providers with a regional presence and a scalable payment infrastructure.
MC Payment has a long growth runway by banking on a secular digital-payments trend and a huge addressable market across ASEAN.